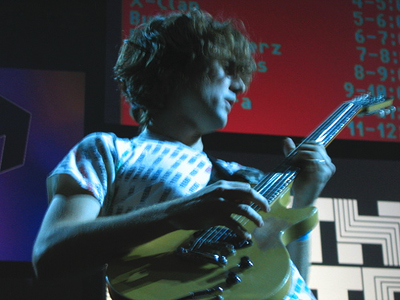 My experience at the Be the Riottt! festival in San Francisco was . . . interesting. Contradictory, I guess, if you're feeling the need for another adjective. In fact, I'm feeling rather torn as I write this, wondering if I should be so ungrateful as to say what should really be said about this particular festival excursion. Why ungrateful, you ask? Because truthfully, this was my first time providing official coverage of an honest-to-god musical showcase, in the wonderful city of San Francisco, something I never thought I would be doing. I got to stand in the official "press" line, from which I received two wristbands that turned out, more or less, to be keys to the kingdom: the VIP pass (orange), and the photo pass (blue). I wore them over my brown arm warmers that I made out of a pair of tights out of the belief that they'd make me fit in somewhat with the overwhelming hipster population that is the City by the Bay, and goddamn did I feel cool.
This is, of course, simply glossing over the specific details of the day's festivities, which I will present later. The bottom line that I would like to convey is that this was a really swell opportunity. As it turned out, my photo pass allowed me to stand right up next to stage – in fact, I could practically grab Sage Francis' leg and unwittingly caught . . . *ahem* . . . an eyeful of the more elusive physical side of Emily Haines (i.e., I can think of at least five dudes who would have paid to see what I saw). I got to carry around my digital camera and take some pretty sweet shots of some of my favorite (and even not-so-favorite) musicians, and rub elbows with festival planners and the other fancypants "press" people. In fact, I almost got to witness a full-on fight between two photographers when one of them unknowingly used the other's footstool ("that was my spot, MOTHERFUCKER!"). Good lord. Can't we all just get along? Regardless, the photo-taking process alone was a really amazing experience.
And then, of course, there was the music, divided among three stages: the main stage (the humongous central room), and two small stages in both of the larger side rooms (the Bill Graham Civic Auditorium is a relatively upscale convention center). I will, for your reading pleasure, provide a band-by-band recap of all the groups I managed to catch.
Birdmonster
Although my grand plan for the day included arriving about half an hour before the Bird came on so I could gain a full perspective on the day's activities, obnoxious Bay Area traffic and a delayed entrance into the venue (read: the process for obtaining my press and photo passes took much longer than one would expect) caused me to arrive about two-thirds of the way through their set. Due to the venue's ruling that those possessing photo passes may only take advantage during the first three songs of each artist's set, I was not able to get any shots of this local band. It's just as well – these Bird-dudes are so energetic and move around so crazily that it's unlikely I would have captured an un-blurry shot anyway. Regardless, what I did catch of Birdmonster was what I have come to expect from them – rambunctious, crazy, and an all-around rockin' good time. They even brought out a new song, which is always an exciting thing to witness.
RX Bandits
To be perfectly honest, I only caught this band because they seemed to be the best option of the three I had to choose from. I really did not know much about them or what they sounded like, so I guess my expectations were more or less met (because I had no expectations, really). They were relatively unexciting, musically speaking: their songs all sounded more or less the same, resonating as a combination of Fallout Boy and Reel Big Fish (on a side note, I met someone at the festival whose brother-in-law is actually in Reel Big Fish). The band in general had good energy, and the frontman had some general funky dance moves that I found amusing. And I did find it respectable that they released their album from their own recently formed label, a fact that they made sure to announce proudly during their set. I also found it interesting that they were the only band willing to remark against the giant Scion logo illuminated on stage, which honestly was an eyesore.
The Wrens
The Wrens are one of my unexpectedly favorite bands (one of those times when you happen to stumble upon the band's CD and then fall completely in love with it), so I was stoked to see them play. Two of the guys began the performance rather nonchalantly, playing a mellowed-out version of "This Boy is Exhausted" – so nonchalantly, in fact, that I almost couldn't tell if this was the beginning of their set. Then, they launched into the full-on rock mode, and put on a crazy set. In fact, Kevin Whelan completely embodied the typical "image" of the rock star performer – throwing his guitar in the air, pretending to throw it into the audience, running back and forth across the stage, and presenting the most genuine rock-out face I've seen in a long time. He proceeded to fall backward, then jump back up and yell "We're from fucking NEW JERSEY!" (holla!), and then explain the fact that the Bill Graham was the biggest venue that they'd ever played in – "the epitome of rock star dreams" (in fact, both Sage Francis and Metric made similar remarks later in the night, which was pretty cool to hear). I honestly did not expect the Wrens to rock quite this hard, since their music can be so mellow and dreamy – however, even though they were by far the oldest group there, they rocked the absolute hardest. Score one for the Jersey boys.
Asobi Seksu
This New York shoegazer group put on a solid and respectable set. However, since they weren't on the main stage, they had to do their thing on one of the small stages that was both cramped and low to the ground (I had to squat to get photos, which was difficult to do in a skirt). I felt really bad for the fans that came to see them and got stuck in the back, because I'm sure they couldn't see a thing. The band made the most of it, however, and played some really beautiful music. The band also has great chemistry, playing together flawlessly and gracefully. Yuki's vocals gave the group a wonderfully light and ornamental element, creating an overall intelligent and creative sound.
Sage Francis
Sage Francis was totally insane, and in the most awesome of ways. His solo hip hop punk performance could have doubled as one-man performance art, as he sprinkled his set with spoken word and demonstrations like rapping to his shoe draped on the microphone stand and throwing lettuce and croissants into the crowd. He came out on stage and introduced himself by throwing his lit cigarette into the crowd and showing off the fact that in place of real hair, he'd drawn hair on his shaven head with a sharpie. The music itself was great – creative beats and politically charged and emotional lyrics, plus a remix of "Broken Wings," a.k.a. the awesomely bad song we all pretend not to know. He concluded his set by challenging a tall muscular dude to a breakdancing contest, which was, for lack of a better phrase, totally rad.
Explosions in the Sky
This Texas quartet is a) engaging despite lack of vocals, and b) adorable (in case you were wondering). Their music was very dreamy in the heavy guitar stylings, and the guys faded back and forth with the music as the songs developed in an eerily choreographed way. One of the guys even slowly melted (not literally) to the floor as the songs went from beginning to end, which was interesting to witness. Overall, their music is amazing, but I lost excitement for their performance as it went on. This could be blamed on the fact that I think their music is better enjoyed at home while curled on a couch with a good book, or on the fact that I was getting tired. Either way, I took this chance to take a break, get some food, run into an old friend, and give the VIP room another chance (more on that later).
Metric
Metric seems to be at an interesting turning point in their musical journey, seeing as frontwoman Emily Haines is currently generating some major solo buzz with the release of Knives Don't Have Your Back. In fact, as she came out on stage while the rest of the band was setting up, a hush came over the crowd and some girl shouted "EMILY!", and she smiled with a combination of embarrassment and humble sheepishness at the extra attention she was receiving. However, I don't believe that this attention comes undeserved. Emily's charisma is radiant, which came across clearly throughout the band's performance. The rest of the band, however, are no deadbeats on the main stage dance floor. Jimmy Shaw, Josh Winstead, and Joules Scott-Key all gyrated and bounced around like the awesome rockers that they are, bringing the band's collective energy to an utterly infectious level. In fact, Emily even took a break in the middle of the set to pay homage to her beloved bandmates ("One of the reasons I can get through everything is because of these three guys, right here"), which was a really nice gesture. And lastly, I felt pretty damn special when, out of all the photographers pressed up against the stage, she spotted me (because I was the only female photographer amongst the slew? Perhaps . . .), walked to the edge of the stage and leaned right over me, allowing gems like this:
Pretty damn sweet, if I may say so myself. Summary? Anna hearts Metric.
Deerhoof
In all honesty, I didn't catch most of Deerhoof's set because it was a bit too crowded in this non-main stage for my comfort, and some dude kept asking me for cigarettes despite the fact that I didn't have any, so I basically took a few pictures and then went to buy some gummi bears. What I did hear, however, was quite lovely, and decidedly unique – exactly what you would expect from the band.
The Rapture
These boys were the main stage headliners, so it came as no surprise that they drew the largest crowd, and they certainly put on a deserving performance. Their live sound is unexpectedly very true to their recorded sound, which was admirable and fun to witness. They rocked and danced and played off each other like any close-knit group should, which for me is the most enjoyable part of seeing bands play live. And they're also totally adorable, which allowed me to reach my inner prepubescent fangirl quota for the day. The crowd was fun to watch as well, as the main room allowed plenty of room for dancing, especially for the drunk people, which are the best dancers of them all. I left satisfied, with ringing ears and a camera full of great pictures.
Conclusion? As I mentioned previously, this was a great first opportunity for me to act like a real-life music photojournalist, something that was virgin territory for yours truly. However, the festival in and of itself was poorly organized, drew a weird and slightly unpleasant crowd, and did not at all reflect the theme that it was supposed to inhabit. According to the Be the Riottt! website:
"When a multitude of forever-forward freethinkers unite in a finite space with the common goal of basking in the radiance of an empowered community, anything can transpire. Be The RIOTTT!, a quality culture expo, features the most cohesive representation of music, street fashion, and art in the nation. On November 11, 2006, prepare to take part in the supreme global manifestation of cultural diversity. Mixing an amalgam of premier music with an onslaught of emotive, culturally-relevant art galleries and streetfashion collective, Be The Riottt Festival engenders a progressive, genre-spanning throw down for the ages. The stage is being set and Riottt is printing and spreading the properpropaganda. From this event a community of change will be formalized; from this event, One Will Rise. The only question is: what size influence will you have in its unveiling?"
However, if I had simply walked into the festival without previous knowledge of this information, there would be absolutely nothing there to keep me informed. What? Art galleries? Street fashion? Cultural diversity? Community of change? Not that I could see. Instead, all I saw were a few vendors of uninteresting products and a severely clean and stark convention center, which does not suggest a theme of anarchy and rock and roll. This was disappointing, to say the least. If the Riottt planners truly wished to inspire change in the community and beyond with its "properpropaganda," I can safely say that they did not succeed.
To top it off, there were no printed programs (I was lucky enough to make friends with a fellow publicist who graciously lent me his set list that he had been smart enough to print out beforehand) and very little signage/direction of where anything was located – two big festival no-no's. The crowd consisted mainly of underage San Francisco hipsters (at 24 years of age, I actually felt old) and as the day went on, the "scene" became dominated by bleached blonde girls and guys in khaki pants and too much cologne who seemed to only be there as an upscale night out on the town (as opposed to being there to appreciate the music and the festival origins). Also, there were too many drunken couples who, instead of watching the musicians, were engaged in what can only be described as the early stages of foreplay out on the dance floor. Oy. If you were looking for sustenance, there were only soggy personal pizzas and nachos with that fake yellow cheese available for consumption.
And on a final note, my experience in the VIP room was anything but exciting, going against everything I'd heard previously about what makes a VIP room. The drinks were not free and actually quite expensive, there was not one rock star to be found, and there was a giant inflatable florescent palm tree in the middle of the room. The people hanging out in there seemed to be friends of people involved with the festival, sitting around in fancy shoes while drinking and discussing which downtown bar they should hit up next. I went up there a couple of times, only to feel so out of place that I would retreat back downstairs to hang out with the (relatively) normal people.
It's unfortunate, really – Be the Riottt! is the penultimate in what the San Francisco Bay Area has to offer in terms of a standard music festival (the ultimate being Noise Pop, which is set over a couple weeks' time), and I found it be awkward and forced. I suppose it has potential, especially in regards their musical lineup. I have hopes for the future of the festival, since the intentions were respectable, and I'd love to see what the Riottt organization has in mind when it comes to an "unveiling" of change. I shall wait in patient and positive expectation.