How The Beach Boys' "Never Learn Not to Love" dubiously introduced Charles Manson's music to the world

Sometime back in the late '80s or early '90s, when I was a kid, I remember taking a road trip with my family through a long stretch of road somewhere in a part of America that you never see in tourism brochures. In fact, I remember a lot of these—long stretches of highway on trips to the Bay Area, Oregon, Washington, the Grand Canyon, the state parks of Utah and once even all the way across the lower 48 (though we probably only crossed through 20 or so). I'm not sure where we were on this trip, possibly somewhere in the middle of California, but I do remember driving past a prison, and I'll never forget the signs along the highway as we approached it: Do not pick up hitchhikers.
You'll find these pictures all over social media, sometimes with someone doing the famous thumbs-out pose in front of it—and it's easy to see the gallows humor in it. Even as a kid, I'm pretty sure I did; there's no way that story ends well, even if the good samaritan somehow ends up going home safe and without an accessory charge on their sheet. It's easy to laugh at it because it's an easy mistake not to make. But there's another reason for that—nobody really hitchhikes anymore. For years, our parents have warned us either to avoid hitchhiking or to avoid picking up hitchhikers for the sake of our own safety, aided by propaganda campaigns and scary stories from camp counselors with flashlights. The real reason that it fell out of favor might well be that more people have access to cars than they ever have, but the scare tactics still worked. We still believed that the stranger we'd let into our car would turn out to be a homicidal maniac.
In the 1960s, though, people still trusted both hitchhikers and drivers—and the rise of hippie culture muddied the waters even further (at least that's what pop culture tells me; I wasn't there). So The Beach Boys' Dennis Wilson had no reason to be suspicious or paranoid about picking up Patricia Krenwinkel and Ella Jo Bailey, nor with the idea of going to meet their "guru." And that guru they spoke of? A diminutive, charismatic weirdo named Charles Manson. After Wilson holed up in a recording session in 1968, he found Manson on his driveway, and over the course of the next six months, Manson and a number of his followers ended up living at Wilson's house. By August 1969, Manson's followers ("family") would kill seven people and an unborn fetus on a horrific spree that's now the stuff of gruesome Hollywood lore.
But before that happened, as far as Wilson knew, Manson was just some trippy guy that believed in the same free love that all other hippies did (and led to widespread gonnorhea among the "family") and wrote songs—musical ideas that Wilson liked. It didn't take long for Manson to start ingratiating himself into Wilson's musical sphere, being introduced to Byrds manager Terry Melcher and eventually recording a number of songs at Brian Wilson's studio.
Manson did have one idea that Dennis Wilson thought was good enough to borrow, a song titled "Cease to Exist," better known to Beach Boys listeners as "Never Learn Not to Love," as featured on the group's 1969 album 20/20. The Manson-recorded version that's circulated in various forms is a sparse acoustic demo, one without a particularly sophisticated melody or consistent rhythm. But Wilson liked the raw material enough to take what was there and mold it into something new and, more importantly, something that sounded like The Beach Boys.
Listening to the two songs back to back, the similarities, uh, exist, but the differences are significant. Where it's easy to vaguely read into Manson's song the kind of fucked-upness of his whole general being ("cease to exist, just come and say you love me…submission is a gift"), Wilson transforms it into something a bit more commercial. The strange thing is that the weirdest parts of the song are definitely still there; "submission is a gift" being one of those parts! (The double-negative title, while Wilson's own doing, even still seems to carry some of the pseudo-mystical nonsense that Manson was going on about.) But something about the light, psychedelic pop arrangement, Wilson's more approachable vocals and the knowledge that it wasn't actually recorded by a svengali-murderer makes it feel slightly less gross to listen to. In fact, Manson isn't even credited—by Wilson's account, he relinquished his publishing rights when he took up residence in the house. But that didn't stop the Manson Family from trashing Wilson's stuff and getting themselves evicted thereafter.
Manson's own recording of "Cease to Exist" isn't that hard to find, and was even recently included in an episode of Netflix series Mindhunter, in which FBI agents Holden Ford and Bill Tench interview Manson for their own criminal profiling research. Ford (played by Jonathan Groff) listens to the song and remarks, "It's really good!" while Tench can barely contain his annoyance at his dubiously starstruck partner. And in that moment, it's safe to say we're probably all Agent Tench.
It isn't really that great, though. It's impossible to evaluate the song divorced from the context of its writer's own crimes, but that can be argued in either direction. It's a mediocre song by someone with rudimentary skills that we wouldn't even know about if not for his infamy (and because The Beach Boys recorded it and improved it, I should note), but then again it's pretty hard to get past the person who wrote it. But both can be true at once: It can be a half-baked song made by a horrible person. And it is.
Manson's music continued to have a life long after he wormed his way into Beach Boys canon. In 1970, Awareness Records released a collection of his recordings, Lie: The Love and Terror Cult, which featured Manson's original recording of "Cease to Exist," as well as "Look at Your Game, Girl," which was later covered by Guns 'n' Roses and included as a hidden bonus track on their 1993 covers album, "The Spaghetti Incident?" While Axl Rose and company were no strangers to controversy by that point in their careers, the stunt didn't go over well—David Geffen, apparently not realizing that a band on his own label (and one of the most successful bands on his label at that) were potentially doing something that could benefit Manson directly through songwriting royalties, called it "unthinkable." However, while the band considered not including the song on the album for just such a concern, they opted to keep it, as the royalties would end up being donated to Bartek Frykowski, the son of Wojciech Frykowski, a victim of the Tate Murders.
As for Wilson, he came to regret the decision to record one of Manson's songs—and his entire connection to Manson—pretty quickly after releasing "Never Learn Not to Love." Manson had supposedly threatened Dennis by showing him a bullet and remarking that he should think about how his children are safe. In an interview with the Los Angeles Times in 2000, arranger Van Dyke Parks said Dennis Wilson pretty much kicked his ass after that.
Wilson made great efforts not to delve into the details or comment on his friendship with Manson up until his death in 1983, once stating, "As long as I live, I'll never talk about that." I bet he thought twice about ever picking up another hitchhiker.
---
Support our Site—Subscribe to Our Patreon: Become one of our monthly patrons and help support an independent media resource while gaining access to exclusive content, shirts, playlists, mixtapes and more.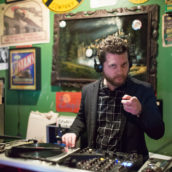 Jeff Terich
Jeff Terich is the founder and editor of Treble. He's been writing about music for 20 years and has been published at American Songwriter, Bandcamp Daily, Reverb, Spin, Stereogum, uDiscoverMusic, VinylMePlease and some others that he's forgetting right now. He's still not tired of it.