Beastie Boys' Licensed to Ill paired rap with metal's heaviness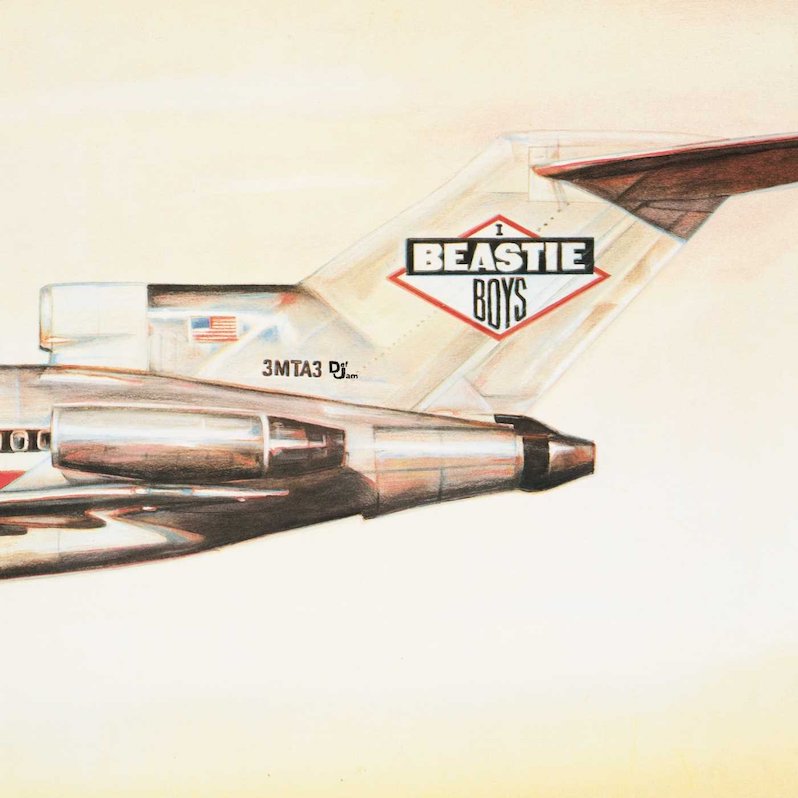 A crushing, gritty, reverberating drum beat kicks off the opening track on the Beastie Boys' debut album, Licensed To Ill. The beat hammers on calamitously for a few bars before it's joined by a rough-and-ready guitar riff, locking in perfectly with the drums and creating a groove of irresistible power.
But there's something else going on here. We've heard that riff somewhere before—it's none other than Black Sabbath's "Sweet Leaf" from their 1971 masterpiece Master of Reality. Nor are the drums completely novel; the epic beat is the work of Led Zeppelin's John Bonham, from the band's "When the Levee Breaks." As for the vocals? Robert and Ozzy are both absent from this unruly mix. Instead, we're treated to rapping from three boisterous New Yorkers (Mike D, MCA, and Ad-Rock, to be precise) who were about to turn the world of popular music on its head. It's heavy metal, but not as we know it.
When the Beastie Boys formed in 1978, they weren't the cocky hip-hop trio that would someday rock mics up to the top of the Billboard 200, but a hardcore punk outfit. Their early output has been largely forgotten (save for a 1994 compilation release titled Some Old Bullshit, which pretty much speaks for itself), but one song of great importance from the Beastie's early days was a track called "Cooky Puss." Here the group dropped the hardcore sounds for the drum-machine beats of hip-hop, and though it was basically recorded as a prank, it quickly became the band's most popular song. A couple of years and a few line-up changes later, the Beastie Boys settled on a sound—obnoxious party-rap over crunchy, metallic riffs—that would launch them into commercial success and critical acclaim.
Licensed To Ill's impact on popular culture—introducing rap music to the white suburban masses—is difficult to understate. Part of that crossover appeal was the equal emphasis the group gave to both sides of the hip-hop-meets-metal equation, which comes through in their skilled use of samples. Sabbath, Zeppelin, and other hard rock groups like AC/DC are among the bands whose sounds create the backbone of much of Licensed To Ill's eclectic track listing. But dozens of hip-hop and funk artists, like War, Kurtis Blow, and the trailblazing Sugarhill Gang, also make appearances.
Packing an album with consistent nods to two fairly divided musical subcultures—one largely middle-class and white, the other largely working-class and black—was unorthodox in the 1980s, and the Beastie Boys knew it. Licensed To Ill, whose sound producer Rick Rubin helped to shape, revealed a group unafraid to allude to the animosity existing between the musical spheres. The album's closer, "It's Time To Get Ill," includes a sample from the song "Gucci Time" by rapper Schoolly D, a bold choice to include on a rap record with such a heavy rock influence; "Gucci Time" appeared on Schoolly's self-titled album, and that same album opened with a track titled "I Don't Like Rock 'N' Roll." "All you rock 'n' roll lovers, we're knocking you out / Because that is what rap's all about," asserted Schoolly D, pulling no punches either figuratively or, indeed, literally. The Beastie Boys, meanwhile, were lamenting their mean dad who would "kick you out of this house if you don't cut that hair!" The choice to sample an artist like Schoolly D was a gutsy move consistent with the Beastie Boys' generally cheeky attitude. But I think it also runs a little deeper than that. In a way, it was symbolic; Licensed To Ill was the first album to look at the two very different scenes of heavy metal and hip-hop, and try, in earnest, to bridge that gap.
The Beasties were, to be fair, not the first group to mix hip-hop with rock. Run-D.M.C. beat them to the punch with their courageous 1985 release, King of Rock. Their 1986 follow-up, Raising Hell, retained a guitar-oriented sound via their now-legendary collaboration with Aerosmith. The Beastie Boys, though, took things a step further; never before had there been quite so concerted an effort to actively merge these two existing styles for the duration of an entire album. Their references extend beyond sampling—the song "No Sleep Till Brooklyn" was a nod to Motörhead's live album No Sleep 'til Hammersmith, and contains lyrics from their track "(We Are) The Road Crew." Thrash metal titan Kerry King of Slayer—whose Reign in Blood was also produced by Rubin that same year—played guitar on both "No Sleep Till Brooklyn" and "Fight For Your Right."
It's unfortunate, then, that so many of the acts of that followed in the '90s that employed a similar marriage of hip-hop and metal—so many of whom name the Beastie Boys' as key influences—were looked down on by huge numbers of metalheads. I would, in fact, argue that metal and hip-hop have far more common ground than either party would really like to admit. Both audiences and musicians were fanatically dedicated to the musical subculture that spoke to them in a way that other styles of music didn't. Nowhere is this more obvious than via lyrics that often spoke of the euphoric union between crowd and artist. After all, when Run-D.M.C. claimed they were "so demanding and commanding that you all stand dazed," was that really so different from Exodus' brag "you're gathered here tonight / To heed our metal cry"? Was Whodini's boast "our disco show will freak and drive you crazy" so different to Metallica's claim "you know our fans are insane / We are gonna blow this place away"? These genres make surprisingly comfortable bedfellows; their fusion has spawned incredible acts from Rage Against the Machine to Body Count. Licensed To Ill may not have invented rap-rock, but it fired it up, gave it a beer and welcomed it to the party. Fun just radiates from this thing.
The vocal delivery from Ad Rock, MCA and Mike D on Licensed to Ill is loud, arrogant, and endlessly loveable. The boys bark at and over each other like over-stimulated puppies, gripped by unrestrained exuberance as they spit what they clearly believe is the funniest, stupidest joke in the world. The self-deprecating humor that pervades the album turned hip-hop convention on its head; while LL Cool J boasted "six G's for twenty minutes is the pay I earn," the Beastie Boys' told us their crowning achievement was "I got the trees on my mirror so my car won't smell." Creative, humorous insults were just as common in '80s rap as they are today, but Licensed To Ill had a pioneering spirit in that beforehand, you'd rarely hear artists continually directing these insults at themselves. The song "She's Crafty," for example, sees the narrator explain how he took a girl home with him, only for her to steal literally the entire contents of his apartment; "I found myself naked in the middle of the floor / She had taken the bed, and the chest of drawers." In a genre littered with prodigious brags about a rapper's sexual prowess, it would have seemed comically feeble to complain that "your mom threw away your best porno mag."
Unfortunately, Licensed To Ill was not all lighthearted goofing-off. Sometimes, these satirical swipes at contemporary hip-hop—if that is what they were—could get a bit close to the knuckle. Listen, for example, to "Girls." Is it nothing more than a profoundly misogynist diatribe ("Girls, to do the laundry / Girls, to clean up my room")? Or is it an edgy commentary on misogynistic social attitudes? What about Mike D's rap on "The New Style," "if I played guitar I'd be Jimmy Page / the girlies I like are underage?" A tongue-in-cheek attack on a salacious rock icon? Or something more sinister? Arguments have been made either way—the band members have claimed that large parts of the album were intended as a spoof on frat-bro culture that got taken far too seriously—but it's likely, at best, a confused mixture of both.
Parody or not, the hard-drinking party animals that swagger and sway their way through Licensed To Ill don't make an appearance on any subsequent Beasties' record—not even its immediate follow-up, 1989's Paul's Boutique. As time went on, their lyrics came to explicitly rebuke them. "Fight For Your Right" is unquestionably the band's biggest hit and possibly their signature song. But they haven't played it live since 1987. "Sure Shot," the opening track off 1994's Ill Communication, contained the lines "well, you say I'm twenty-something and I should be slacking / but I'm working harder than ever and you could call it macking / so I'm supposed to sit upon my couch just watching my TV?" in a seemingly direct contrast to Licensed To Ill's rhymes about taking pleasure in "sitting round the house, getting high and watching tube." More important still is the song's emphatic message of gender equality; "I want to say a little something that's long overdue / the disrespect to women has got to be through / to all the mothers and the sisters and the wives and friends / I want to offer my love and respect to the end."
This line is iconic in the Beastie Boys' repertoire for being a clear moment of separation from, and perhaps atonement for, their juvenile past. This humanitarian redemption would guide the band throughout the remainder (indeed, the majority) of their career—it was around this time MCA was embracing Tibetan Buddhist philosophy, an influence which also made it into Ill Communication in the form of chanting monks as the backdrop to songs "Shambala" and "Bodhisattva Vow." The charity MCA set up to pay the monks' royalties, the Milarepa Fund, eventually began raising money for the Tibetan independence movement; the band also began donating to organizations combating AIDS, food poverty, and homelessness. At the MTV Music Video Awards in 1998, MCA used the opportunity to criticize American intervention in the Middle East; the following year, Ad-Rock used it to challenge the music industry's response to the rapes and sexual assaults at the disastrous Woodstock '99. Then, in 2004, they released the most politically-conscious record of their career, To The 5 Boroughs, which condemned the War on Terror and praised New York City's resilience in the aftermath of 9/11.
To a great deal of listeners, the band had ossified at Licensed To Ill—eternal 20-year-olds whose chief concerns are taking hard drugs and pretending to be pirates. Some might even consider the album a shameful encumbrance that tarnished their reputation before it began. There's probably a reason why, in their Best Of album, the liner notes for "Fight For Your Right" simply read: "shit."
But is this a fair assessment of Licensed To Ill's legacy? That parts of the album are mired in homophobia and misogyny tarnish its reputation. But in the 35 years that passed between then and now, the Beastie Boys did not just twiddle their thumbs. At times, their debut is an uncomfortable reminder of a misguided and immature sense of humor—but it is also a welcome reminder of a few public figures' earnest capacity not just for change, but active compensation, made all the more admirable for their rejection of a large part of what facilitated their meteoric rise in the first place. In spite of the more complicated aspects of how the album aged, it remains sonically groundbreaking, unleashing an entire wave of rap-metal hybrid groups who would become a dominant force in popular music in just over a decade's time. They introduced brand new music to brand new audiences, and perhaps, through their maturation, introduced an important message to those who most needed to hear it. What Licensed To Ill proves is that the Beastie Boys were always committed to our rights—it just took them a while to find the ones worth fighting for.
---
Support our Site—Subscribe to Our Patreon: Become one of our monthly patrons and help support an independent media resource while gaining access to exclusive content, shirts, playlists, mixtapes and more.