Hall of Fame: Beastie Boys – Paul's Boutique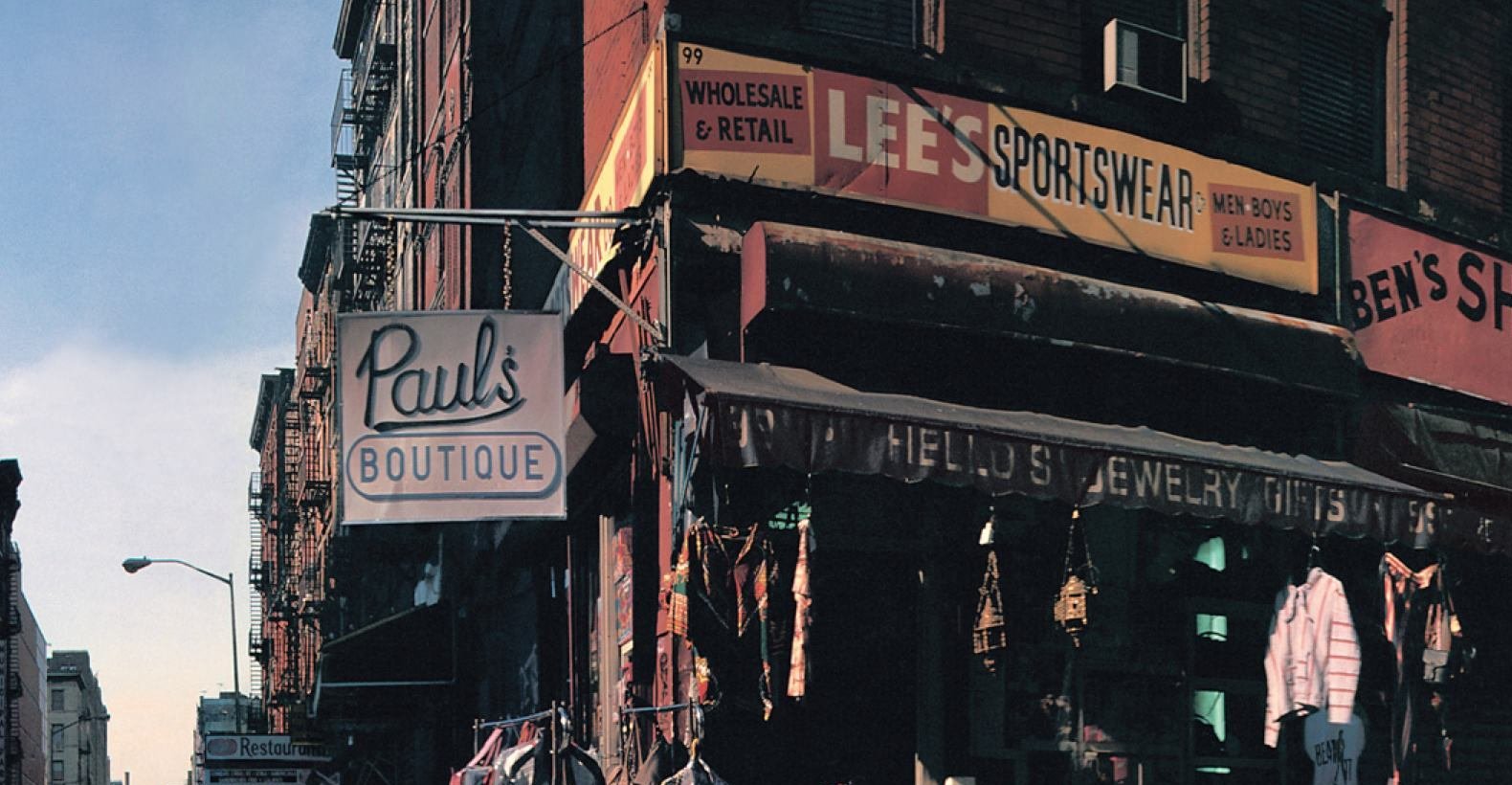 "All the records we sampled were records from my record collection. We weren't crate digging, going out and trying to find this stuff." –Mike Simpson, half of The Dust Brothers
On June 29, 1989 on the rooftop of Capitol Records, a party was happening. The sun was bearing down on record executives while they overlooked most of West Los Angeles and the Hollywood Hills surrounding them. Three men — Ad-Rock, MCA and Mike D — were perched on this rooftop, slowly but surely taking in everything that was happening around them. Meanwhile, Beastie Boys photographer, Ricky Powell went to the top of the Capitol Records spire to light a joint, while The Dust Brothers, Mike Simpson and John King mingled with bewildered Capitol executives. Capitol's President, David Berman was confident in this release. According to the press release The Beastie Boys had returned and were no fluke, capable of creating worthy material. The band had already scored a hit with their debut, Licensed To Ill. They became a pop culture splash in the realm of hip-hop, after being signed to Def Jam and having the support of label head and producer Rick Rubin. While hip-hop was mostly considered a genre that was created by black artists and made for black audiences, The Beasties came and crushed the charts. And while this was a worthwhile triumph, it had some stinging repercussions. Because of the image they had projected themselves with in their first single, "Fight For Your Right (To Party)," The Beasties came off as a gimmick rather than a serious hip-hop entity. Around this time, hip-hop was still taking shape and entering mainstream consciousness, as some of the genre's most important artists were beginning to build their reputation and set the blueprint for future artists. Hip-hop, in its ideal and purest form, features emcees that tell stories and weave intricate and stellar rhymes, backed with solid production. The Beastie Boys, it seemed were opposite of that: Three Jewish boys from New York City, who originally started out as hardcore punk band, rap music being merely an experiment that turned out to be successful. They were considered to be one-hit wonders with their most notable single, which had now become a national anthem for inebriated frat boys.
"The best in men's clothing. Call, uh, Paul's Boutique, ask for Janice, the number is 718-498-1043. That's Paul's Boutique and they're in Brooklyn"
As a result, The Beastie Boys were written off before their second release and the group grew tired of their achievement, the song, their image and each other. Relations with their current label at the time, Def Jam was slowly falling apart due to Rubin taking the majority of the credit for their success on License To Ill, when in fact they had actually more creative input than they were recognized for. In addition, The Beasties had not been paid for their work, for which Def Jam co-head, Russell Simmons claimed the group had not honored their contract for a second release. Tired of the run-around, The Beasties left New York and relocated to Los Angeles, where the early sketches of Paul's Boutique were drawn. In the summer of 1988, the group would decide on signing with Capitol Records after being offered a lucrative deal followed by a lengthy legal battle with Def Jam/CBS for ditching them. When The Beasties settled in Los Angeles in 1988 they began work with DJ Matt Dike, The Dust Brothers and Mario Caldato, Jr. — four other men who would be critical to the sound of Paul's Boutique. These key players had met prior in 1986, while playing at Dike's weekly concerts, Power Tools. Dike would eventually cross paths with The Dust Brothers, who were hosting an early hip hop show, "The Big Beat Showcase" on KSPC in Pomona. Caldato had crossed paths with Dike after The Beasties played one night in L.A., where their set was riddled with sound problems, which Caldato offered to fix afterwards. These relationships would prove critical to the success of the production and eventually forge future relationships in The Beasties' long standing career.  In addition, the image of three reckless men, was something the group aimed to get rid of. In fact, during the MTV coverage of the release party, most of their looks have changed, while Ad-Rock retained his signature baseball cap and t-shirt look. It was reported during the promotion of the album that the group deliberately limited interviews with the press to focus more on the music. This strategy proved to be effective in the long run.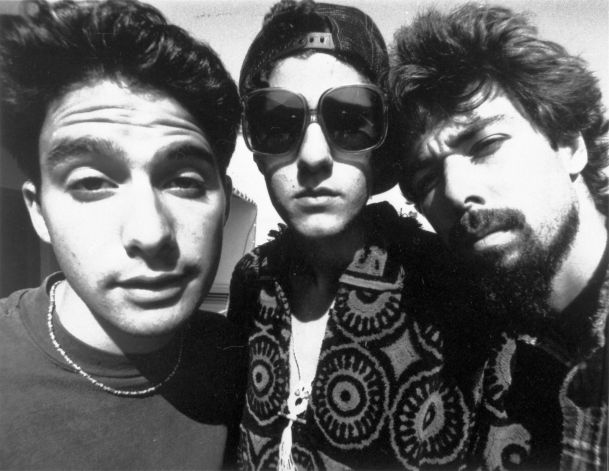 "Girl, you should be with me you should drop that bum/Cause I got more flavor than Fruit Stripe Gum"
Even though the majority of Paul's Boutique was made in a dumpy old Hollywood apartment and The Record Plant in LA, it has New York written all over it. From front to back, it pays homage to their home while being separated from it entirely. Their sophomore effort became the group's final salvation to prove all their detractors wrong and leave behind their past. The trio were capable, and they had the skills — but to what extent? All the shit-talking was what really helped propel the group into making a record that was worth everyone's time. The best rap music tells a story, and here they were able to paint a vivid picture while subtly telling all detractors to fuck off.  "To All The Girls" re-introduces the group with MCA softly speaking his dedication to the "Upper East Side Nubiles" backed with the very sensual sample of Idris Muhammad's "Loran's Dance." Sticking true to their prankster roots, The Beasties purposefully had the sample turned down low in the beginning, forcing listeners to turn up their stereo until about one minute in, breaking speakers in the process. Simpson confirmed in later interviews that this happened to one of the engineers during the  mastering sessions.
"All the wife beaters and all the tax cheaters/Sitting in a White House pulling their peters!"
"Egg Man," while looped with some familiar samples that range from Curtis Mayfield's "Super Fly" to a stack of themes from Jaws to Psycho, it's a story that was based off The Beasties shacking up at The Mondrian off of Sunset Blvd., where after getting a $750,000 advance, they would go to the top of the roof with eggs in hand and throw them at people in the street. "Johnny Ryall" became one of the earliest tracks that would find the trio moving toward socially conscious songwriting, where — according to Mike D — Johnny Ryall was in fact, a real homeless person, who looked like a former rockabilly musician stuck in the streets of New York, getting drunk and sleeping on the sidewalk. Geek rap had to start somewhere and one of the earliest examples can be heard in "The Sounds Of Science," a tribute to all things nerdy wherein The Beasties hype up their own intelligence to set aside any early preconceived notions they were just a trio of morons who drank and trashed everything. This is one of the few hip-hop songs that got away with featuring samples of a few Beatles' tracks woven inside.
"I might be a little dusted but I'm not insane/People come up to me and they try to talk shit, man/I've been making records since you were sucking your mother's dick!"
The first single, "Hey Ladies" ended up being an odd choice, and its video only fueled this thought even more. With its 1970s imagery, it made the song and group feel even more out of place. Meanwhile, "High Plains Drifter" and "Looking Down The Barrel Of A Gun" are two considerably more menacing songs with references to violence, theft, Son Of Sam and Rambo; it's an excellent prototype of early rap-rock, before it became such an abhorrent genre. It's not that far removed from their previous work, but a lot darker and much more abrasive. While in L.A., The Beasties also took note of their surrounding culture; "3 Minute Rule" examines most of it as each Beastie takes a good portion of the song to vent out their frustrations. Ad-Rock seems to have the upper hand on this track, ending his verses with a potent sting. Similarly, "Car Thief" echoed some of their frustrations with Simmons, backed with the continuous looped sample of Funk Factory's "Rien Ne Va Plus." The real show-stopper of the record is the ending track, "B-Boy Bouillabaisse," which is split up into nine different movements that all synchronize together. The result is an MC suite unlike any other with each rapper performing a fitting finale, ending on the opening sample to create an endless loop of an already joyful and exciting experience. At times, after repeated and in depth listens, it's difficult to focus on what tracks are the actual standouts here, because all of them really are.
"Well, you say fuck that, yo, Holmes, fuck this/I'm the King Ad-Whammy and you're Dick Butkus"
When Paul's Boutique was released on July 25, 1989, Capitol were already anticipating another chart-topping LP, only to be disappointed with the results. A half-million copies were shipped and then returned to Capitol that same month by retailers, and no reorders were filled. The album only made it to number 14 on the Billboard album chart. Capitol Records had even made gold sales plaques before it had attained that status, which it wouldn't reach until September of that year. Over time, the album would eventually get its retroactive due and sell up to 2 million copies by 1999. While only a few reps at Capitol were impressed by the group's efforts and creativity, Paul's Boutique is a decidedly more complex and non-commercial work than the Beasties' debut. The samples on the record itself will always remain a hot topic, and those who worked on it are unclear on exactly how many were used, but this recording would lead the way for more articulate bodies of work from The Avalanches, DJ Shadow and Madlib. Not long afterwards, samples would become a nightmare for hip-hop artists to clear. If anything, this critical success showed the group did not exploit a genre, but instead they made it work for themselves by being able to produce stellar work and allowed them to be taken as a serious entity in the realm of hip-hop. De La Soul's debut, 3 Feet High and Rising was released earlier that same year, and in a way it shared similar production values and style with Paul's Boutique. Ad-Rock later confirmed to producer Prince Paul that his work with De La Soul was influential to the group's process, though both works are distinctly different from each other.
"Rock my ADIDAS, never rock FILA!"
Paul's Boutique would create a profound after-effect, in a way; The Beasties were finally taken seriously and would open the gates for other essential records such as Check Your Head and Ill Communication. In the aftermath, Matt Dike split from The Dust Brothers to found Delicious Vinyl, and later ended up working with Waxploitation. The Dust Brothers carried on to produce Beck's Odelay, they would also be responsible for this and move on to scoring Fight Club. The Beasties were able to craft the most clever, sly verses that included many references to New York, '70s and '80s pop culture, and tendentious insults to those who doubted them. Backed with some of the most rich and articulate production, the beats themselves were something any hip-hop artist would've been lucky to have, and enough to be envious of. Eric B claimed he could have made 15 albums with the beats, Chuck D once said that the album "had the best beats," Anthony Kiedis was jealous of the whole thing, and Miles Davis said he never grew tired of listening to it. My recollection of The Beasties began with License To Ill in 6th grade and that was pretty much it. I thought "Brass Monkey" and "Fight For Your Right" were the greatest songs ever. I wouldn't reinvest any time into the group until the re-release for its 20th anniversary and even then, it was something I didn't fully understand until after many repeated listens. Soon enough, I realized this album is, indeed, a special one. It paved the way for the Beasties to grow as artists and ultimately become legends. Simply put, Paul's Boutique is a fascinating journey and essential in anyone's collection.
Writer's Note: For further reading on the album, I highly recommend Dan LeRoy's excellent 33 1/3 book on Paul's Boutique.

***