A Beginner's Guide to the wonderful and frightening world of The Fall

Carole Segal - courtesy of Beggars Arkive
The Fall have separate Wikipedia pages for both their discography—which contains 37 studio albums and over 40 compilations—and their complete list of members over the years, which also number somewhere in the forties. They're a bundle of contradictions made harmoniously hostile, employing repetition but never moving in a straight line. Funny yet venomous, catchy and often cacophonous, The Fall made music that no other band in the post-punk era would. I'm not sure if another band could even properly replicate such an approach. There were a lot of great post-punk bands, but only one that sounded like The Fall.
The Fall formed pretty much exactly the same way that fellow Mancunians Joy Division did—Mark E. Smith, Martin Bramah, Tony Friel and Una Baines started the band after seeing The Sex Pistols at the Free Trade Hall in Manchester. And from that point on, they became an idiosyncratic institution, releasing roughly an album a year for the next four decades, with a rotating cast of members through which we can discretely identify the various eras of the band: the early years, The "Brix" era, the Fontana era and so on. As the group progressed over the years, they evolved from scrappy lo-fi punk to artful, mangled post-punk, krautrock-inspired dirges and rhythmic pulses, disco pisstakes to more polished alternative rock anthems, and eventually on back to big, loud rock songs. The one constant over the years is Smith, whose sneering sing-speak delivery gave the band's songs a sense of outsized personality, bridging cynical social critique with profane slogans ("Hey there fuckface!"). Smith's prickly and confrontational personality is responsible for some of his most memorable turns of phrase, as well as many of the lineup changes over the years, but regardless, he's synonymous with The Fall.
There are two quotes that are often repeated about The Fall, both of which continue to have legs long after Mark E. Smith's passing. There also have yet to be two better and simpler ways of describing the band than these. Smith himself said, "If it's me and your granny on bongos, it's The Fall." And the late John Peel, iconic DJ on the BBC, said that The Fall were, "Always different, always the same." Smith is the one constant in the group throughout their history, making every stylistic and aesthetic turn still recognizable as a result of his inimitable, cantankerous presence. With the band's legendary album Hex Enduction Hour turning 40 this month, it seemed time to finally tackle The Fall's wonderful and frightening catalog once and for all in an attempt to create a roadmap for casual and first-time listeners, with the inevitability of that first dive into the waters becoming an unhealthy obsession. We've chosen five of the best The Fall albums, along with next steps and advanced listening.
---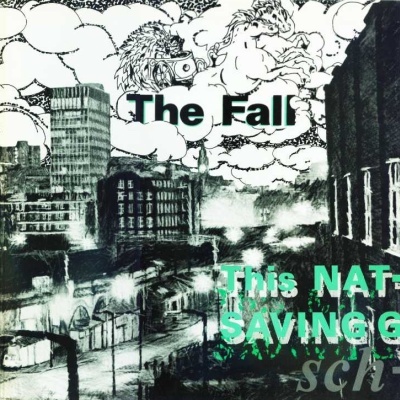 This Nation's Saving Grace
It took only six years for The Fall to achieve perfection. Perfect by their standards being rife with agitation and abrasion, but matured and streamlined into impeccably tense songwriting, aided by then-wife Brix on both guitar and vocals. The Fall had more polished records and even arguably more accessible ones, like 1988's The Frenz Experiment or the handful of records they released through major label Fontana in the early '90s. But on This Nation's Saving Grace, Mark E. Smith's manic sing-speak and the group's terse post-punk anthems are all locked-in and moving at a relentless pace that perpetuates a kind of gravitational pull, holding all of the group's turbulent elements together in rough-edged harmony. The dizzying "Spoilt Victorian Child" is a case in point, Craig Scanlon's dizzying rockabilly riffs tumbling over Smith's oddly-metered portrait of privilege: "The butterfly shrugs to fly in/Sugar and iced cakes appear mean." "I Am Damo Suzuki" is a tribute to Can in both word and sound, referencing the iconic German group's songs and sonic experiments through a hypnotic art-rock anthem befitting their own name. And "L.A." is The Fall at their most restrained cool, Smith uttering scant few words beyond repetitions of the title city. Everything is firmly in place on This Nation's Saving Grace: sneering humor, searing arrangements, palpable darkness and playful idiosyncrasy.
Listen: The Fall – "L.A."
---
Hex Enduction Hour
I could probably keep this short and sweet by suggesting you listen to Hex Enduction Hour front to back, and if you're sold, then just listen to the rest of them. That's actually not super helpful, I'll admit, but it does get to the kernel of the matter, which is that Hex Enduction Hour feels in large part like the quintessential album by The Fall, employing jagged-edged repetition ("The Classical," "Jawbone and the Air-Rifle"), artfully ominous inscrutability ("Hip Priest," as featured in The Silence of the Lambs), riff-driven stomp ("Just Step S'ways") and Mark E. Smith's lyrical satire ("Who Makes the Nazis?"). There's an added heft and punchiness to everything here, however, due in part to crisper production and the addition of second drummer Karl Burns, whose presence beefs up an already urgent and agitated set of songs. It's not coincidental that this was the band's first to chart in the UK—these aren't particularly commercial songs, but they're certainly among Smith and company's best, delivering a more muscular and relentless version of the band just a few years before they'd enter a new era.
Listen: The Fall – "Just Step S'ways"
---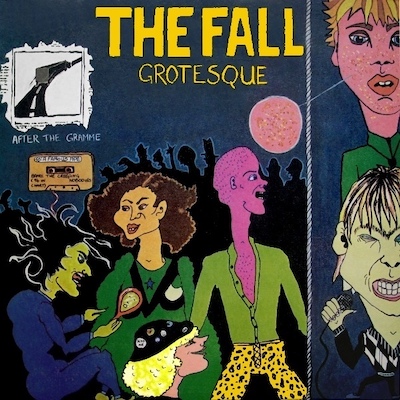 Grotesque (After the Gramme)
After releasing their debut album, 1979's Live at the Witch Trials, The Fall delivered three more albums in under two years, not to mention the many non-album singles that they'd continue to deliver throughout their four-decade career. Grotesque is both more buoyant and immediate than the three albums that precede it, if not more polished—the group feels as incendiary as they ever have, with guitarist Craig Scanlon providing a scratchy jangle behind Smith as he mutters his way through peculiarly catchy non-sequiturs like "Uh-containers, and their drivers!" on "The Container Drivers," or mangling some mutant rockabilly beneath Smith's English north-south divide narration on the lengthy closer "The N.W.R.A." ("DJs had worsened since the rising—Elaborating on nothing in praise of the track, with words they could hardly pronounce, in telephone voices"). What Grotesque delivers is a warts-and-all broad-spectrum version of The Fall, fully formed but always sounding as if they're on the verge of collapse, whether in the ping-ponging guitar riffs of explosive opener "Pay Your Rates," the urgent dissonance of "New Face In Hell" (whose riff was borrowed a decade later by Pavement), or the ominous marching dirge of "Impression of J. Temperance." Grotesque (After the Gramme) is, like the many contradictions that The Fall embodied throughout their career, both hard to summarize and easy to enjoy—a portrait of the band at their most cacophonously confident.
Listen: The Fall – "New Face in Hell"
---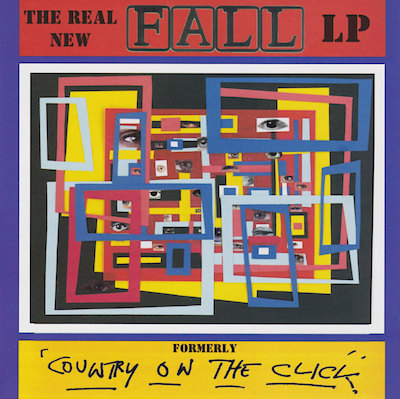 The Real New Fall LP (Formerly Known as 'Country on the Click')
The most cumbersomely named Fall album (that might not be entirely true, but bear with me) takes its long title from a phenomenon that became a new reality in the early '00s: file-sharing leaks. In this case, an early version of the album identified as Country on the Click had begun circulating before it was ready to be released, and the version that eventually was released featured some reworked material in an effort to deliver an album different than one people had already downloaded for free. The official version was also the best Fall album in over a decade, and one whose appeal is ultimately that of its simplicity. The electronics and warbly ambience that colors "Green-Eyed Loco Man," for instance, is mostly just colorful adornment for what's a pretty direct application of guitar rock. "Mountain Energy" moves with a glam-rock strut, and "Theme from Sparta F.C." brims with unruly proto-punk muscle. And though there's any number of sonic and stylistic variations throughout, what remains is a version of The Fall where Mark E. Smith ultimately accepts the path of least resistance and it works out unbelievably well—for a band known for everything from taut post-punk rave-ups, hypnotic krautrock pulses, experimental guitar clang, incendiary rockabilly jangle and even the odd synth-pop diversion, it's a lot of fun to hear Smith fronting a band that just rocks really hard.
Listen: The Fall – "Green-Eyed Loco Man"
---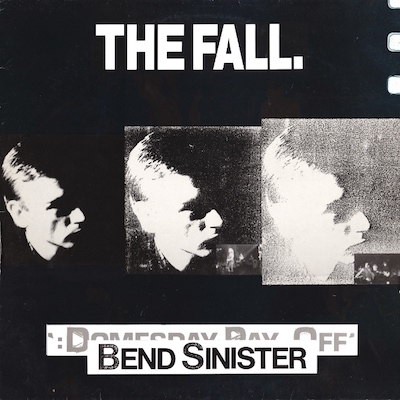 Bend Sinister
I'll admit to choosing a sentimental favorite for slot number five—Bend Sinister isn't the least logical choice to dive into The Fall's catalog by any means, though it's often mentioned well after records like the great but admittedly more abrasive Perverted By Language and The Wonderful and Frightening World of the Fall. Where this album diverges from its predecessor, This Nation's Saving Grace, is in the dramatic darkening of its tone, a more atmospheric, almost Joy Division-like pall cast over tracks like death-surf opener "R.O.D." and the chilling, lengthy "Gross Chapel – British Grenadiers." It's not The Fall going goth exactly, though with its production from John Leckie (which Smith wasn't necessarily all that sold on), it feels like a fascinating transition in terms of the atmosphere of the group, one that they wore stunningly. There are, however, some pretty sharp turns on Bend Sinister—a garage-stomp cover of The Other Half's "Mr. Pharmacist," the whistle-synth of industry satire "Shoulder Pads" (which appears in two different versions)—that keep it from being an entire hour in the Batcave. Not that I'd object, but if it didn't confound as often as it compels, well, then it wouldn't be The Fall.
Listen: The Fall – "Gross Chapel – British Grenadiers"
---
Next Steps: Where you go from here is something of a Choose Your Own Adventure with no wrong path, necessarily. Though first I'd suggest one of the group's singles compilations, probably a deep dive into the box set, The Fall Singles: 1978-2016. They released so much non-album material over the course of 40 years that to stick to studio albums means missing out on essentials like "Totally Wired," "How I Wrote 'Elastic Man'," "Cruisers Creek" and "Lie Dream of a Casino Soul." Next, seek out their debut, the raw and somewhat darker sound of Live at the Witch Trials, which isn't their best album by any means, but essential to unlocking the whole inscrutable puzzle. Chase that with 1983's Perverted by Language, which absolutely is one of their best, but a bit less accessible than the five albums listed above. And then wrap up the listening session with the brief, but excellent Slates, a 1981 EP that found the band at their most krautrock-inspired best, at times feeling more akin to a group like This Heat than other acts in Manchester at the time.
Advanced Listening: Well, there's still 30 albums to go! Though there are a few rough spots that haven't held up as well, they're all worth hearing for the most part. Make a priority to hear 2005's Fall Heads Roll, an encore of sorts after Country on the Click and a swan song for that particular lineup of the band. Dig into their Matador era with 1993's The Infotainment Scam, bearing all the urgency of the group at their early '80s best. And then hear the closest that the band came to mainstream glory with 1988's The Frenz Experiment, featuring their cover of The Kinks' "Victoria," and rhythm and polish fit for a pop breakthrough that never really happened—probably because it still sounds like an album by The Fall, and I mean that in the best way.
---
Support our Site—Subscribe to Our Patreon: Become one of our monthly patrons and help support an independent media resource while gaining access to exclusive content, shirts, playlists, mixtapes and more.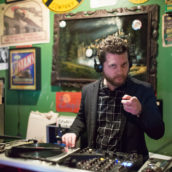 Jeff Terich
Jeff Terich is the founder and editor of Treble. He's been writing about music for 20 years and has been published at American Songwriter, Bandcamp Daily, Reverb, Spin, Stereogum, uDiscoverMusic, VinylMePlease and some others that he's forgetting right now. He's still not tired of it.