Best Comedy Albums of 2010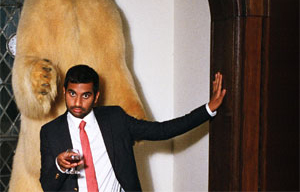 I've been a comedy junkie for years. It started with inherited records from my parents: Bill Cosby, the Smothers Brothers, and George Carlin. In between listening to albums by the day's top 'alternative' bands, I was soon hunkering down and reveling in the belly laughs provided by Eddie Murphy, Bobcat Goldthwait, Billy Crystal, Steve Martin, Cheech & Chong, and Sam Kinison. My love of comedy continues on, especially with this year's batch of stellar comic albums.
10. Nick Thune
Thick Noon
One of my favorite comedic discoveries this year was Nick Thune. A few comedians combine jokes and funny songs, but Thune is an original. Nick tours constantly and can be seen all over the country, but if can't catch a show, you can listen to this album again and again. Plus, if not prolific, he's a master tweeter.
9. David Cross
Bigger and Blackerer
If there is anyone who can claim the mantle of common sense, political humor, controversy and outright smart humor, once held by George Carlin, it's David Cross. He's simply one of the best, and he always delivers. Plus, the vinyl came with a black velvet cover. Does it get any better?
8. Anthony Jeselnik
Shakespeare
One of the more recent entries into this year's best comedy albums is from Anthony
Jeselnik. With this recorded collection of jokes, Jeselnik provides a master class on the form. With a distinctive delivery, a dry manner, and an unexpected twist on every premise, Jeselnik's debut will have people coming back to his jokes in the same way that people did with Steven Wright and Mitch Hedberg.
7. Brian Posehn
Fart and Wiener Jokes
Four years after his debut album, Live In: Nerd Rage, Brian Posehn finally returned his material to wax with the appropriately titled, Fart and Wiener Jokes. Posehn is still a nerd, still into metal, and still wickedly funny. We may have lost Sarah Silverman Program, but we still have Posehn's stand-up, and a few hard-driving comedy songs. Yes, he's more metal than you.
6. Doug Benson
Hypocritical Oaf
Most people of this generation will know Doug Benson from Best Week Ever, but the new burgeoning world of podcasting has brought Doug Loves Movies into the homes and ears of people everywhere, making a great party game out of Leonard Maltin's movie guide. All the while, Benson has not stopped smoking pot or doing stand-up, to our benefit. His latest album is his third, and quite possibly his funniest.
5. Mike Phirman
The Very Last Songs I Will Ever Record, Part 1
Some might know Mike Phirman as half of the comedy music duo, Hard n' Phirm, with Chris Hardwick. With his solo debut, Phirman proves he's just as potent on his own. His comedy songs are so well crafted, he makes you think that it's deceptively easy. Either that, or he's just really darn good.
4. Jackie Kashian
It Is Never Going to Be Bread
Jackie Kashian, mistress of the Dork Forest, is absolutely hilarious. She might not be a household name right now, but she sure should be. Kashian is a master of the conceptual joke, peppered with punch-up, and has a magnetic delivery. And who doesn't love a reference to Captain Pike?
3. Kyle Kinane
Death of the Party
If there is one person who could roundly be considered the standard bearer of a new generation of comics, it's Kyle Kinane. With the buzz surrounding this deep-voiced, bearded master of storytelling, one can tell he's about to explode. Tours with Brian Posehn and Patton Oswalt were essentially their way of recognizing young genius, and Kinane's debut album, Death of the Party, was certainly a confirmation of that fact.
2. Myq Kaplan
Vegan Mind Meld
One could probably have guessed that Myq Kaplan had an advanced degree in linguistics from a cursory listen to Vegan Mind Meld. Kaplan's wordplay and puns come so quickly, you have to rewind a couple of times just to catch them all.
1. Aziz Ansari
Intimate Moments for a Sensual Evening
Over the last five years, Aziz Ansari has been plotting to take over the comedy world, and after a popular cult sketch show and a successful sitcom, Ansari has proven he can still bring it in the realm of stand-up comedy. For nearly a full hour, Aziz makes comedic hay out of Craigslist, Facebook, Kanye West, and a particularly hilarious bit on Walking with Dinosaurs. If you haven't heard this set, I'd be surprised, but drop everything and just take care of it.
Side Note: Though they didn't have albums this year, Nick Kroll, John
Mullaney, and Donald Glover are also some of the funniest people performing comedy today. And if you're lamenting the dearth of female comedians, there just weren't that many albums by female comedians released this year (though catch the many podcast and television appearances by Maria Bamford, Natasha Leggero, Garfunkel & Oates, Tig Notaro, June Diane Raphael, and Casey Wilson. And, If you haven't yet seen Jenny Slate's Marcel the Shell, you're missing out).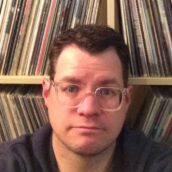 Terrance Terich
Terrance Terich firmly believes that 1985 is the best year for music. He lives near Seattle with his books, movies, and music.