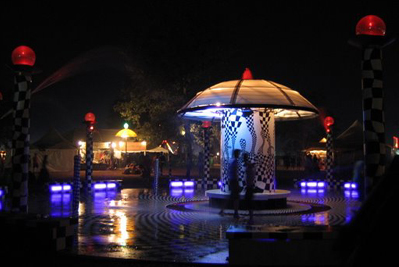 "I hate hippies."
So says David Cross when prompted at one of the first official festival press conferences of Bonnaroo 2007. He then went on to say that obviously, he's embellishing for the sake of comedy – but in general, he just plain doesn't like hippies.
So what was he doing at Bonnaroo, of all places? Supposedly, Bonnaroo is a hippie-infested direct tribute to Woodstock, rife with jam bands and various other forms of classic hippie lifestyle. It couldn't be for the money – it's hard to believe that the guiding forces behind the `Roo could offer so much monetary incentive that David Cross would feel inclined to trudge out to the middle of nowhere in hot and dusty Tennessee to perform for a clientele that he doesn't even like. So, why was he there? Why did he settle in to the 700-acre farm in Manchester for several days to perform four separate sets of hi-larious stand-up? According to Cross (a.k.a. Tobias Funke) himself: "The connection between the indie scene and comedy has developed into a really strong bond. It's always cool because I'm such a huge music fan, and I get to hear bands I've never heard of." He then explains how the festival atmosphere presents a challenge that he chose to accept – "to alter sets and power through obstacles, [as] this is not the best atmosphere for either comedy or music . . . it's tough to do comedy where there's no silence."
The festival's other two comedy heavyweights, Lewis Black and Dave Attell, both made similar statements in regards to their involvement with Bonnaroo. According to Black: "Bonnaroo is always a great mix of bands, and that's what's so great about it – it's consistent. It's a chance to hang out with people who would never hang out with me otherwise. This is as close as I'm gonna get to a rock star lifestyle, and I've always wanted to be a musician. Standing next to the stage is as good as it gets for me." And as Attell remarks: "I'm an alcoholic in a sea of potheads. I'm here for the hippie women. Comedy works best at night, [but] you wanna give them a good show – everyone's tired and been standing in the sun forever. And it's cool to see all the bands do their thing."
What's the point of quoting these comedians, short of trying to give you a dose of the funnies? Basically, I would like to demonstrate to ya'll how the theme of Bonnaroo has developed since it's conception in 2002, which saw a lineup of mostly jam bands and just a taste of experimental hip hip and electronica artists. Personally, I would have opted out of the 2002 festival had I actually been considering it in the first place. However, the 2007 version of Bonnaroo demonstrates a much greater representation of pop music and art, making for a more modern combination of, say, the classic Woodstock and present-day Coachella – except Bonnaroo offers easy and free access to water, pretty decent food, simplest stage names ever (What Stage, Which Stage, This Tent, That Tent, The Other Tent) campgrounds named after Star Wars characters, and one of the nicest festival crowds you'll ever encounter.
The comedian presence at Bonnaroo is just one example of the ways in which Bonnaroo has managed to develop without compromising its original theme of the more experimental music genre. If anything, there seemed to be a strong desire overall to move past the jam band stereotype. As Warren Haynes (Gov't Mule) said: "Many people don't listen to one because they don't like all jam bands. We're like the black sheep of the jam band world, and no one likes to be stereotyped, [but] we convert new fans every year." And as added by David Cross: "[This festival] seems to have mostly acts that thrive on improvisation – even Tool could be considered a `jam band' by that standard."
This year's lineup boasted many of the original gangsters of the `Roo: Widespread Panic, Ben Harper, String Cheese Incident, Ween, Gov't Mule, Michael Franti & Spearhead, North Mississippi, etc. From there, however, the lineup also included the Police, Tool, Wilco, the Flaming Lips, the White Stripes, and Manu Chao, all groups with individually innovative styles of music and "who thrive on improvisation," as Cross described, but do not technically fall into the jam band category. From there, we see current indie pioneers Franz Ferdinand, The Decemberists, Spoon, Hot Chip, The National, Kings of Leon, Regina Spektor, the Hold Steady, and Cold War Kids representing the festival's hipster side. Throw in stellar hip hop, jazz, mainstream and electronic acts like the Roots, Ornette Coleman, Pete Yorn, Lily Allen, and DJ Shadow, and you've got a lineup that a wide variety of music fans could sink their teeth into.
In so many words, Bonnaroo is no longer just for hippies, although I saw my fair share of hemp and tie-dye (I even wore hemp, I'll admit it). The crowd at this year's Bonnaroo was an incredibly eclectic mix, from hippies to hipsters, to frat boys drinking beer at 9:00 a.m. and sorority girls stepping squeamishly over mud puddles, to the simple laid-back, die-hard music fans in band T-shirts, cargo shorts and Crocs (I also wore Crocs – see, I defy categorization!). And overall, almost everyone carried and wore bandanas (a smart move – mops up sweat, protects from the sun, and acts as breathing apparatus when the dust levels are high), and no one was there simply to be a part of "the scene," a dynamic I've always loathed. We were there for the music, as evidenced by the staggering numbers of people at many of the performances.
On that note – would you like to hear about the performances that I managed to catch? Yes, yes you would.
Cold War Kids
"Festivals are a new thing for us. Our songs aren't really festival-y in a lot of ways, they've got more of a club feel to them. Festival crowds are cool, though, because you don't necessarily have to win people over like you do in clubs."
While Nathan Willett may have thought that the Cold War Kids' songs wouldn't necessarily translate to a festival atmosphere, I personally thought that their set worked quite nicely with the overall festival vibe. Their set was a bluesed-out, passionate experience, with Willett's wailing vocals leading the ebb and flow of the band's songs, giving their music a very spontaneous and free-flowing feel. "St. John" was particularly thrilling, and they played about 60 seconds or so of Tom Waits' "Dirt in the Ground" before launching into "Hospital Beds." Essentially, this performance set the tone for bigger concerts on bigger stages, a direction in which it seems the band is rapidly approaching.
Hot Chip
Hot Chip's set was absolutely electrifying, in both the literal and descriptive sense. They used an electric guitar as the leading force for most of the songs, creating an exhilarating concert experience. I didn't know if their songs would translate quite so well to a daytime festival atmosphere, but if anything, the warmth and openness of the outdoors actually enhanced the experience. Highlights include "And I Was a Boy From School," "The Warning," and a cover of New Order's "Temptation," which was equal parts sweet and funky. The Chip had the whole crowd dancing despite the heat, and the shared enjoyment between the band and the crowd was palpable.
The Roots
"Hippies pay my bills! And actually, festivals have changed us – we haven't changed the audience. We're trying to work with a larger spectrum of music to work with the festival. We study what the audience expects, and socialize in a creative way, and it brings the most out of us. We're just trying to be better musicians."
?uestlove's summary of the Roots' presence at Bonnaroo was easygoing and humble, and their performance on the main stage followed suit. The group's energy was positive, and their performance created a very old timey rock sound infused with their traditional hip hop techniques, and the crowd ate it up. The Roots are truly a performance spectacle – even from my spot far away from the main stage, I still felt fully immersed in the group's passion and craft.
?uestlove also participated in this year's SuperJam, which featured Ben Harper and John Paul Jones (of the mighty Led Zeppelin) on a two-hour plus jam after hours. Somewhat regrettably, I missed the SuperJam and therefore cannot report on its success, but hey, sometimes a girl's gotta sleep.
The Hold Steady
"The only rock n' roll I've ever liked has had some comedy to it. In fact, most of the stuff that I write is to make my friends laugh. I think there's a real connection between comedy and music."
And when he made a snarky declarative statement to the crowd that "You know, in clubs I tend to yammer on about baseball, which we don't have time for right now, but I think we can all agree that the Yankees suck," it's clear that Craig Finn's above statement is in fact the truth. And as he also mentioned, "it's a challenge to adapt from a smaller bar to a large festival, and it's harder to make a connection that we have to mentally prepare for." Based on the overwhelming gusto of the Hold Steady's performance, however, I would say that the band faced that challenge and kicked its ass all the way back to Brooklyn. Craig's charisma alone was practically it's own person, running amok, shaking hands, and spilling beer on the crowd. They played a series of their finest songs from both Separation Sunday and Boys and Girls in America, and it was simply a blast to experience. Craig finished the set by making sure that the crowd knew that "this is SUCH a joy for us," so overwhelmed with emotion that he could barely find the words in which to declare his happiness. The feeling's definitely mutual, Mr. Finn. The Hold Steady is truly one of the most exciting acts to be making the rounds these days.
The Police
"I really only wanted to be here for the Police. I told them I'd pick up garbage just to be able to see the Police." – ?uestlove
"I'm going to be sneak on to the Police stage and play tambourine with them. They don't know it yet, but their songs need some tambourine." – Adam Schlesinger (Fountains of Wayne)
The Police are undeniably legendary – their music, at its prime, was newly influential in its fusion of reggae and punk, and they became widely known through their large collection of singles and Sting's own status as a major star. For their stop at Bonnaroo for their reunion tour, they played all the favorites plus a few more, and Sting's voice still maintains its signature clarity and warmth. Therefore, their set was enjoyable, as it's always fun to hear those familiar, nostalgic songs. I can't say, though, that I was completely blown away or inspired, but perhaps that's because I don't put the Police in my personal category of all-time favorites. Plus, they were given a headlining spot of 2.5 hours, and I don't think they quite clocked in past the two-hour mark, making it obvious that the band did not adjust their set for the festival and instead stuck with whatever formula they'd been using for the rest of their tour. However, perhaps I can't expect them to do anything different – their tour is a reunion, not an effort to tread new ground. And the crowd had a blast rocking out and singing along to the classics, and you can't ask for much more than that.
The Flaming Lips
"If I wasn't playing at these festivals, I would be here anyway. You know, the toilets suck, sleeping in a tent can be rough, it's really hot and dirty – but it's these things that give festivals that bizarre adventure element. Which is actually sort of a metaphor for the Flaming Lips – you'll remember it, for better or worse. It's an intensity that only music and art can bring you to. I think if they had a choice, everybody here would be on stage making their own craft. I welcome the horrible elements because then we can all make it work together.
The atmosphere and the music and our imagination creates a connection between the musicians and the audience – we all want to experience that magic element together. America has achieved some great festivals, much like the classic European ones, that bring great variety that people want. The kids are here because they want their own adventures."
Wayne Coyne pretty much said it all. The man simply oozes charisma and sincerity, and it's because of this that the Flaming Lips continue to succeed in the matter of challenging themselves creatively. In a way, the band has hit a wall, musically speaking, but I believe that the Lips remain innovative through the creation of their live shows, among other things. Their concert was a fantastic visual display, with atmospheric lighting and a gigantic fake spaceship on stage, and Wayne started the performance by rolling out on the crowd in his signature giant inflatable ball. The entire show included a large group of people dancing on stage in various costumes (Santa suits, alien suits, and superhero costumes, primarily), making for a perfect fit for the Bonnaroo experience, as it brought together both the visual and auditory elements.
The Decemberists
"Increasingly, Bonnaroo has become on my radar – it's become a very influential festival, and beyond just the `Widespread Panic' community, including much more of the indie community. It's the diversity of the bands that really makes it great."
I was not originally planning to catch the Decemberists in action while at Bonnaroo. I am quite fond of the Portland band, but I felt that having seen them twice before in concert meant I could afford to miss them this time around in favor of catching Martha Wainwright. But, when I found out that Mavis Staples would be coming on stage to sing with the band during their set ("I am bowled over honored to have Mavis play with us," as Colin Meloy stated in addition to his above comments), and when Colin was nice enough to take a really dorky picture with me (see below), I knew I couldn't miss what the band had in store. Sorry, Martha. Next time.
They opened with the "Mariner's Revenge Song," (from Picaresque), and then surprisingly moved right into a full performance of "The Tain" (from The Tain EP). I did not expect this, especially because this was a festival set, not a full concert, so I was skeptical about whether or not this choice would go over well with the crowd. However, the band dominated the lengthy song with incredible electric fervor, and it was equally striking and captivating. Then, in between making comments about seersuckers being the best for hot weather, pouring water over his head and working with the audience to beckon the sun to go down, Colin led the band in several songs from The Crane Wife (always a pleasure) and began to wind down the set with a mock "jam" with guitarist Chris Funk and balancing his guitar on his head. It was after this that Miss Mavis came on stage, and they launched into a delightful cover of The Band's "The Weight." They closed the set with "The Chimbley Sweep," and I left the show entirely satisfied with my choice to stay at the Which Stage. Personally, I think the band's rising fame fits them well – they handle big stages and large crowds like pros, and seem to love every minute of it.
Wilco
"We're just trying to fit in as much music as we can, I'm not trying to ignore you all. I haven't been to frontman school, I don't know how to talk to a big crowd like this."
Wilco was granted a nice hefty slot on the main stage, and while his above statement mid-set demonstrated Jeff Tweedy's uncertainty with such a large number of people, the whole band still had comfortable, natural charisma and were truly having a grand ol' time up on stage. In fact, Jeff even went on to say that "we're having a really good time – that doesn't happen all the time, I usually hate these things!" They were all genuinely happy to be performing, and their set was a very relaxed, soothing fit for the last day of the festival at dusk. They played a husky, beautiful mix of both old and newer tunes, closing with "Heavy Metal Drummer," which was an absolutely perfect beat to end on.
The White Stripes
While Wilco was wrapping up, little did I know that the crowd was growing just around the bend at the Which Stage in anticipation of the White Stripes. And good lord, what a crowd it was. I'm inclined to believe that the crowd for the White Stripes rivaled the one for the Police, and in a significantly smaller area. Pretty impressive for a band consisting of two color-coordinated people, a drum set, a keyboard and a guitar. For reals.
And truly, the immense size of the crowd was merited, as the White Stripes are pretty incredible. Jack White is quite possibly the biggest rock star of this generation, and his stage presence is undeniably volatile. Meg packs a punch as well, and their simultaneous chemistry is remarkable. Their set was sprinkled with the classics ("In the Cold, Cold, Night," "Ball and Biscuit," "I Don't Know What to Do With Myself," and closed with "Seven Nation Army") in addition to the new and exciting tracks from the upcoming Icky Thump, including the title track. In a way, the Stripes have come back to basics as Jack returns from his stint with the Raconteurs – their outfits are still coordinated, their music is still huge and vibrant in its minimalism, and Jack's unhinged wail is still inimitable.
Spoon
"This is the moment I dread."
Poor Britt Daniel. His press conference also included Wayne Coyne (the Flaming Lips) and Bob Weir (the Grateful Dead), who quickly became the most talkative of the panel, which also included Chali 2na (Jurassic 5), Nathan Followhill (Kings of Leon), and Pete Yorn. So, when asked what part of festivals that he dreads the most (the weather, the crowds, etc.), Britt answered with the above statement. He also managed to squeeze in some yammerings about how "festivals allow you to play for people and with bands that you wouldn't normally," and otherwise he sat patiently and listened to Bob Weir talk about jam bands and Wayne Coyne assert the difference between music and politics. It was in Spoon's Saturday performance, however, that the frontman of the best band in the world truly came alive.
Spoon is extraordinary. Spoon is tremendous. Spoon is about 10,000 additional adjectives that I can't seem to compile quickly enough in my head. It's like a backed up log flume of love for the Austin quartet that leaves me at a loss for words. Their performance at Bonnaroo was sprinkled with an even mix of songs from Kill the Moonlight, Girls Can Tell, Gimme Fiction ("Anything You Want," "The Way We Get By," Small Stakes," and "The Beast and Dragon, Adored" being some highlights), as well as a few new ones from the upcoming Ga Ga Ga Ga Ga, and the tunes were performed with an immaculate fortitude that simply captivated the audience. It was an absolute joy to witness the simultaneous energy and awe that passed between Britt and the crowd with an overwhelming electricity. The band ended their set on time as instructed, but the crowd refused to stop cheering until they played an encore, in spite of the crew coming on stage to begin set breakdown. Britt responded with a gigantic "WOAH! They told us not to play an encore, but you guys made it happen." We obviously wouldn't have it any other way.
Essentially, I don't really care just how legendary The Police are, or the staggering crowd that The White Stripes managed to draw, although of course both those things are noteworthy overall. In my humble opinion, Spoon put on the best performance of the festival, one that yours truly won't be forgetting any time soon. Take that, Sting!
And thus concludes my summary of performances at Bonnaroo 2007. There were many more, but being just one person, I couldn't catch `em all, despite my best efforts. Having said that, however, I had an incredible time, and the festival's music acts truly speak for themselves. But Bonnaroo has so much more for festival-goers to enjoy, making your efforts to endure the camping, dust, hot weather, and portable toilets all the more worthwhile.
Other memorable quotes:
"I'm not drinking here because I know every move will be documented. I wish Paris and Lindsey where here so everyone would leave me alone.
We'll see how I'm embraced here as a pop musician. I refused to play Leeds because it's a rock festival, and the audience would probably throw things at me. I didn't make my album with `pop' in mind, I just did it to make music." – Lily Allen
"This festival is good to bring people together – it's a people thing. [Bonnaroo] is the festival in America that has a grand scheme – performing here is the greatest thing one can do. Any crowd is great for me, just playing music for people, very free expression." – Ziggy Marley
"We hope that people discover us outside of the one song [Stacy's Mom]. If people come by and they decide that they like our music, it's the best situation." – Adam Schlesinger
"Bonnaroo means togetherness. I'm in this music world in order to touch more people." – Chali 2na
"It was a crowd like thunder – I just kept going until I was about to bust. I'm uplifted, [because] I realize that I'm not doing this in vain. People really appreciate what you're doing, and it's good to be appreciated. I realize that I'm doing what I'm supposed to be doing. Music is healing, it makes you laugh, it makes you cry.
It's so exciting to play with the Decemberists because it means that I'm still being accepted by the young folks." – Mavis Staples
"Who invented the glow-in-the-dark hula hoop? When did that become part of rock? I'd think that'd get you beat up on the way to the rock show." – Dave Attell
"I don't necessarily like that we mix politics and rock `n roll so much. We're here for our own good time, to do whatever we want – but with politics, we have to make compromises with our politicians and deal with them. Not for rock `n roll – that's more like, `fuck it, take some acid and have a good time.' When it comes to politics, don't treat it like rock `n roll – let's take it serious!
You still have to make your own life the best thing that's ever happened to you – make your own epic experience. I say this all the time because I still believe that it's the truth." – Wayne Coyne
Special thanks to Big Hassle Media, for all their hard work and for treating their press like royalty.
And very special thanks to my partner-in-crime, Andrew French, for his great energy, company, and support.