Best Song Ever: Part Three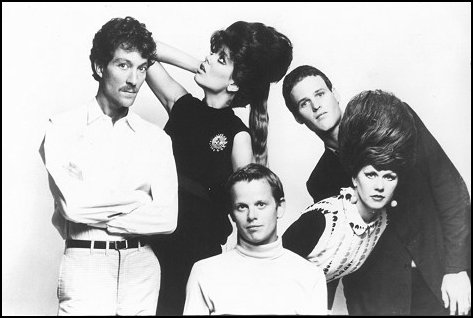 So we took a week off of this column. Sorry. But it's back, and we've got more songs for you to read about. More favorites from our personal collections. Some happy, some sad, some just plain good.
"Rock Lobster"
by The B-52's
from The B-52's
Some songs are great because of how the artist conveys their personal agony or joy. Some songs are great because they address important political ideas and conflicts. And some songs are great because the listener feels a personal connection to them. But in the case of "Rock Lobster," it's a brilliant piece of musical history just because it's silly, senseless fun. I don't know if there's any real meaning behind the song, but with lyrics like "Motion in the ocean/his air hose broke/lots of trouble/lots of bubble/he was in a jam/s'in a giant clam," it probably isn't anything too deep or introspective. The B-52s intended to write a party song with "Rock Lobster" and they did just that. That low-end guitar riff, the sci-fi b-movie organ and Fred Schneider and Kate Pierson's completely absurd delivery all make for essential elements to a new wave classic. And after 26 years, it still sounds original and unparalleled. – Jeff Terich
"Mayonaise"
by The Smashing Pumpkins
from Siamese Dream
What a horror it must have been for my mother that day in the summer between Jr. High and High School — between adolescent awkwardness and long-term social awkwardness — after my friend Jim taught me this nostalgic sounding Pumpkins song. With the distortion on a Crate practice amp pushed to the limits of 11 and supplemented by a bright orange distortion pedal that inexplicably made everything sound like white noise, I did my best to simulate the multi-layered, wail of feedback during the chorus' second run around. For hours on end I'd play this song and now, more than anything, it reminds me of Jim, the chain-smoking, Prozac-popping half-Chinese kid from Akron, Ohio; and that long day spent playing with distortion, imitating Billy Corgan's mosquito whine vocals and trying to make two guitars sound like thirty. – Hubert Vigilla
"Deathly"
by Aimee Mann
Famous now for being the song that inspired Paul Thomas Anderson's magnificent Magnolia, "Deathly" is still one of the best of Aimee Mann's career. Aside from Mann's patented brutally honest and conversational lyrics, it boasts what few Mann songs have, a wailing guitar solo reminiscent of 70's and 80's AM radio rock. But rather than taking the track in to the realm of the cheesy, it adds that extra depth of emotion that makes the song one of the most memorable of her repertoire. Everyone who has seen the film is now familiar with its opening lines of Now that I've met you / Would you object to / Never seeing each other again?, but not many are familiar with the even better and somewhat creepy ones, So do me a favor / If I should waver / Be my savior / And get out the gun. Whoa. Aimee Mann's look at the dark side of psuedo relationships has always been disturbing and entertaining, but never like this. – Terrance Terich
"The Maker"
by Daniel Lanois
From Acadie
Everyone knows Lanois as the master producer of such artists as The Neville Brothers, U2, Willie Nelson and Bob Dylan but how many can claim to own his magnificent solo albums. Written and recorded in his Kingsway studio in New Orleans, this song inspired me to want to move to New Orleans. "And from the across the great divide/from the distance I saw a light…"To me this song epitomizes my idea of "Myth City," a place where you can go live, breathe and create legends. "I have seen flaming souls/there over east of Eden/burning in the eyes of the maker." Besides it also a killer rhythm track; check out the amazing bass-line by Art Neville, one of the best basslines created by a musician, ever. It adds a layer of darkness to Lanois' enlightened lyrics, another reminder of the city I used to call home.
Just like "My Sweet Lord," this is another spiritual song without being too religious. The thing I love about "The Maker" is that it can be anything to anyone of us, God, inspiration, Love…all of the above. It's a very personal song with a very universal message of rejuvenation. – Adrian Cepeda
"Blacking Out the Friction"
by Death Cab For Cutie
from The Photo Album
Some songs just make you feel warm and fuzzy inside. They don't have to be particularly sweet or tawdry. They don't have to be love songs. They don't even have to be happy. "Blacking Out the Friction" is proof of that. Just listen to the beginning Rhodes riff and the upbeat melody, coupled with Ben Gibbard's opening lyric: "I don't mind the weather/I've got scarves and caps and sweaters/I've got longjohns under slacks for blustery days." How can you hear a lyric like that and not feel all gushy inside? Exactly, you can't. As Gibbard sings of starting a new life on his own, you feel like cheering him on, despite the underlying melancholy and the intense pause when he sings, "the hardest part is yet to come." But damn, what a feeling you get when you hear it. — JT
"Six Months in a Leaky Boat"
by Split Enz
from Time and Tide
I knew I was getting old when I heard this song in Muzak format playing overhead in a grocery store in Delaware. I had to pause for a minute as I heard the familiar notes of the song, and then reeled in amazement as I started singing with processed noise, When I was a young boy / I wanted to sail `round the world. More amazing still was to hear the song performed by Australian children's show giants The Wiggles. Even through all of this, "Six Months in a Leaky Boat" still holds up as one of the best sing along pop songs of the early eighties. Alongside some of the great songs by Ireland's The Waterboys, this is one of the best `seafaring' themed songs out there. And if you listen really close, you can hear the inspiration for the name of an album by Ted Leo & the Pharmacists. Give up?
The tyranny of distance
Didn't stop the cavalier
So why should it stop me
I'll conquer and stay free. — TT
"Such Great Heights"
by The Postal Service
from Give Up
I hate this song. It's just so disgustingly beautiful. When I first bought Give Up in 2003, it was my favorite song on the album. I had bought it while dating someone, and listened to it a lot with him. We broke-up, and I haven't listened to it since. But every time I hear this song, it reminds me of him. I just wish I didn't relate so much. — Ayn Averett
"November Spawned a Monster"
by Morrissey
from Bona Drag
True, the song is supposed to be from the point of view of a handicapped child, but when you're an extremely self-conscious teenager, everything drenched with self-pity speaks to you. Thus it was with Morrissey's "November Spawned a Monster". Secret confession, I used to change the words to "September Spawned a Monster" to reflect my own birthdate. Pretty sad, huh? But within the song are some of Morrissey's best penned lyrics including: "Jesus made me, so / Jesus save me from / pity, sympathy / and people discussing me" / a frame of useless limbs / what can make GOOD / all the BAD that's been done?. But it's near the end of the song, when in traditional Morrissey style, as in some of his earlier Smiths songs, the pitied heroine rises up, oh one fine day / LET IT BE SOON / she won't be rich or beautiful / but she'll be walking your streets / in the clothes that she went out / and chose for herself. Most of Morrissey's singles hold significant places in my heart and memory, but this one in particular I played over and over again. — TT
"Beat My Guest,"
by Adam and the Ants
b-side of "Stand and Deliver"
At this point in Adam Ant's career, he had moved on from straightforward punk rock to some kind of strange, bouncy new romantic post-punk that saw him dressing as a pirate. On Halloween of 2003, I, myself, dressed as Adam Ant for Halloween, which I pulled off so well, people actually recognized who I was supposed to be, rather than just "some new wave guy." This, of course, led me to listen to a lot of Adam Ant that fall, including this gem, a b-side to his hit, "Stand and Deliver." Though his output at the time was something altogether quirky and whimsical, albeit a bit smart-assed and cynical, he salvaged "Beat My Guest," a three-chord punk rock ode to S&M with a chorus of yodeling. Only Adam Ant could pull it off, thanks to a background in punk and a penchant for the cheeky. And it one-ups a prior Ant tune about bondage, "Whip in my Valise," by making it far more playful and energetic. — JT