Best Song Ever: Wedding Music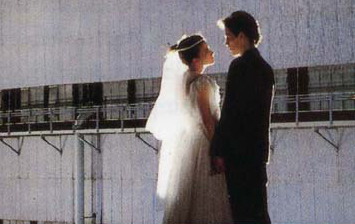 The project started in January—my sister-in-law, proprietor of Inkfancy and the Inkfancy Blog, commissioned my brother and I (there's three of us, you do the math) to come up with two complementary articles on perfect wedding music. One half was to comprise ideal songs for a ceremony, while the other would be composed of suggestions for a couple's first dance. Just to get this out of the way, we are not DJs. We have not crowd-tested songs, we don't know what's guaranteed to get your grandmother to do the funky chicken, and we certainly don't know how well Kanye West goes over with the out-of-town guests. (Amazing?) And yet, each of us has been to our share of weddings, sometimes with good musical selections, sometimes with fairly traditional ones, and sometimes with absolutely dreadful playlists that should be forever banned from this, otherwise, most joyous of occasions.
So we divided up the tasks—Terry took the ceremony music, I took the first dance. And the challenge ended up being a lot of fun. We each got to give some overused, cliché choices for wedding music the boot, while offering up numerous new suggestions to take their place in the wedding canon. And we even had one song in common among our separate musical selections.
And then a funny thing happened—while in the middle of compiling the wedding songs, I became engaged to my longtime girlfriend. And what started as a fun project soon became a brainstorm for the playlists that we'll eventually put together for our own wedding. Hooray!
Now that it's spring, and happy couples will be walking down the aisle together for months to come, we found it only appropriate to offer up our suggestions for such a celebration. And after subjecting everyone to our scariest songs and best murder ballads, we figure we owe you something on the opposite end of the spectrum.
Note: This article is also posted (in two parts) at inkfancy.blogspot.com. Check it out for other awesome wedding-related stuff.
Part One: Ceremony Music
by Terrance Terich
Your wedding day is one of the most important days in your life. So, don't you want to remember it? Don't you want it to be a day that really stands out in every way whatsoever? Being a music aficionado, I've always been disappointed by music picked for wedding ceremonies. I know that there are traditions for a reason, but aren't we all tired of hearing Wagner's "Here Comes the Bride?" Even most of the secondary traditional choices are still somewhat stuffy. I love Pachelbel's "Canon in D" and Handel's "Air" or "The Arrival of the Queen of Sheba" as much as the next person, but these songs don't have nearly the personal connection that other, more recent tracks might. And, let's not kid ourselves, just because you're pondering using Norah Jones' "Come Away With Me" doesn't necessarily mean you're straying from the pack. Though only a scant six years old, it's now a wedding standard. When it comes right down to it, most people don't really know where to start in regard to wedding music. Web sites and magazines don't seem to give most of us any better advice as I've found they spout the same old cliché music we've always heard.
I've come up with a few tracks that can act as prelude, processional or recessional songs (I'll designate, but I find that most are really interchangeable for any of those purposes) for the more discerning and modern music fan. You can call it a playlist for a hipster wedding ceremony if you like, but you'll be sure to remember your special day for a long time to come.
Processional:
Delibes – "Flower Duet" from the Opera, Lakmé
Buy at iTunes
This may seem like more of a traditional choice, and that's why I'm leading off with it. And while it does appear on some traditional wedding music lists, it is still widely overlooked. Conceived by French composer Léo Delibes, "The Flower Duet" is a delicate and airy number finding two dulcet female voices intertwining like songbirds dancing around with ribbons twixt their beaks. It's a perfect choice for the arrival of the bride, not overpowering in any way, and ideal for spring or summer nuptials.
"Theme from a Summer Place" (written by Max Steiner)
Buy at iTunes
When asked what a girl had to do to impress him, Oz of Buffy the Vampire Slayer responded that it involved a feather boa and the "Theme from a Summer Place." Whether you use Percy Faith's original recording or a later more revved up version by the Ventures is up to you, but this is a gorgeous piece of music, not to be overlooked. (And use an instrumental version, so as not to distract. Then you can simply sing the words "Theme from a Summer Place" over and over again like Jasper in The Simpsons).
The Sundays – "Wild Horses"
from Blind (1992; DGC)
Buy at iTunes
I know this is a classic from the Rolling Stones, but the Sundays' version is far more relaxed and thus better suited for wedding music. It emphasizes both the commitment and overwhelming feelings of love involved in the ritual.
Sigur Rós – "Starálfur"
from Ágætis Byrjun (2000; FatCat)
Buy at iTunes
I'd venture to say this is perhaps my favorite choice for a modern processional. It has everything a song needs to provide a bride's dramatic and romantic entrance: sweeping strings, subtle vocals and steady cadence. Not to mention it's a tearjerker. That's why it was used in The Life Aquatic and The Girl in the Café. There are several moments in the song that would be suitable for the bride's procession, so it's both foolproof and able to be timed and choreographed should you have an experienced DJ providing music.
Ani DiFranco – "Falling Is Like This"
from Out of Range (1994; Righteous Babe)
Buy at iTunes
The lyrics in this song are interpretable. Ani has never been one to write a straightforward love song. But that doesn't make it any less pretty or meaningful. As the song title may already suggest to you, Ani describes love as an uncontrollable and overwhelming emotion, which can be fleeting. Normally, DiFranco's songs are slightly aggressive and growly, but "Falling" is easily the most subtly delicate and moving songs she's written and performed. It's definitely a song for a realist's wedding as, though it may discuss the ecstasy of love, it also hints at its downfalls.
Peter Gabriel – "In Your Eyes"
from So (1986; Geffen)
Buy at iTunes
Come on, how can this song not be mentioned? Especially for anyone who grew up watching John Cusack movies. I almost didn't include it, simply because it felt like a "gimme." The intro alone is perfect for that walk down the aisle. You could also substitute it for Jeffrey Gaines' acoustic version, which is also quite good, and a bit less busy, but I prefer the piano and African drums, myself.
Iron & Wine – "Naked As We Came"
from Our Endless Numbered Days (2004; Sub Pop)
Buy at iTunes
This pastoral acoustic number works on several levels. First of all, it's simply a very touching song with diaphanously whispered lyrics by Sam Beam, which always makes for a great wedding intro. But it's also about lifelong love, and almost to a fault. Beam utters lines that speak of a relationship leading to the grave, which may not be the perfect choice for most couples, but in the end, isn't that what a wedding is really all about? "Til death do us part?" So, in the end, it's ideal.
Neutral Milk Hotel – "In the Aeroplane Over the Sea"
from In the Aeroplane Over the Sea (1998; Merge)
Buy at iTunes
In that same vein, we have Neutral Milk Hotel's acoustic ballad. Sure, Jeff Mangum's voice is a little more abrasive than Sam Beam's. And sure, it's part of a song cycle dedicated to Anne Frank. But, I have never heard such earnest and realistically romantic lyrics in my life. So, for real indie cred, use this track. If you want a version of the song that might be more palatable to the older generations, use Matt Pond PA's more delicate cover.
R.E.M. – "Be Mine"
from New Adventures in Hi-Fi (1996; Warner Bros.)
Buy at iTunes
Though drenched in Peter Buck's wall of fuzzy guitar noise, I've always wanted this song to be one played at my wedding. Michael Stipe's lyrics, historically, have been cryptic and indecipherable, but in this track from New Adventures in Hi-Fi, he writes the most straightforward and romantic lyrics of his career. The repeated chorus of "You & Me" would bring a tear to anyone's eye, and he only ups the ante with the apropos lyrics of "I'll want the finger with the ring." The verses in the song even act as vows, so the song could even be played in place of them, which might spice up the ceremony a little. "And if you make me your religion / I'll give you all you will need / I'll be the drawing of your breath / I'll be the cup if you should bleed."
Damien Rice – "The Blower's Daughter"
from O (2003; Vector)
Buy at iTunes
This is the perfect solution for the modern indie kid with panache for the past. Irish folkie Rice pours his heart out with regularity, but never so much as on this earnest track. The repeated chorus of "I can't take my eyes off of you," hearkening back to Frankie Valli's oft-used romantic number, sets the mood exquisitely. Plus, the cello is quite possibly the most romantic instrument in history. But, make sure your DJ or music supervisor cuts it off before the last line, "til I find somebody new." That might put a damper on things.
Prelude:
Magnet (with Gemma Hayes) "Lay Lady Lay"
from On Your Side (2004; Filter)
Buy at iTunes
Here's another one where I've chosen a cover, one that most purists would find sacrilegious, as the original is by Bob Dylan, but I really think this is a fun and romantic cover. First of all, it's done as a sultry duet, and secondly it's a tad more sinuous than the Dylan original. If you have conservative family members, you might want to avoid this sexy track, but since when have wedding guests (other than people like me) ever paid attention to the lyrics of background music? I know that hearing this song in preparation for my own wedding would make me feel pretty darn good.
Sufjan Stevens – "The Dress Looks Nice on You"
from Seven Swans (2004; Sounds Familyre)
Buy at iTunes
Most people might not want banjo music playing at their wedding, but most people aren't me. Stevens manages to make the banjo both subtle and romantic at the same time in this whispery track. The title and lyrics could be a slight nod to a wedding, though it was originally written as a remembrance of how the author's girlfriend taught him what to say to ladies. Then again, that might be even more appropriate.
Daniel Johnston – "True Love Will Find You in the End"
from 1990 (1990; Shimmy Disc)
Buy at iTunes
This is really a song for those who haven't yet found love, but it can also act as the celebration of finally finding it, or it finding you! Another tearjerker of a song, filled with hope and tinged with a little sadness, you could easily substitute it with covers by either Beck or my personal favorite, Jeff Tweedy, depending on your tastes.
Big Star – "I'm In Love With a Girl"
from Radio City (1974; Stax)
Buy at iTunes
It's a short song to be sure, but it packs a lot of punch in a few minutes and a few lyrics. In its entirety, "I'm in love with a girl / Finest girl in the world / I didn't know I could feel this way / Think about her all the time / Always on my mind / I didn't know about love / All that a man should do is true / I didn't know this could happen to me." It's a wonderful song by a great band.
Elliott Smith – "Thirteen"
from Thumbsucker OST (2005; Hollywood)
Buy at iTunes
This is another song by the aforementioned Big Star, but covered here by Elliott Smith. I would particularly recommend this song for couples that were grade school or high school sweethearts as it tells a tale of young love and rebellion. But, anyone with a strong sense of nostalgia can get behind the track and its mentions of the Stones, the community pool and getting tickets for the school dance. The "Ooooh's" after each verse are magical.
Magnetic Fields – "Nothing Matters When We're Dancing"
from 69 Love Songs (1999; Merge)
"Nothing Matters When We're Dancing" comes from a huge compilation of love songs by this Boston band, but it tends to stand out. To me, true love is measured by how much you can block out bad times and questionable surroundings by just being near your partner. That's what this song says to me in its lush and melodic way. And ultimately, amidst all the chaos of friends and family, it really does feel just like the two of you.
Recessional:
The New Pornographers – "The Bleeding Heart Show"
from Twin Cinema (2005; Matador)
Buy at iTunes
Again, any and all of the above songs could be interchangeable for different parts of the ceremony, but if I could soundtrack my own wedding, that is, have a DJ perfectly cue up songs as if we were in our own little movie, this would be my only choice for the Recessional. Listen to the song. I'd have the music swell with the "Oooh's" during the kiss and pronouncement of marriage, and then dance back down the aisle to the infectious "Hey La's." There is no way that anyone attending would ever forget it. As an added bonus you could play it again during the reception and lead all of your guests in the final chorus. No need to thank me.