Greatest Hits: The best U2 songs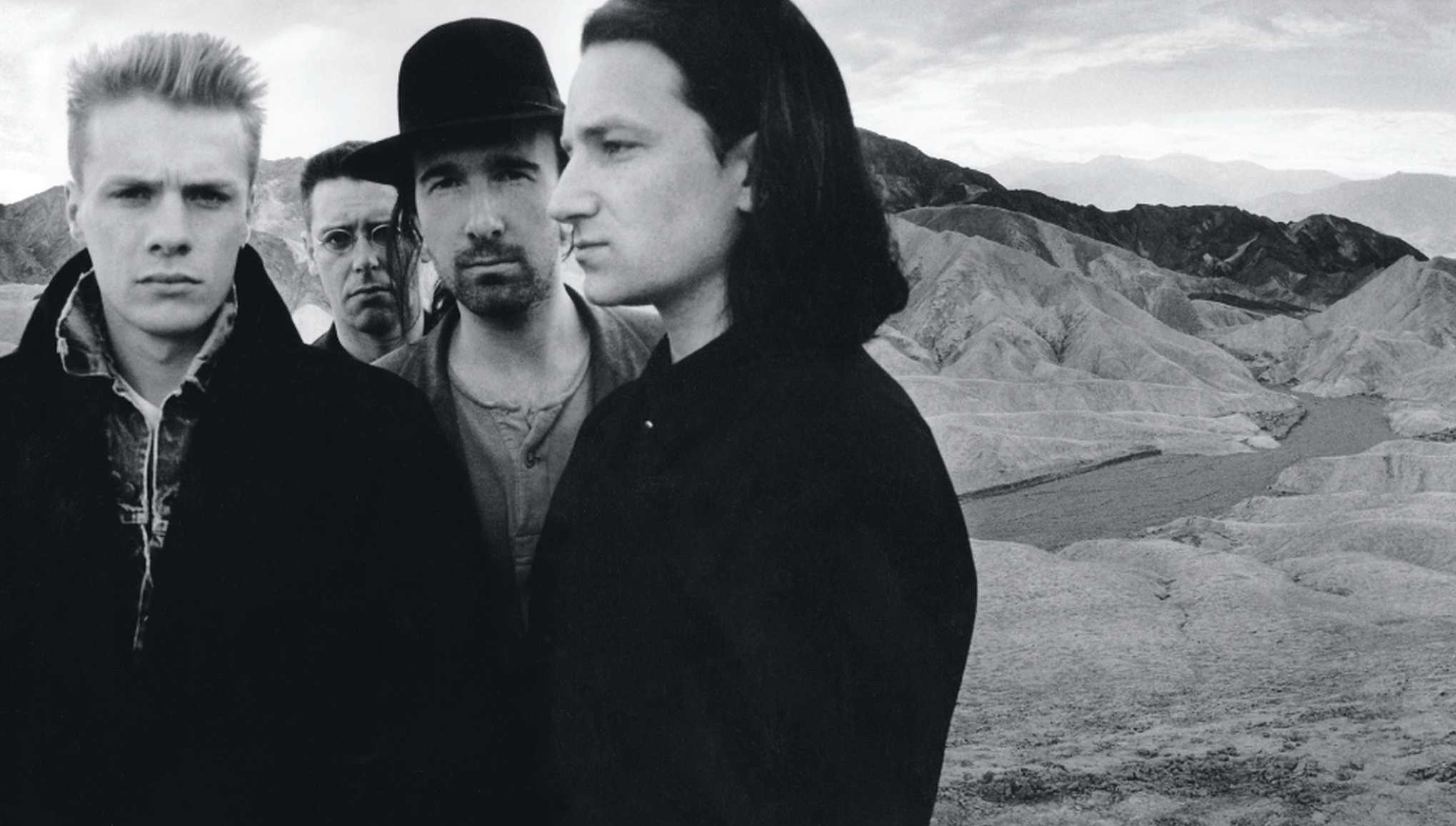 About two years ago, a social media dismissal of U2's legacy planted the seed for this article. In the past decade or so, I've read a lot of these. Some of the critiques of the band have come as a result of their iOS intrusion in 2014, some of them have been because of a string of albums that don't live up to the heights they've reached in the past. And these are all perfectly fair. It's been a long time since I've been excited about a U2 album, personally. But that doesn't erase their importance, their influence or simply how much great music they've released in the past. I'm old enough to remember a time when I honestly never encountered someone who didn't like at least a little U2—everybody I knew at one point owned a copy of Achtung Baby. You probably do, too. When U2 are at their peak, they're utterly heroic.
This year marks a number of significant anniversaries for the band, who were originally formed in Dublin, Ireland in the mid-'70s as Feedback, before briefly changing to The Hype, and then eventually U2, named after the Cold War spy plane. Their 1993 album Zooropa just turned 25; their 1988 album Rattle & Hum is 30; and their 1983 album War turned 35 at the beginning of the year. So while the idea came together two years ago, now is an opportune time to take a look at the best musical moments in the band's career. Viewed as a whole, U2's career can be divided up into four different phases. The first, in the early '80s, is U2 the young, idealistic post-punk band. The second, U2 the stadium-filling rock heroes. In the '90s, they became the rare band with runaway commercial success that used their platform to make some of the most experimental music of their more-than-40 years together. And then there's U2 the Super Bowl halftime act, a phase of their career that's been the least challenging, often frustrating, but still offering up moments of greatness here and there. And in that time they've redefined the rock live show, used their platform to highlight and benefit causes such as social justice and poverty, and seemingly having some fun while doing all of that. And even more interestingly, they've done so without changing their lineup—something generally unheard of for a band with this kind of longevity.
Generally in features like this one, we make an effort to represent all eras of a band's career. This one ends before the recent pairing of Songs of Innocence/Experience, not necessarily because they're irredeemable, but because they ultimately don't seem to add that much to the bigger picture, especially when it means something from their best albums would have to be sacrificed. There's also not an entirely even distribution of tracks from their albums. While Achtung Baby is represented with five songs, recent ones like No Line on the Horizon or How to Dismantle an Atomic Bomb each have only one. And while I considered including Kendrick Lamar's "XXX," ultimately I decided against it (though you can consider it a bonus track if you like). What's here—31 songs total—represent the full scope of U2 at their best, a reminder of how powerful this band can be, even though they're far from perfect.
Disc One: This is the Golden Age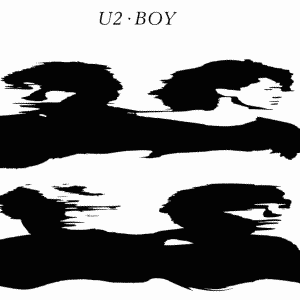 "I Will Follow" (3:36)
from Boy (1980; Island)
There's no starting a dive into U2's best songs without "I Will Follow." Both their first truly great single and a defining anthem of their career, "I Will Follow" is U2 at their most towering. A tribute to Bono's mother, who died when he was just 14, "I Will Follow" is simultaneously touching and hard-driving, as good as any other post-punk track released that same year, though admittedly more commercial than the likes of Joy Division or The Cure (at the time). And considering it's edging near 40, it's got staying power, still a song that you're likely to hear on the radio every now and then (though more frequently on satellite radio). I remember once quipping on social media about how it's a shame U2 doesn't play much of their old material on tour, and a friend joked he could just imagine someone shouting "play something from Boy!" But they still play this—it's been on the setlist of every major tour throughout their career.
---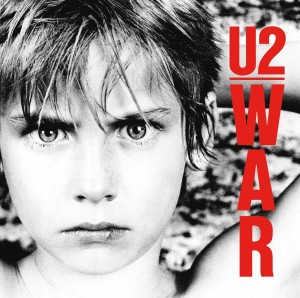 "Sunday Bloody Sunday" (4:38)
from War (1983; Island)
U2 drummer Larry Mullen Jr. is one of U2's greatest assets, though it seems his talents sometimes go underrecognized. In fact, apparently their label wanted the band to drop him upon signing, though they refused. What's all the more remarkable is that U2 remains one of the rare bands in rock music to have never changed their lineup in 40 years of playing together. But Mullen's style, especially in the band's early days, lent a particular immediacy and tension to their sound, like in the legendary intro to their classic single "Sunday Bloody Sunday," which was written about an infamous day in 1972 when 28 civilians in Northern Ireland were killed by British soldiers. As such, it's a somber topic for a song, but U2 turned it into a powerful post-punk anthem featuring a great arpeggiated riff from The Edge and even a violin solo.
---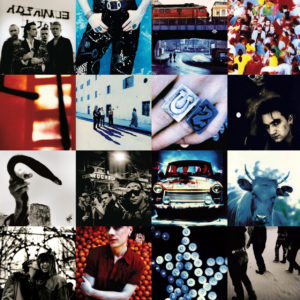 "The Fly" (4:29)
from Achtung Baby (1991; Island)
Achtung Baby began with a more divided U2 than they had ever been before, with different members of the band compelled to pull their music in different directions. The Edge, in particular, was listening to a lot of industrial music and sought more "throwaway, trashy kinds of things," as producer Daniel Lanois put it. And frequent collaborator Brian Eno was enlisted to remove any elements that sounded too much like U2 of the past. It was a rough road getting there, but the end result was songs like "The Fly," a big, riff-heavy rock song that came to define a new era of U2, one that embraced the absurdity and modernity of their sound while retaining a signature melodicism. The song also came to be the name of an alter-ego Bono adopted on stage, clad in leather and wearing big, round black sunglasses.
---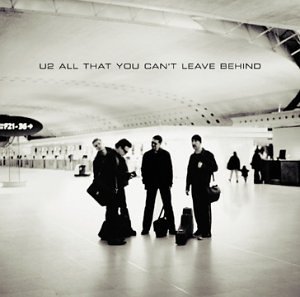 "Beautiful Day" (4:08)
from All That You Can't Leave Behind (2000; Interscope)
The most divisive album that U2 ever released was All That You Can't Leave Behind. Sure, maybe Pop received more negative criticism, or Songs of Innocence making itself at home on millions of people's mobile devices wasn't received all that well. And while we're at it, Rattle and Hum isn't anyone's favorite. But Leave Behind ushered in an era of U2 that led to the most ire ever directed their way, and that has a lot to do with its ubiquity. This is the era of the post-9/11 Super Bowl U2, the selfies-with-George-W.-Bush U2, the Bono-is-woman-of-the-year U2. Yeah, those guys get on my nerves too. But it's not like this is a bad album. It's also not a great album. It's a perfectly serviceable set of big-hearted, earnest crowd pleasers that lives up to the band's reputation as arena rock stalwarts without taking the kinds of risks that made them exciting in the '90s, and none of it is offensively bad, but most of it rarely rises above fine. "Beautiful Day," overexposed as it might be, is one of the songs where they really went for it. I was surprised to discover that after all these years, while "Elevation" and "Walk On" still elicit more than a shrug, this anthem still feels powerful. Crowd pleased.
---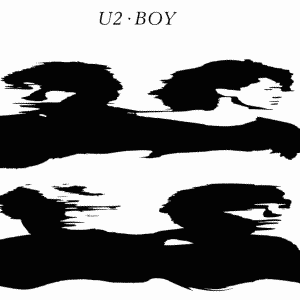 "Stories for Boys" (3:02)
from Boy (1980; Island)
I've read up on my share of "Best U2 song" articles, and for reasons that elude me, "Stories For Boys" rarely shows up. Perhaps it has something to do with lacking the gravitas of their more message-driven material, or perhaps it has something to do with the fact that it's mostly an outlier in their discography. But it kicks ass, so I don't know what the problem is. Driven by one of the best riffs in The Edge's repertoire, "Stories For Boys" is all tension and energy, the post-punk darkness drawing an easy line to contemporary bands like Savages. Thematically, it's a bit lighter, a comment on a penchant for losing oneself in escapism, but honestly, that feels strangely relevant given how utterly gross and baffling everything feels lately. All I know is when this song is on, it reminds me of a great chapter in U2's history that rarely gets the recognition it merits.
---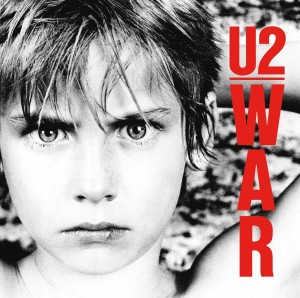 "Like A Song…" (4:48)
from War (1983; Island)
This highlight from War doesn't have the same dense mythology or backstory as the album's singles, but it's here for a simple reason: It kicks ass. One of the moments in U2's history where they end up sounding more like The Chameleons or Joy Division, "Like A Song…" is dark and driving, tense and dynamic. As a deep cut, it tends not to receive the same kind of attention as, well, most of their songs. Even from U2—though Setlist.fm's database isn't by any means 100 percent complete or accurate, it lists the song being played only once in their history. Even "Stories for Boys" got more mileage than that, having been performed more than 100 times in the band's first few years of touring.
---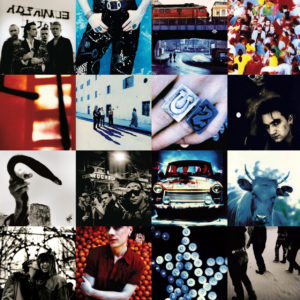 "One" (4:36)
from Achtung Baby (1991; Island)
"One" was a breakthrough for U2, one of the first songs to come together during the contentious Berlin recording and writing sessions of Achtung Baby. It's a soulful ballad, by no means as bombastic as those on the band's previous two albums, as well as one with a fairly simple message of forgiveness and understanding. Though it took on a new life—as do most songs—when Johnny Cash covered it nine years later on his album American III: Solitary Man. And if it's good enough for Johnny Cash, it should be good enough for everybody.
---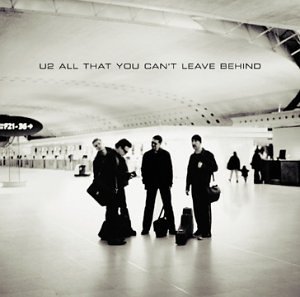 "Wild Honey" (3:46)
from All That You Can't Leave Behind (2000; Interscope)
One of only two songs represented from All That You Can't Leave Behind, an album that's neither great nor horrible, but certainly made exhausting due to its ubiquity. That's maybe an unfair complaint, admittedly, but because the album was so driven by its pop appeal, it seemed to lack the nuance and layers of highlights from albums such as The Unforgettable Fire and The Joshua Tree. In layman's terms, it's a little basic. And that's OK! It just doesn't make for one of their best albums. This is a notable highlight, a song that unapologetically nods to Van Morrison (never a bad thing) its title seemingly a combination of "Wild Night" and "Tupelo Honey." (It's also a great sounding rock song, which, again, is an asset.)
---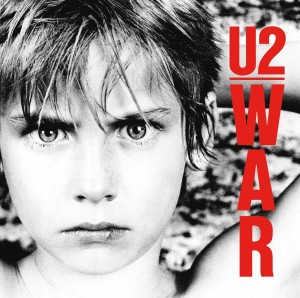 "New Year's Day" (5:38)
from War (1983; Island)
I'll just get this out of the way: This is U2's best song. And it's U2's best song for a lot of reasons. For one, it was one of their first singles to push beyond their early template, showcasing an anthemic sensibility and a wide stylistic range, albeit one that maintained the taut, punchy sensibility that they had crafted on Boy. In fact, Adam Clayton had apparently come up with the song's signature bassline while trying to figure out how to play Visage's "Fade to Grey" during a soundcheck, which means that the era's goth and post-punk styles were still well within their system. The song is especially earnest and affecting, with Bono drawing influence from the Polish solidarity movement of the early '80s, returning to the determined refrain, "I will be with you again/I, I will begin again." Add in a legendary video shot in a snowy landscape (in Sweden, not Poland) along with some reverb-heavy piano, and this is U2 at their absolute best.
---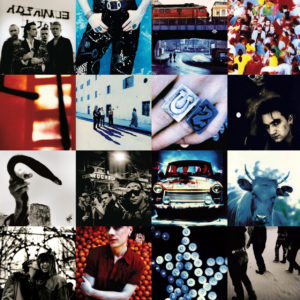 "Until the End of the World" (4:39)
from Achtung Baby (1991; Island)
Featured in the Wim Wenders film of the same name, "Until the End of the World" is an imagined conversation between Jesus and Judas Iscariot, putting a clever, darker spin on Bono's long track record of looking to the Bible for inspiration: "We ate the food, drank the wine, everybody having a good time/Except you, you were talking 'bout the end of the world." Musically, however, it's an example of the innovation of Achtung Baby at its most successful, with The Edge's signature delay guitar juxtaposed against some darker production choices and percussive loops. It's not electronic or industrial per se, but it's closer to the post-punk roots of the band than they've sounded in a long time.
---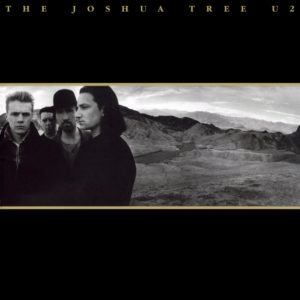 "With Or Without You" (4:55)
from The Joshua Tree (1987; Island)
It's a song we've all heard hundreds of times, and yet it loses none of its potency in the process. "With or Without You" is the number one most-listened U2 song on Spotify, and probably just in general—though that's hard to quantify with a band so ubiquitous. Still, for a song with so much mileage, "With Or Without You" excels on its simplicity, Adam Clayton's four-note bassline driving the song as its arrangement slowly escalates. It's tense, it's emotional, and it's gorgeous. Also its use in a Ross/Rachel Friends plotline has been rectified by being featured in the devastating final episode of The Americans, so there's that.
---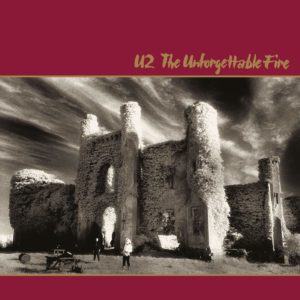 "Bad" (6:10)
from The Unforgettable Fire (1984; Island)
The Unforgettable Fire proved to be a pivotal album for U2, their first to feature producer Brian Eno, and also the album that found guitarist The Edge refining his delay-heavy guitar style that came to be his signature. Nowhere is this more apparent than on "Bad," the soaring highlight that also came to be a powerful live anthem for the group (their Live Aid performance of the song has become legendary). A song about heroin addiction, which had become much more widespread in Ireland in the '80s, "Bad" can be read as coming from the perspective of either the addict or from someone on the outside, but regardless, it's a powerful statement. The goosebumps-inducing cry of "I'm wide awake!" is a singular moment in the band's catalog.
---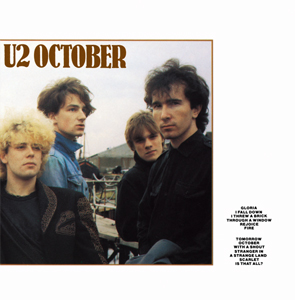 "Gloria" (4:12)
from October (1981; Island)
October is few U2 fans' favorite album. That's not because it's a bad album by any means, but it lacks both the immediacy of predecessor Boy and the anthemic power of its successor, War. It does, however, have "Gloria," a post-punk single on par with "I Will Follow," complete with both a stellar riff and a slide solo from The Edge. One of the earliest and most prominent tracks in the U2 catalog to touch upon Christian themes, the song's title references Psalm 30:2. And yet it also references "Gloria," the garage rock hit by Van Morrison's Them. It has layers, but most of all it's a driving single that rises up into a climactic, sing-along coda.
---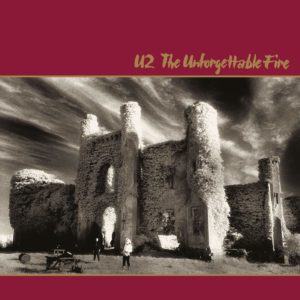 "Pride (In the Name of Love)" (3:49)
from The Unforgettable Fire (1984; Island)
It's often pointed out that "Pride" has a factual inaccuracy; Dr. Martin Luther King Jr. was actually shot around 6 p.m., not in the "early morning." This has led to some changes in the live performance of the song, in which Bono often sings "early evening." But that minor detail aside, "Pride" is a pretty much perfect song, a point at which the band's post-punk origins had met up with their stadium-rock ambitions. It's also representative of their socially conscious outlook, which had become more prominent on War. U2 weren't just making music that sounded like it was meant to be played in bigger venues, they were addressing bigger topics, and with an anthem like this, it was inevitable they'd become one of the biggest bands in the world.
---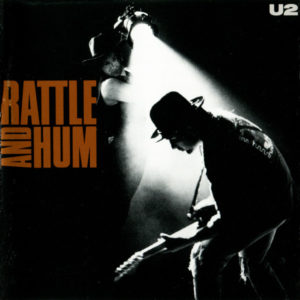 "All I Want Is You" (6:29)
from Rattle and Hum (1988; Island)
Rattle and Hum is one of the U2 albums that's been praised less than their other '80s releases, mainly because of the scattered nature of it. Since it's a tour documentary, it naturally features a handful of live recordings of their songs, including "Bullet the Blue Sky" and "Pride," along with a handful of covers, including Bono's hammy intro to The Beatles' "Helter Skelter." There are some really good songs on it, though, and "All I Want Is You" is at the top of that list, a soaring ballad that Bono wrote for his wife Allison. And as song-as-gift ideas go, good lord, this is an outstanding one. It's a touching song, but it's also an epic, the kind of song that made U2 into the legends they've become.
---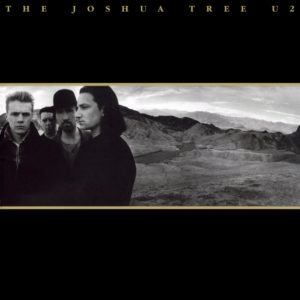 "Where the Streets Have No Name" (5:37)
from The Joshua Tree (1987; Island)
On more than one instance and perhaps as many as a dozen, I've heard or seen "Where The Streets Have No Name" referred to as U2's best song, and while I might not agree on a personal level, it's absolutely a masterpiece of a rock song. As the introduction to The Joshua Tree, it's a song that signals something grand and dramatic. The ambient hum that leads to The Edge's delay-treated riffs, Bono's cry of "I want to run, I want to hide"—it's the makings of a rock anthem, and it's a powerful one at that. The concept of a place where the streets have no name was born of an uncomfortable truth about the state of the world, which hasn't changed in the last 30 years—that a person's status in the world can be easily determined by the street on which they live. Bono's idea, then, was to speak of a utopian ideal where that division no longer exists. Plus Arcade Fire stole all their best tricks from this song, which says a lot.
Disc Two: Better by Design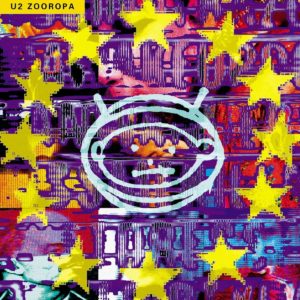 "Zooropa" (6:30)
from Zooropa (1993; Island)
Few moves in U2's career were as bold as Zooropa, an album that managed to sell more than 7 million copies despite being a fairly outlandish experiment (relatively speaking, they weren't actually releasing an Einsturzende Neubauten record, no matter how much The Edge might have been listening to them). The title track of the album is a psychedelic mission statement, with disorienting production techniques that made the sole first half of the track sound muffled and distant, while Bono delivers advertising slogans: "Better by design," "Be all that you can be," "vorsprung durch technik." It was a climactic entrypoint into the band's newly built virtual world, and it felt strange and a little unsettling, but its sound and reflection of commercially-sponsored emptiness still resonate.
---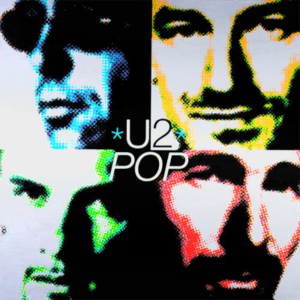 "Mofo" (5:49)
from Pop (1997; Island)
U2's Pop has become the album that's most often pointed to when someone wants to bring up a bad U2 album, though that's frankly absurd—every album they've released since then is a drop in quality. It's also pretty damn good, despite the over-the-top marketing that went along with it, and the silliness of a few tracks like "Discotheque" (and its video for that matter). "Mofo" is certainly over the top, but the pulsing synths that drive the song make it immediately different than anything that preceded it—good different, exciting different. Like "I Will Follow," the song concerns Bono's mother's death when he was just a teenager, which in turn leaves him stunted in development: "Now I'm still a child, but nobody tells me no." It's at once a parody of rock stardom and something much more tender and personal, revealing far more layers than the flashy package would suggest.
---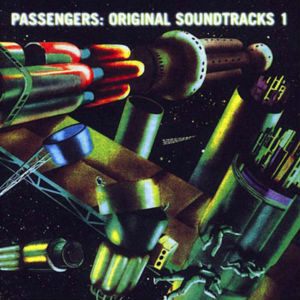 "Miss Sarajevo" (5:40)
from Original Soundtracks 1 (1995; Island)
The '90s were by far the most experimental period for U2, sometimes in triumph (Achtung Baby) and sometimes with more mixed results (Pop), but for essentially the entirety of the decade, U2 were using the gigantic platform they had built for themselves to do some fairly weird stuff. "Miss Sarajevo," the lone single from their Passengers project with Brian Eno, isn't the strangest track on the record—not by a long shot. But it does feature vocals from Luciano Pavarotti. So there's that. It's more atmospheric and sedate than much of U2's material from any era, a song that actually wouldn't be so out of place on an album like OK Computer. But it's quite gorgeous, operatic cameo or not.
---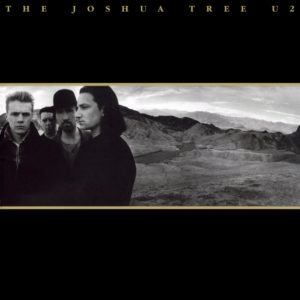 "Bullet the Blue Sky" (4:32)
from The Joshua Tree (1987; Island)
Notable for having been played more than 600 times on tour as well as being the song that gave the band's documentary, Rattle and Hum, its name, "Bullet the Blue Sky" is one of the most darkly abrasive songs on U2's The Joshua Tree. A song critical of military intervention, originally inspired by the 1980 conflict in El Salvador, "Bullet the Blue Sky" feels as turbulent as the wartime theaters that informed it, with The Edge's slide-guitar technique heightening the tension. It's rife with the Old Testament references so prominent in Bono's lyrics, but he's more direct in his critique of the military-industrial complex: "Suit and tie comes up to me, his face red like a rose on a thorn bush/Like all the colors of a royal flush, and he's peelin' off those dollar bills, slappin' 'em down/One hundred! Two hundred!" It's the angriest U2's ever sounded.
---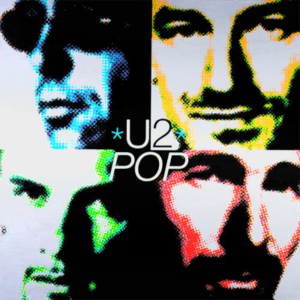 "Last Night On Earth" (4:45)
from Pop (1997; Island)
This is both counterintuitive and obvious, but the songs on Pop that work best are often the ones that leave the most room for subtlety and space. "Last Night On Earth" retains the electronics-tinged production and future-pop sensibility of the other tracks, but there's a chilling darkness about it. Essentially a song about someone so disillusioned with the world that they seek an escape by whatever means necessary, it feels more sleazy than desperate, but it still works simply because of the aesthetic the band cultivates. Perhaps not the most affecting song they've ever written, but a damn good one all the same.
---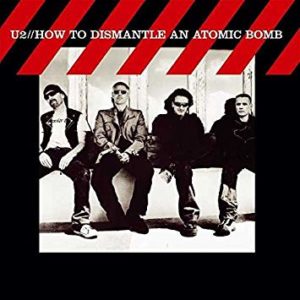 "Love and Peace or Else" (4:53)
from How to Dismantle an Atomic Bomb (2004; Interscope)
There's at least one song on every recent U2 album that comes as something of a surprise, by which I mean a good surprise. After all, U2 are at their most disappointing when they fall back on tired habits, not so much when they take risks. (Some of those don't work out either, but at least they leave their comfort zone.) So the fact that there are surprises at all is a positive thing. How To Dismantle An Atomic Bomb is a record that almost never leaves the middle of the road. It's a rock album in a similar manner to how R.E.M.'s Monster was, but the reason that album succeeded is because it felt loose and fun in a way that this album rarely lives up to. "Love and Peace or Else" is an exception, one of the dirtiest blues-rock songs the band ever recorded, serious in tone to a degree but still freewheeling and fun. It succeeds where something like "Vertigo" fails.
---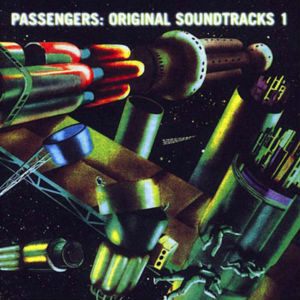 "Slug" (4:41)
from Original Soundtracks Vol. 1 (1995; Island)
Now this is where the Passengers concept begins to show something more fruitful out of the Eno partnership. Though he's been a partner of U2's for a long time, their work together had rarely showcased the ambient compositional style he's cultivated for most of his career. In fact, this track sounds more like Eno than U2, it just happens to feature vocals from Bono, each line beginning with "Don't want…". It takes a full two minutes before Bono even begins singing however, and by then there's already a foundation of gorgeously atmospheric art-pop. Bono's merely along for the ride—a passenger, you could say.
---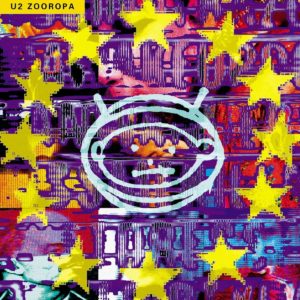 "Lemon" (6:56)
from Zooropa (1993; Island)
Bono has a few topics in his lyrical oeuvre that come up time and time again: addiction, religion, the Troubles, self-critique, commercialism and his mother. This song isn't necessarily about his mother, though it was inspired by an old video of his mother in a yellow dress. In turn, he penned a narrative about a man who tries to preserve the past through technologies—a Black Mirror episode perhaps without the tragic irony. But what makes it that much more interesting is its pulsing psychedelic disco sound, aided by Bono's falsetto vocals. It's over the top, but in a way that U2 hasn't been for a couple decades. It's a risk that paid off well.
---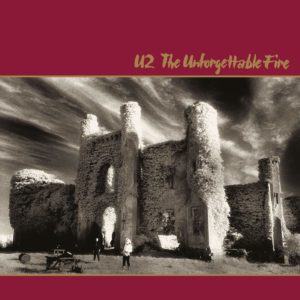 "The Unforgettable Fire" (4:56)
from The Unforgettable Fire (1984; Island)
Its name taken from an art exhibit displaying paintings from survivors of the nuclear bombings during World War II in Japan, "The Unforgettable Fire" is a somber track, yet it's also a thrilling one. At once atmospheric and sleek, the track finds the band's post-punk roots seeping in beneath the ambient aesthetic, creating something alternately driving and dreamy. But production wise, more synths find their way into the song, and at times it sounds almost more like New Order than U2. It's gorgeous, dark and still inspiring, a pinnacle of U2's early songwriting.
---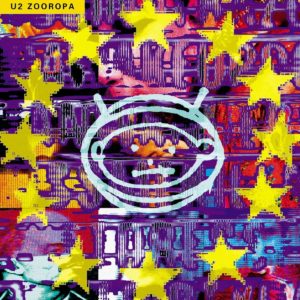 "Daddy's Gonna Pay For Your Crashed Car" (5:19)
from Zooropa (1993; Island)
It's telling that David Bowie was a fan of U2's Zooropa, as it was the kind of album that only an artist with a grand vision could pull off. Though the band has mixed feelings about the album. Bono himself didn't think all the songs were up to the standards of their previous records, while The Edge considered it "an interlude," though he qualified it as a "great interlude." It's certainly weird, though—at the time it was a pretty odd statement, and even now it stands out in their catalog for being a peculiar one, even if Pop was more jarring in some respects. Zooropa was an experiment worth taking, however, as it yielded tracks like "Daddy's Gonna Pay For Your Crashed Car," a noisy, electronics-driven track that more literally embraced the industrial sounds the band pursued on Achtung Baby.
---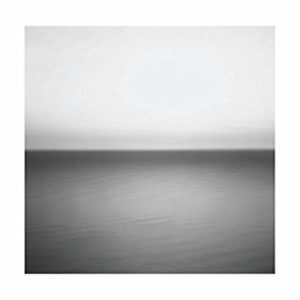 "White As Snow" (4:41)
from No Line on the Horizon (2009; Interscope)
Remember that thing I said about how there's at least one good surprise on every recent U2 album? No Line on the Horizon has more than one, but the best of them is "White As Snow." When the band was working on this album, they were coming off of a decade playing to their most commercial, crowd-pleasing instincts, so to hear them take on some subtler, more exploratory material proved rewarding. "White As Snow" is an atmospheric ballad, probably the closest to a Passengers track as they've released since the turn of the millennium, and fairly close to the more open, spacious tracks on Blur's Think Tank. Coincidentally, both albums came out of sessions in Morocco, though the results are mostly pretty different, save for this moment of caught-off-guard beauty.
---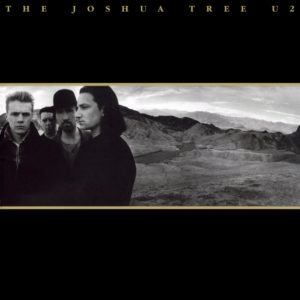 "Running to Stand Still" (4:17)
from The Joshua Tree (1987; Island)
Bono has described this song as a "prose poem," unedited from its first draft. Whereas typically he'd spend time on crafting his words to be more musical in practice, the meanings of them sometimes sacrificed in favor of their rhythm and sound. Here, however, he left them as is, and they work gorgeously, a portrait of a heroin-addicted couple in Dublin. Yet the music finds U2 taking cues from American roots music, namely blues and folk, with some earthy slide riffs and harmonica giving the gorgeous ballad a bit more dusty grit.
---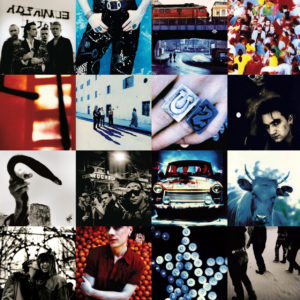 "Acrobat" (4:30)
from Achtung Baby (1991; Island)
The musical motif of the penultimate song on Achtung Baby sounds considerably different than most prior U2 songs. It's performed in 6/8, a signature they didn't often use, and The Edge's guitars sound denser and shoegazier than on most of their other songs. Reading through the lyrics, it seems very much like Bono is working through his feelings about U2's creative place at that point: "What are we going to do now it's all been said/ No new ideas in the house, and every book's been read?" The irony is that this launched a highly fertile decade of creativity for the band, complete with some of their farthest out experiments. Fascinatingly, this year marks the first time the band ever performed it live despite it being such a high point on their 1991 LP.
---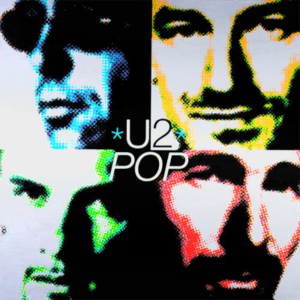 "Gone" (4:26)
from Pop (1997; Island)
Pop, for U2, was a kind of Warholian experiment in meta-commentary—something that could arguably also said for Achtung Baby, though this album took the idea that much further. "Gone" is a sober reflection on the idea of escaping into celebrity and how reality still pulls you back out of it. It's U2 on U2, essentially—they're the biggest rock band in the world, but for being this larger than life entity, they've long held to a strong social consciousness and being involved in humanitarian causes. Not to mention they're still able to laugh at themselves. "Gone" isn't a joke so much as an admission of being unsatisfied with a shallow ideal—"Goodbye, you can keep this suit of lights/I'll be up with the sun."
---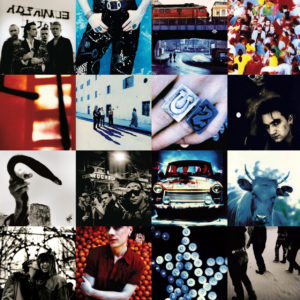 "Love Is Blindness" (4:23)
from Achtung Baby (1991; Island)
Most U2 albums end with a hymn, or some kind of coda. Achtung Baby ends with a torch song, making it one of only a couple outliers (Zooropa's "The Wanderer," with Johnny Cash, being another). It's also an outlier in that it's a fairly dark ending to an album that, by and large, is one of their most fun. Though Achtung has its share of seriousness and soul-searching, it's a big rock record that found the band taking themselves less seriously. Yet here, they offer a sinister warning about how love taken to an extreme can be a destructive thing, and yet it's wrapped in such a seductive package that the intensity of it goes partially unnoticed.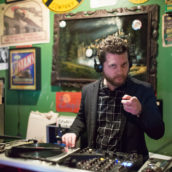 Jeff Terich
Jeff Terich is the founder and editor of Treble. He's been writing about music for 20 years and has been published at American Songwriter, Bandcamp Daily, Reverb, Spin, Stereogum, uDiscoverMusic, VinylMePlease and some others that he's forgetting right now. He's still not tired of it.