History's Greatest Monsters: U2 – POP
Love them for their earnest worldview or hate them for their largesse, nobody denies that Irish quartet U2 worked long and hard to build up their reputation. Their populist rock began to swell record sales and concert attendance in the mid-1980s somewhere between War and The Unforgettable Fire—propelled by politically charged singles "Sunday Bloody Sunday" and "Pride (In the Name of Love)," then hammered home by MTV and Bono's commanding presence as a lead singer. But at the end of the decade came something of a hiccup: Rattle and Hum, a 1988 look from multiple angles at the band's infatuation with American music and audiences. It still dominated record store registers and even video rental stores, but many critics thought the music and its affiliated rockumentary were scattershot and preening, more "hey, look at us" than "hey, look at our roots."
U2's subsequent reinvention in the 1990s was actually a full buy-in to that self-indulgence, although a knowing one that slyly tweaked the all-encompassing embrace of celebrity. They immersed themselves in the glowering production styles of post-punk and electronic music, hitting stage and screen in rave-ready costumes and alter egos. They recorded and toured behind alt-rock writ large on Achtung Baby and emotional atmospherics on Zooropa. But once again, the decade drew to a close and the band made a creative choice that many fans and observers considered the worst mistake of their career. From its creepy/glossy Eurotrash point-of-view to yet another huge tour that for once seemed overdone, and even accounting for the sometimes generic feel of the rock on releases that would follow, 1997's Pop seems the least "U2" of any U2 album.
Yet I look at Pop from the cushy seat of a more casual U2 fan. I have a few of their other albums; I like a few deep cuts; I sometimes tire of the hits. I'm also a longtime fan of electronic music. I don't attend every festival, don't hear every megamix, and don't read every review, but I know what I like. So from the jump I probably like Pop a lot more than you do. However, I think part of the reason I like it is because it's from U2. I understand that they're a capital-letter Rock Band, but they turned out an album heavily grounded in the sounds and scenes of club music—granted, one that came at the tail end of the best that big beat and first-wave trip-hop had to offer—and it's not half bad for what they were trying to do.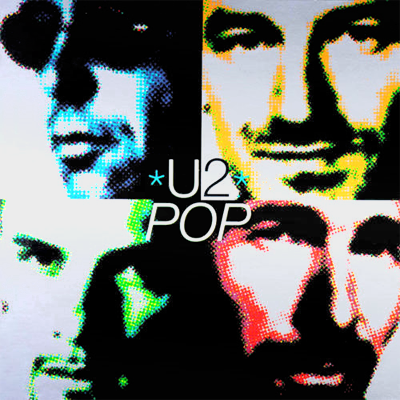 I'll allow that Pop might be a bad album for diehards who don't feel the music on it portrayed the group doing what they did best. Yet it somehow gets the short end of the shitstick for doing essentially the same thing Achtung Baby and Zooropa did. For the third album in a row Bono, The Edge, Adam Clayton, and Larry Mullen, Jr. roughed up their production and fed it a steady diet of vodka and ecstasy. Both of those prior albums featured a list of guests and producers zigzagging from guitar-rock's various edges (Steve Lillywhite, Daniel Lanois, Johnny Cash) to digitized beats and ambience (Brian Eno, Flood). The hate can't solely stem from Pop being even more of a patchwork quilt, and that wasn't because Lanois and Eno's guiding hands were absent for the first U2 album since—you guessed it—Rattle and Hum. Instead, where U2 normally would first hash out songs in the studio together, drummer Mullen was on hiatus due to back problems, with subsequent surgery and recovery.
As such, the construction of the album over two years found the band working more piecemeal than usual, with a murderer's row of techno-friendly studio hands developing ideas using a growing arsenal of machines and opinions bounced off of people in new directions. Trip-hop pioneer Nellee Hooper, credited only with photography on Pop, was there early in the process to plant creative seeds in U2's heads. Producer and remixer Howie B spun and scratched records to inspire the band in the studio. Steve Osborne, the non-Oakenfold half of Perfecto Records, played "objective observer" when listening to unfinished tracks. And Mark "Spike" Stent, in between albums for Bjork and Massive Attack, engineered the album under Flood's watchful eye. They worked with the whole band and whole songs, as well as each member playing individual parts into processors and misdirected microphones, breaking off pieces to be filtered and looped with aging computers and sampled alongside the likes of Naked Funk and Don Cherry.
Even with all of this dance-music influence, there are still songs and sounds on Pop that scream "traditional" U2. "Please" and "If God Will Send His Angels" are right up Bono's alley of lamenting various aspects of faith, the latter perching his falsettos and cooing amid the soft sounds of turntables, synthetic flutes, and Edge's guitar picking. Underneath distortion and some particularly dirty Clayton bass lines we also hear new chapters in the band's ongoing story of the search for emotional ties—found in the soaring "Do You Feel Loved," lost in the eventually despairing "Staring at the Sun." And really, Pop seems to frequently revisit that lack of embrace, those empty feelings and existences. It's all a rather sad and distant affair, a point driven home late by "If You Wear That Velvet Dress," a quiet message unsure if it's a come-on or a threat.
Maybe that social nihilism is why Pop doesn't resonate as much with fans as other U2 releases. Hell, it doesn't even resonate that well with U2; the band were rushing through Pop in the studio up until the last possible day before mastering and tour preparations, and in the 2006 book U2 by U2 Bono suggested that some tracks had "better" arrangements and lyrics that hit the cutting room floor. That may be so, but that admission damns his band and this album with faint praise. Besides, club music represents a convenient vehicle for people to be physically present, in the moment, and yet psychologically apart. If you want to have a good time while you're essentially alone, grind up against your fellow dancers and see where the night takes you.
From the clanging Garbage rock—yes, capital G, Shirley Manson and all—of "Discothèque" to the Morcheeba sway of "The Playboy Mansion," U2's suggestions of disconnection manifest as regretful yet initially entertaining fakeness. Bono and company touched on this on Zooropa with the industrial-leaning "Daddy's Gonna Pay for Your Crashed Car." On Pop, superficiality expands to fill all remaining space: the filtered rock-star squeals of "Gone," the work to keep art fun on "Last Night on Earth," the Wilhelm scream at an absent parent in "Mofo." (And God bless Mullen if he was able to recover from his back problems and play the drums on "Mofo" in one take, as stated in the liner notes. It's as relentlessly aggro as anything they've ever done.) The band's heretofore unseen level of sleaze gets capped off by the subtly disturbing "Miami"—in context, the line "Got the sun, got the sand / Got the batteries in the handycam" always gave me a bad snuff film/spring break porn vibe, which for U2 is pretty fucking daring.
That predatory feel ultimately helps the album tie off a storyline. These three LPs constitute an Irish "Berlin trilogy," Pop representing the questionable decisions after Achtung Baby opens the club doors and Zooropa progresses through the hallucinogenic party. I won't prop it up as some landmark like Bob Dylan going electric, but I'd certainly compare Pop to something like Yes joining up with Trevor Horn to go all New Wave-y for 90125. (Don't laugh: 90125 is probably Yes' biggest seller and spawned six singles including "Owner of a Lonely Heart," their only #1 in the US.) Pop is nowhere near their best album, but I consider it even stronger than Zooropa which gets far more love in common U2 fandom. In fact, Pop sold more than Zooropa worldwide, and launched six singles versus five for Achtung Baby. Maybe more importantly, to this point Pop remains the latest U2 album I've purchased in their discography, which tells you something about all that I actually can leave behind.
Final grade: B-
Got a suggestion for an album to review in History's Greatest Monsters? Leave it in the comments!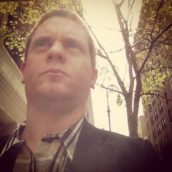 Adam Blyweiss
Adam Blyweiss is associate editor of Treble. A graphic designer and design teacher by trade, Adam has written about music since his 1990s college days and been published at MXDWN and e|i magazine. Based in Philadelphia, Adam has also DJ'd for terrestrial and streaming radio from WXPN and WKDU.