Big Star : #1 Record/ Radio City
There are few trinities in rock music as holy as Big Star's first three albums. One could name Wire's first three albums, which I could certainly agree with, as well as Elvis Costello's first three. But Big Star's near-complete discography (not counting fourth album In Space) displays a unique progression of the band from pure, bright-eyed popsters, to would-be rock stars, to a chaotic, if tragic, and beautiful mess. On #1 Record, the Tennessee power pop group introduced the world to their pretty and bold guitar jangle, heavenly vocal harmonies and just enough swagger where it counted. With Radio City, the group merely amplified that sound with a bit more rock `n' roll muscle, and an album's worth of songs that should have been hits. And with Third/Sister Lovers, the group had somehow shed most of their bright, accessible tendencies in favor of a harrowing album that revealed only glimpses of their past selves, while largely revealing a band growing artistically, if disintegrating in the process.
Perfect as this trinity of albums may be, there's a reason why #1 Record and Radio City were reissued in the '90s on a single disc, while Third was kept separate on a disc of its own. Running time may have a little to do with it, but the first two records are much better bedfellows than their unsettling masterpiece of a swan song. They're both pop records, and amazing ones at that, each carrying a dozen brilliant tunes. They were albums of singles, and when paired together form what is essentially a perfect greatest hits package. Rykodisc once tried to do such a thing on The Big Star Story but it was awkwardly sequenced and featured some non-essential versions of songs. Nonetheless, with Third as an effort whose tracks are best left in the context of the album, there's really no better starting place for Big Star newcomers than this twofer.
Last time I checked, Fantasy's reissue of these two albums was still in print. So, why is it, then, that the label is reissuing them again? It may have something to do with it being Radio City's 35th anniversary, but that's probably not it. It probably has more to do with the upcoming box set Keep An Eye on the Sky, which is due in September. Nonetheless, Fantasy's new reissue of the two albums offers a remastered tracklist, plus two bonus tracks: single edits of "In the Street" and "O My Soul." This may not be enough to sway those who already own other editions of these albums, but until every household has a copy, there are still people out there who need to hear these two amazing albums.
Though #1 Record/Radio City is pretty bare bones in its repackaging, it doesn't really need much. In fact, too much extraneous bonus material might just get in the way of these two stellar releases. Yet the remastering job is crisp and rich, cleaning up the tracks and giving them the proper sparkle. The real magic here lies in the original albums, which sound increasingly timeless and breathtaking as time goes on. On #1 Record, it's hard not to feel a rush of emotions when Alex Chilton sings "there ain't no one going to turn me `round" on the amazing "Ballad of El Goodo." That '70s Show notwithstanding, "In the Street" is still the perfect Friday night cruising song (and, for what it's worth, the single edit is well worth having). And "Thirteen," I decided some time ago, is the perfect love song. It's innocent, yet intense and anxious, all the while carrying one of the prettiest melodies in all of pop music.
Meanwhile, Radio City stands as the group's big rock (or, one could argue, rhythm & blues) album, from the organ-fueled opening fanfare of "O My Soul," to the blazing harmonica of "Life Is White," to the sinister grooves of "You Get What You Deserve," to the bombastic opening of "Back of a Car." So, yeah, the music sounds as great as it always has, but this reissue is still somewhat of a head-scratcher. There are no new liner notes, no spruced up appearance, and the two b-sides, while nice enough additions to be sure, seem like afterthoughts. Still, the collection serves the same purpose it did before, which is to keep the band's catalog in print and sounding its best. All I'm saying is they could have hired a freelancer with a working knowledge of Quark or InDesign to make it look a little prettier on the inside.
Similar Albums:
The Beatles – The Beatles
Elliott Smith – XO
Teenage Fanclub – Bandwagonesque
Download at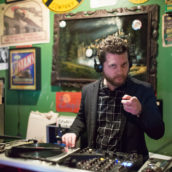 Jeff Terich
Jeff Terich is the founder and editor of Treble. He's been writing about music for 20 years and has been published at American Songwriter, Bandcamp Daily, Reverb, Spin, Stereogum, uDiscoverMusic, VinylMePlease and some others that he's forgetting right now. He's still not tired of it.