Big Star : Third/Sister Lovers
Somewhere, beneath the depression, defeat, utter chaos, noise and rancor, there's a pop band. Or, at least, what once was a pop band. Big Star, by 1978, was no longer the jangly, classic pop band that they were in 1972, when they released the pristine #1 Record. With Chris Bell out of the band and soon-to-be deceased, the band became Alex Chilton's flaming wreck. Poor distribution, marketing and a lack of any real "hits," the band was headed anywhere but to the top of the charts. And Chilton, himself, had a bit of a drug problem, only making the frustration worse and the impending crash much harder. These tempestuous times, however, led to one of the most intense, emotional and visceral records one is likely to ever hear. Third/Sister Lovers was the infamous rock legend "burnout," captured on tape.
Probably impossible to find a market for at the time, Third is, nonetheless, considered the band's greatest work by most fans today. There's so much about it that's frustrating, mysterious and altogether baffling about the album, and yet, it remains a stunning work, one that could legitimately be called the "stuff of legend." Having been released and re-released a handful of times, the track order has been shuffled enough so that any proper sequencing is now up in the air. For instance, "Thank You Friends," the sole celebratory anthem, began as the album closer, but was originally envisioned by Chilton as the opener. Somehow, when Rykodisc reissued the record, it ended up as track two. This seems to be the pattern with the record, as each song, though not necessarily not where it should be, just seems scattered and disorienting, adding to the overall chaos of the album.
There are hints of good ol' Big Star circa 1972 all over this record, they're just a bit camouflaged by odd performances, improvisation and even a bit of noise. "Kizza Me" has all the makings of a classic pop tune, but gets sidetracked with messy "Aladdin Sane" free-jazz piano. "O, Dana" is a drunken, woozy stumbler of a tune, catchy but unsettling, in the beginning of a sequence of the album's most disturbing moments. "Holocaust," the song that's both the most loved and most hated of the group's catalog, comes next, a spare, haunting tune played on piano with ghostly backing vocals, as Chilton offers bleak lines mirroring his own despair and breakdown:
You're a wasted face
You're a sad-eyed lie
You're a holocaust
"Kangaroo," yet another sparse and disjointed track comes next, with a loose melody floating on a sea of feedback. Imagine Sonic Youth attempting to de-construct a Phil Spector-produced girl group, and the result would be something like this. Another fan favorite, this song was later covered by Jeff Buckley live, which was captured on his posthumous live album, Mystery White Boy. The organ-heavy "You Can't Have Me" is one of the album's heaviest rocking songs, even with a fair share of squawky saxophone solos and synth blurts. And "Nightime," covered live by Elliott Smith a few times, is among the album's most beautiful songs.
Third/Sister Lovers is nothing short of stunning, but nonetheless, a failure of an album. Or so it was perceived at the time. Today, it still makes for uneasy listening, but as a collection of songs rather than a mealticket or hits record, it's far more enjoyable. It's a work of art produced under less than fortunate circumstances, and the anguish isn't the slightest bit masked here. Because it's that raw and that exposed, it stands the test of time. It's not manufactured or contrived. It's brutally honest, and at times, just brutal. Chilton may have overcome his drug issues and depression, eventually resulting in a new Big Star album which will be released soon, but upon listening to this, it almost sounded like he wasn't going to make it.
Similar Albums/Albums Influenced:
The Posies – Amazing Disgrace
Leonard Cohen – Songs of Love and Hate
Elliott Smith – From a Basement on the Hill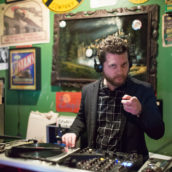 Jeff Terich
Jeff Terich is the founder and editor of Treble. He's been writing about music for 20 years and has been published at American Songwriter, Bandcamp Daily, Reverb, Spin, Stereogum, uDiscoverMusic, VinylMePlease and some others that he's forgetting right now. He's still not tired of it.