Black Milk : No Poison, No Paradise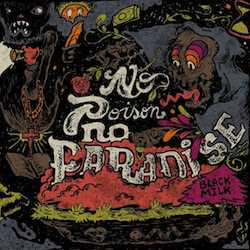 Buy at iTunes | Buy at Insound (vinyl)
Detroit hip-hop has a unique signature sound; it's phantom crackling in your ears right now. You can hear it in the smallest details — the pops and hisses, and the extensive and obscure soul samples that would have music nerds digging deep through the crates to find out who crooned the tune. J Dilla and Slum Village are the first artists that come to mind we talk of Detroit hip-hop, and more recently, Danny Brown. But we are now, and have been for some time, in a post-Dilla/Slum Village world, which has given rise to a new generation of producers and rappers, one of the more prominent step up in the Motor City being Black Milk.
While not as popular as his contemporary Brown (with whom he's collaborated as Black and Brown), Black Milk has had an extensive career that covers enough ground to make him a part of the same fabric that Dilla has threaded. No Poison, No Paradise is Black Milk's fifth album, and features an impressive array of guests and stellar production. While still retaining a lot of the Detroit staple sounds, Black Milk expands on that with his extensive demonstration of synthesizers and MPC kits. And while that might make No Poison, No Paradise sound basic, it's far from it.
Immediate highlight "Codes and Cab Fare" features The Roots' Black Thought providing a guest verse in a clear example of how Black Milk can offer plenty of space for an emcee like Black Thought to showcase his own talents, while simultaneously spinning his own tales. It provides a dark atmosphere, littered with obscure samples and backed with what sounds like an organ, slowed down, offering lots of eerie space within the track. "Sonny, Jr. (Dreams)" is another standout, featuring the talented (and underrated) Robert Glasper. The piece is entirely instrumental, but stands out for eschewing some of the darkness that pervades the album. More than anything, it showcases Glasper's gorgeous piano playing skills backed with Black Milk's samples and Golden Age hip-hop drums.
While No Poison, No Paradise has its share of innovative takes, "Sunday's Best" and "Monday's Worst" are straight out of Dilla territory. "Sunday's Best" begins with a sample, immediately followed with Black Milk's swift flows; "Monday's Worst" extends the exercise with offering another soulful hook. Some could argue, the sound bites Dilla's style, but it's better to think of it as homage. Dilla drew up the blueprint and Black Milk is building a new addition to a living structure. Album closer "Money Bags" is a nice surprise, and an interesting example of a non-"cloud rap" track to borrow from chillwave. If anything, this is an interesting example of where Detroit hip-hop could be going. No Poison No Paradise doesn't come on as strong as Run The Jewels or Danny Brown, and is punctuated by fewer exclamation points, but it's another strong offering from one of Detroit's finest, and an impressive notch on Black Milk's belt.
Similar Albums:


Danny Brown – Old


J Dilla – Ruff Draft


Fashawn – Boy Meets World