Bob Dylan : Blonde on Blonde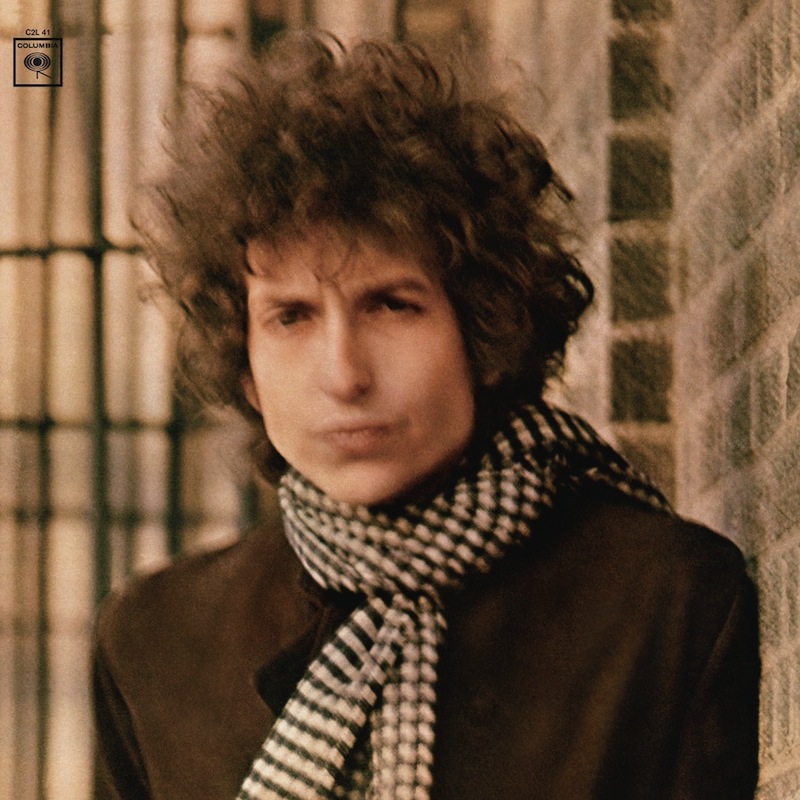 "You don't have it? That is perverse. Don't tell anybody you don't own fucking Blonde on Blonde. (Sigh) It's gonna be okay. (Hug)"
And so, Barry of Championship Vinyl continues the charge to make sure that everyone in America owns a copy of one of the best albums ever to be recorded, that's right, Bob Dylan's double album masterpiece, Blonde on Blonde. Not only did Barry make sure to add it to the customer's collection, he did something else first. He held the album to his chest, having a little moment with it, the out of focus image of the man himself, the different shades of brown in the brick background, the brown double breasted pea-coat, and the big unruly curly mess that is Dylan's hair circa 1966. This is how music lovers feel about Blonde on Blonde.
Recorded in a manic six days in Nashville, Blonde on Blonde was the first ever rock `n roll double album ever put on the market. Released in a banner year for rock `n roll, a year that is hard to surpass in pure quality, Bob Dylan's seventh album, hot on the heels of the breakthrough Highway 61 Revisited, is such a brilliant collection that, as mentioned above, you should probably be ashamed to admit that you don't own a copy.
Keeping with the tradition of starting off his albums with extremely strong songs, Blonde on Blonde kicks off in a New Orleans Brass Band style with "Rainy Day Women #12 & 35." It's easy to see now, but at the time there was debate over whether the song was a drug song. Well duh, Bob Dylan was a poet; he could throw double meanings into anything! So as he chants that you'll get stoned for this and that and then sings, to the delight of the people in the Nashville studio, "But I would not feel so all alone / Everybody must get stoned," he means both stoned as in Shirley Jackson's The Lottery, or Mary Magdalene stoned, just as he means hittin' the hash pipe. I'm surprised there was even debate! That in-studio party sound was later duplicated by the Beatles and their recorded with an audience "All You Need is Love."
The straightforward harmonica blues that comprises "Pledging My Time" is magical, especially the long note held for nine seconds in the solo. Rather than a traditional blues message of 'you left me', it instead contains the plea, "I'll put forth the effort and simply hope that you'll do the same." The blues part comes in when you realize that his tone masks hopelessness. Weave in the brilliant guitar work of Robbie Robertson, billed in the credits as Jaime Robertson, and you have songs for the ages.
I can listen to "Visions of Johanna" over and over again. Even at seven and a half minutes, the song lends itself to repeated listening. It's one of the most confusing and at the same time concise songs about lost love I've ever heard, all wrapping up with the line: "And these visions of Johanna are now all that remain." Again backed up by the masterful organist Al Kooper, Dylan's delivery has never sounded so sweet and clear. Kooper's playing sounds church-like. What I mean by that is the organs lend sanctity to the song that catapults it beyond the mere folk song, or blues song, or rock `n roll song. There is a church of John Coltrane in San Francisco. If anyone ever makes a church of Bob Dylan, "Visions of Johanna" will be a staple of the hymn books. Do you know how records get that rubbed out ring in the sleeve from applied pressure and time? Well, for those who own the vinyl double album, the ring that forms around Dylan becomes somewhat of an aura or halo. Saint Bob it is.
One of the amazing things about Blonde on Blonde is that it seems that every song is better than the last. "One of Us Must Know (Sooner or Later)" has the most stunning piano line that I've ever heard, far surpassing Billy Joel, Elton John, Ben Folds, and all of the other pop piano players. And then Dylan ups the ante again with "I Want You." It has long been rumored that he had wanted to use this name for the album's title as well. Long a fan favorite, appearing on numerous Dylan live albums, "I Want You" is a signature album track, forever associated with Blonde on Blonde.
Rather than going on and on about every song on the album, because hey, there's a whole lot of `em, I will just hit the `five-star' songs. Wrapping up the first disc is the tender "Just Like a Woman". Dylan goes from speaking of the woman in question in the third person, to speaking to her directly in the second person after their split, making it all the more personal, confessional, and introspective. Without his foray into the private recesses of his own love, pain, and life experience, it is fair to say that the Beatles would never have gone there either. There were plenty of songs written with the same theme from Dylan's contemporaries, but his stands alone in real and tangible anguish and pain.
I just can't fit
Yes, I believe it's time for us to quit
When we meet again
Introduced as friends
Please don't let on that you knew me when
I was hungry and it was your world
The second disc is just as brilliant as the first, especially in the songs "4th Time Around" and "Sad Eyed Lady of the Lowlands." The former was considered, at least by John Lennon, as somewhat of a plagiarism of his "Norwegian Wood (This Bird Has Flown)" and the similarity is obvious. Plus, both are rumored to be about pot smoking. Shocking. The latter is a true poem, with repeated themes, echoing couplets, and imagery galore. While he's had songs that were akin to poets such as T.S. Eliot, this one is more of an odd mixture of Shakespeare and Beat poetry, and at over eleven minutes is a blues ballad epic.
Being the first rock double album, I can imagine that the listening and record buying public took some time getting used to the idea, but if they were anything like me, they didn't want the songs to end. Whether you are listening to an original vinyl version of the album or the newly released Super Audio Hybrid double compact disc, you have already won half the battle. You know everything's gonna be okay. Why? Because you own fucking Blonde on Blonde.
Similar Albums:


Bob Dylan – Highway 61 Revisited


The Beatles – The White Album


Nick Drake – Bryter Layter