Broken Social Scene : Broken Social Scene
Unfocused, scattered, incoherent, messy — you could apply any or all of these terms when describing Broken Social Scene, and you'd be right. There's anywhere between 5 and 14 people in the "band" at any one point in time, and with that many opinions being stacked on top of one another, there's bound to be some structural imperfection. Listening to their 2003 album You Forgot It In People, you'd be hard pressed to find two songs that sound like they were written by the same band, but, (this is where it hits you, now) they all were! And somehow, that open-ended and unpredictable course they took us on made for one of the year's best listens. Somehow, it all holds together, like that perfect mix tape you've been striving to record.
Though still something of an indie rock jigsaw puzzle, Broken Social Scene's self-titled follow-up sounds more like the work of a proper band than a collective. These songs, though still different than one another, aren't as drastic as the jump from "Almost Crimes" to "Looks Just Like the Sun" or from "Anthems for a Seventeen Year-Old Girl" to "Cause=Time." Or maybe they are; it's hard to say. Somehow, they just seem to make more sense this time around. That could be because we're used to the Toronto group's scattered sensibilities by now, or maybe, just maybe, they set out to write a more unified album, rather than a deceptively scattered-sounding collection of songs.
There are still curious and baffling instrumentals to lure us in and string us along, like the opening "Our Faces Split the Coast in Half" or the brief "Finish Your Collapse and Stay For Breakfast." There are still leaps in volume, like that of the off-kilter folk of "Major Label Debut" transitioning into the My Bloody Valentine sounding "Fire Eye'd Boy." But somehow between You Forgot it in People and today, the volatile creative energy of the enormous commune pressurized into an album that seems, somehow, more focused, even if it is just an illusion. As impressive as You Forgot It In People was, Broken Social Scene could be easily seen as a huge step forward for the band.
While those still reeling from that album's sensory overload may not be able to comprehend how the band could possibly get any better, Broken Social Scene finds them finely perfecting their craft without losing any of the magic or spontaneity of before. The crashing cymbals of "Ibi Dreams of Pavement (A Better Day)" takes the album from a meandering instrumental into a driving anthem as life-affirming and commanding as it is woozy and disorienting. Lucky for us listeners, it is followed by the relatively straightforward pop tune "7/4 (Shoreline)," which is the rare song that takes an odd time signature (guess which one) and makes it sound like a solid four-four. Leslie Feist provides yet another solid vocal performance, breaking the breezy, laid back pop sound with her strong set of pipes at the forefront. "Swimming," meanwhile, is another easy-going pop tune, one of the band's most straightforward to date.
Among the dense layers and more straightforward pop songs, there are curiosities. It seems that Broken Social Scene is incapable of leaving a perfectly good pop song be. Sonic trickery abounds, the cut-and-paste schizo-pop of "Windsurfing Nation" (the album's original title) being among the weirder moments. Even the presence of rapper K-Os (a fine emcee on his own, mind you) doesn't sound out of place here. "Hotel" takes a funky, atmospheric rock sound and turns up the eerie factor with creepy tape loops of ghostly voices. The horns that break in during the bridge, however, seem to bring the good times back for a brief time.
The gauzy, dense rock songs tend to be my favorites, and "Superconnected" is no exception on this set. Though it's hard to tell what's being sung (there is no shortage of vocal effects), the song remains catchy and danceable, a friendlier, more carefree shoegazer rock of today. "Bandwitch," an ambient sort of samba follows, offering another sampling of the brilliant ways in which Broken Social Scene blurs genres. The final song, "It's All Going To Break" manages to pack countless songs into one seemingly endless power ballad that may get a bit overblown, but, to paraphrase what the scorpion said to the frog, it's in their nature.
That certain aspects of Broken Social Scene can be seen as both strengths and weaknesses, depending on who you ask, makes the band all the more intriguing. There aren't many bands like them, mainly because it's nearly impossible to get 15 people together at the same time and place. But that unpredictable nature is how magic is created, and there is a ton of it on Broken Social Scene. This album should deter the skeptics, but it also might not. Either way, the band is doing something right.
Similar Albums:
My Bloody Valentine – Loveless
Stars – Set Yourself on Fire
The Flaming Lips – The Soft Bulletin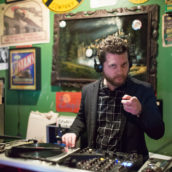 Jeff Terich
Jeff Terich is the founder and editor of Treble. He's been writing about music for 20 years and has been published at American Songwriter, Bandcamp Daily, Reverb, Spin, Stereogum, uDiscoverMusic, VinylMePlease and some others that he's forgetting right now. He's still not tired of it.