Cage the Elephant : Cage the Elephant
A glaring characteristic of the stripped-down rock that has emerged in the last six years has been a manifested glow of apathy towards all eyes that are upon the genre's cooler-than-thou purveyors; aside from thrift-store purchased shirts that ironically champion bucolic California suburbs and failed drug prevention programs, this exterior of nonchalance has been manifested through immensely cryptic lyrics, spat over sometimes (like the t-shirts they wear) ironically worn and out-of-tune guitar chords.
Bucking this trend, Cage the Elephant have released one of the most non-clandestine, yet purely rock albums in recent memory. The group's eponymous album opens with "In One Ear" that without elaborate metaphors, tears into critics and scensters alike, with a bold openess that makes their sentiments resemble those of Ice Cube more so than Jack White. Perhaps the most significant tidbit to be deduced from Cage lead singer Matt Shultz's upfront attacks, is the fact that he's revealing that he is paying attention to what the minds behind the eyes watching him are thinking, a truly unconventional and slightly taboo confession.
Cage The Elephant's "Ain't No Rest For The Wicked" finds the Kentucky quintet continuing to avoid aloof territory with their pragmatic explication of trangressional methods of making a living. And, reaching soaring amplitude levels, songs like "Drones In The Valley" and "Soil To The Sun" hear the guitar chords locking horns with the roaring vocals.
Cage The Elephant, while a rock band by instrumentation, daringly manifest insecurity, desire, awareness and downright irritation, qualities seldom seen in the genre they inhabit and have perhaps begun to resurrect a time when soul music and rock held hands, banged heads and watched the sun rise.
Similar Albums:
The Cribs – The New Fellas
White Lies – To Lose My Life
The Kooks – Inside In/Inside Out
Download at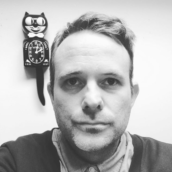 Paul Glanting
If a meteor was just hours away, Paul Glanting would recall that he has been in a Lil Wayne music video and has a 4.7 (out of 5) on Rate My Professor. He is at work on his first novel, Adjunct Megafauna.