On 'Thank You Happy Birthday', Cage the Elephant opened a door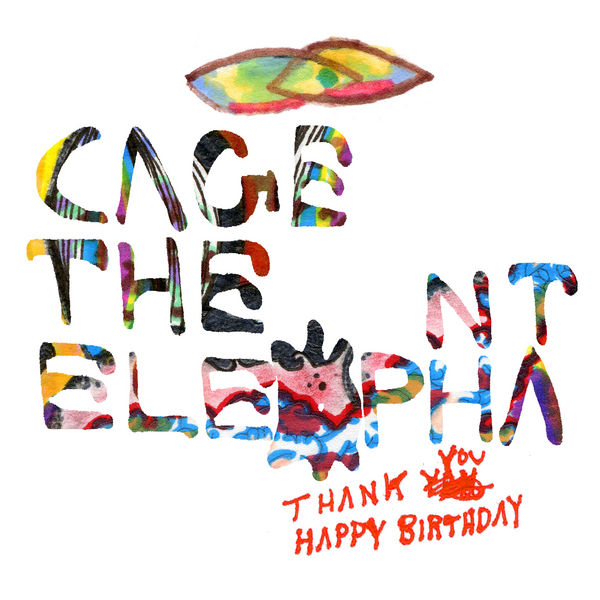 ​It seems to be common practice among Cage the Elephant fans to divide the band's career into two distinct movements. The first, unsurprisingly, is centered on their self-titled debut album, which saw the band sketch out a deliberate characterization as swaggering, sardonic cowboy-punks with their finger on the pulse and their tongues in cheek. The album's opener, "In One Ear," immediately establishes their devil-may-care (and defensive) credentials with an attack on critics who don't get (or don't want to get) their music ("All you people talking shit, you can kiss the back of my hand"), and other hits from the record, such as "Ain't No Rest For The Wicked" or "Back Stabbin' Betty" see singer Matt Schultz take up the position of a wryly amused spectator just happy to be along for the ride, so long as he can make a few witty zingers on the way.
The latter half of their career—encompassing Melophobia (2013), Tell Me I'm Pretty (2015), and Social Cues (2019)—saw the band completely drop this demeanor, and with it the harder, rockier tone that had accompanied it. Cage the Elephant's instrumentation took a turn for the chill, incorporating keys, a brass section, and synths into a softer sound that also brought far more contemplative lyrics along with it. Schultz said of Melophobia (which means "fear of music," though that title was already taken) that it was an album concerning "a fear of creating music to project premeditated images of self, like catering to cool, or making music to project an image of being intellectual or artistic or poetic, rather than just trying to be an honest communicator."
Melophobia was a clear attempt to establish some distance between (if not outright severance from) the irreverent rascals who had appeared on Cage the Elephant. But this was a process that had already begun with Cage the Elephant's sophomore effort, the oft-neglected Thank You Happy Birthday. It's an album that makes clear very quickly that Cage the Elephant have no interest in retreading old ground (even if the ground in question was just one album removed). "Always Something" is the record's opener, and also its only song that sounds like it might feel passingly comfortable on their debut. It still has the band's signature sly tone, but something in the delivery is very different—the band now come across slower and shadier, with a mechanical bass riff churning incongruously beneath reverberating guitar twangs that evoke something of a gritty Spaghetti Western. Whatever questions "Always Something" raises about the band's new direction are answered with the second song, "Aberdeen," which reaches deep, dark levels of melancholia that would have been entirely out of place on their sunny and upbeat first album.
Schultz would later say that he wished he'd let a bit more of himself onto the album, suggesting that he hadn't quite abandoned music that was "catering to cool" yet. But these anxieties evidently bubbled up onto Thank You Happy Birthday's lyrics—after all, track three, "Indy Kidz," criticizes people who fixate on cool trends instead of building a personality of their own. At the same time, we have songs like "Rubber Ball," a dainty acoustic number with Schultz's near-ghostly vocals expressing a kind of wounded vulnerability that would have been impossible were he still clinging to the false bravado of the group's previous release.
In fact, the album as a whole resembles an ever-changing playlist. "Japanese Buffalo" is an angst-driven punk rock song not too far from the likes of Good Riddance or Mclusky, while "Around My Head" is a sorrowful yet catchy number with a stadium rock chorus and oddly Dylan-esque vocal delivery in the verses. "Flow" is an indie-folk tune, so soothing and gentle as to be almost meditative, and "2024" is an uplifting slice of pop punk that hints at Green Day or even Oasis.
Thank You Happy Birthday opened a door to a sensitivity and authenticity that the machismo of Cage the Elephant would simply never have allowed. It would not be hard to argue, in fact, that the album amounts to the band's quiet reinvention—mildly experimental while still maintaining a constant sound, it laid the foundations for the following albums to embrace the softer, more introspective mentality that Cage the Elephant adopted for the rest of their career so far.
Dipping their toes for the first time into the icy waters of sincerity, Cage the Elephant found themselves ready to start opening up while still rocking out with the harsher, grungier aesthetic that's nowhere to be found on their subsequent releases. Which is a shame, because they're great. Thank You Happy Birthday deserves recognition for being a darkly intriguing release in its own right, but likewise for showing the bravery to ditch both the sound and attitude of the album that gave them their first big hit and facilitated their rise to fame in the first place.
---
Support our Site—Subscribe to Our Patreon: Become one of our monthly patrons and help support an independent media resource while gaining access to exclusive content, shirts, playlists, mixtapes and more.