Celebrate the Catalog: Prince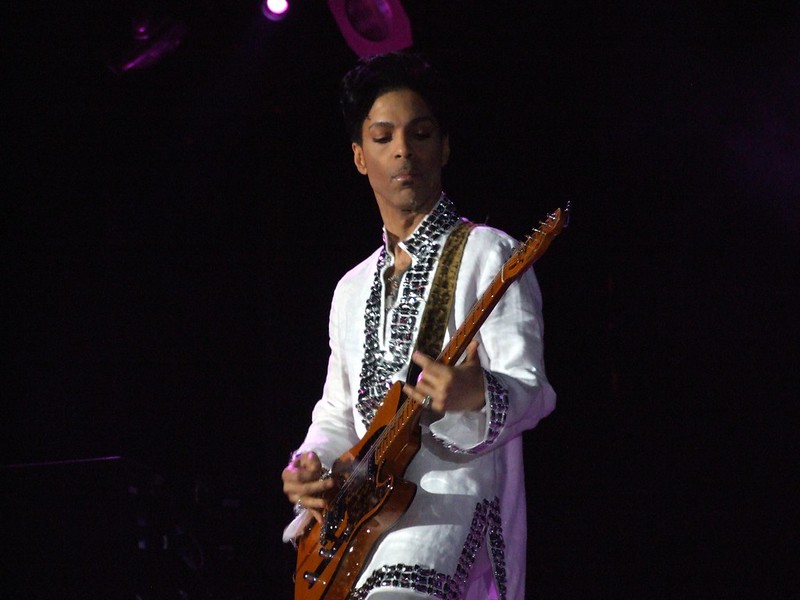 The incomparable Prince Rogers Nelson exploded onto the American music scene as a teenager and never looked back. Like Jimi Hendrix and Sly Stone before him, Prince offered a unique synthesis of "white" and "black" music (meaning, really, anything he cared to incorporate) that challenged both the structure of the biz and the sensibilities of his listeners at every turn. However (unlike those two), Prince also possessed a restless creative drive which allowed him to cover much more ground and engage more comprehensively with musical trends over time. The fact that he adopted a DIY approach (composing, performing, and producing his own music) from the beginning only facilitated this further, enabling Prince to exert utter control over his music. And exert he did.
Combined with his prodigious facility in all three of these areas, these characteristics have resulted in a massive catalog — 25 studio albums and counting — that houses a handful of masterpieces, a bevy of hits, and a whole trove of songs that nobody has ever heard. In the '80s alone, Prince completely revolutionized popular music more than once, with albums such as Dirty Mind, 1999, Purple Rain, and Sign "O" the Times all respectively dominating the scene in spite of their willfully challenging and experimental nature. At this cross-section between commercial appeal and stylistic diversity, Prince's music opened up whole worlds of possibility for popular music, some of which have been recapitulated ad nauseam in the decades since and some of which have laid dormant, more or less, until recently. Very few singular artists have managed to achieve such longevity in their careers, and even fewer have reached the plateaus of significance that Prince has. He thus stands, rightfully, in peerless distinction — a living god in the pantheon of popular music. Here, we're taking a look at every Prince album, in honor of the Minneapolis royal.
Photo by Scott Penner [CC BY-SA 3.0 or GFDL], via Wikimedia Commons
Uptown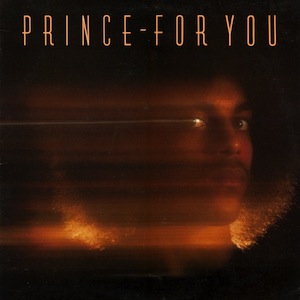 For You
(1978; Warner Bros.)
Prince's musical odyssey begins before he even entered his twenties — the Minneapolis funk frontman a fresh-faced youngster with a trunk full of synthesizers, danceable rhythms for days, and what would be his first of many paeans to pussy ("Soft and Wet"). And "Soft and Wet," while nowhere near as raunchy as some of his later material would end up being, sets the tone for Prince's runaway '70s and '80s hit-making career. It's a minor hit, all things considered, but it jams like nobody's business — a dancefloor filler if there ever was one. And there's more where that came from: "In Love," "Just as Long as We're Together" and "My Love Is Forever," to name a few. Given that this is such an early stage of Prince's career, his controversy-baiting and sexually frank identity hadn't yet been firmly established, and as such, For You is, in a manner of speaking, a fairly conventional R&B record for the late '70s. But that doesn't mean it's not exceptional. While the handful of acoustic-based ballads feel a bit slight, this is a strong beginning for an artist that would become legendary in less than a decade. – JT
Rating: 7.9 out of 10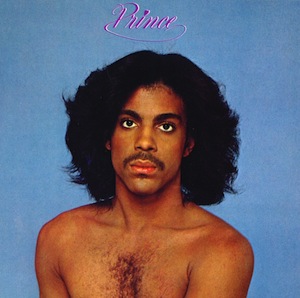 Prince
(1979; Warner Bros.)
Following his promising but uneven debut — the product of a trial-by-fire in the producer's booth — Prince returned with the bold assurance and artistic idiosyncrasy that would become characteristic of his output for many years to come. On Prince, at a ripe young age of 19, playing all of his instruments and producing himself for the second time, he already demonstrates mastery of the pure pop strain of his "Minneapolis sound" (raised to its zenith on Dirty Mind) that numerous artists would imitate well into the future. With a top notch-vocal performance, sharp instrumentation (e.g. his guitar on "Bambi"), tight hooks, and gloriously salacious, emotionally intense lyrics (another Prince trademark in its infancy here) throughout, this record is a formidable package. Which is exactly what its cover art suggests. In retrospective comparison to the masterpieces that followed it, Prince is betrayed as a little conventional at times (heavily featuring ballads as it does) and it doesn't even near his limits as a songwriter or musician, but it's a strong record nonetheless, easily able to stand alone under another artist's name. – CB
Rating: 8.0 out of 10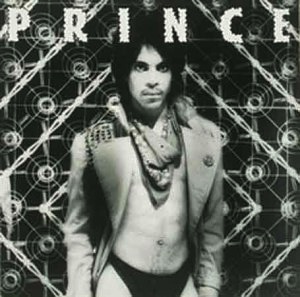 Dirty Mind
(1980; Warner Bros.)
In terms of Prince's 1980s output, each album has a unique distinction: 1999 is his most important, Sign O' the Times is his most ambitious, Batman is his most unexpected commercial success, etc. But when it comes to which album is his best, that one is pretty much decided by consensus: the 14-times platinum legend, Purple Rain. Still, I'll be damned if 1980's Dirty Mind doesn't make that Gold medal award a tie. His first true masterpiece, recorded when he was only 21, Dirty Mind is where Prince went from a promising young R&B/funk star on the rise to a crossover innovator, creating a provocative marriage of those styles with new wave and rock to form something essentially unlike any other record released before it. On the title track and "Do It All Night," Prince and his band of Minneapolis funk all-stars turn up the new wave synthesizers, while on "Head," "Uptown" and "Partyup," they dive into some deep funk, the likes of which get even more raw and nasty than his previous albums' highlights.
And on a raw and nasty note, this is also the point at which Prince commits full bore to being pop provocateur, which you should pick up on right from the title alone. There are some straightforward songs about sex ("Dirty Mind," "Do It All Night"), and then some less straightforward ones about incest ("Sister") and infidelity/cunnilingus ("Head"). Even the most straightforward love song on the album has a verse about basically being cuckolded ("When You Were Mine"). It's racy, raunchy stuff, but never at the expense of a fantastic pop song, of which there are eight right here. I'm just going to say it: This album is perfect. – JT
Rating: 10 out of 10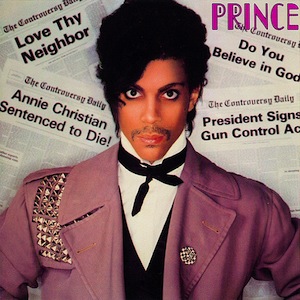 Controversy
(1981; Warner Bros.)
Prince's fourth album kicks off with its title track, a funky, disco jam that confronts all the "controversy" surrounding the ambiguous sex dwarf. It starts: "I just can't believe/All the things people say (controversy)/Am I black or white?/Am I straight or gay? (controversy)." He gets it. He's kind of a weird, otherworldly figure that has made him a compelling songwriter and performer for most of his career. If there's one thing Prince did early on in his career, it's confront issues of sex, race, sex, gender, sex, sexuality, sex. Oh, and did I mention sex? Prince is really into sex.
That confrontational attitude regarding sex and a few other subjects carries out throughout the album. With "Controversy," it's wrapped in a driving, seven-plus-minute disco beat. It's the musical equivalent of a never-ending coke high, custom made for the dancefloor at Studio 54. I can just see a wasted Bianca Jagger grinding on Mick Jagger as a man in gold body paint riding a mini pony splashes them in glitter. It's a sweaty, sexy banger your parents probably listened to while considering hosting a key party. The album progresses, and Prince doesn't let up. The upbeat, uber-80's sounding "Sexuality" comes in with Prince's signature orgasmic yelps. That track sounds and feels like the early shell that would later be "Let's Go Crazy."
The thing with many early Prince songs, especially on this album, is that even though they are fun and catchy, they can often sound very, very dated or very, very cheesy. It's entirely possible that the '80s as a whole is to blame for that, however. I'm sure this album shocked people like crazy when it came out. I mean, it closes with a song called "Jack U Off." But there that made me, a very serious journalist, giggle. "Do Me, Baby," the only ballad on the album, is basically a Lonely Island sketch already written out and it seems to never, ever end. Clocking in at almost eight minutes long, it almost makes you want to beg the woman to just give in so Prince will cease squealing for that ass. There's a breakdown in which The Purple One takes a break from his ball-busting falsetto to sweet talk his lady (?) with sweet nothings like "are you sure you don't want to close your eyes?" and "well, isn't it supposed to take a long time?" and "I'm not gonna stop until the war is over." Yikes, Prince. Yikes. – AZ
Rating: 6.8 out of 10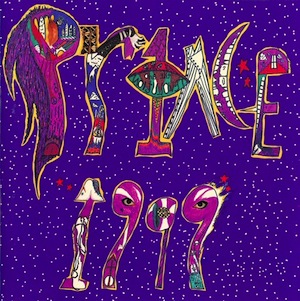 1999
(1982; Warner Bros.)
While Purple Rain is considered to be Prince's magnum opus, 1999 was his first real breakthrough album. It was the first record to introduce his band, The Revolution, and its production put the Minneapolis Sound on the map — funk songs pieced together with the help of synth and drum machine arrangements that would prove to be influential in across wide genres of music. The hit title track opens the album with a danceable protest song against nuclear proliferation, and became a moderate success on the charts. However, "Little Red Corvette" would become a staple in Prince's career both musically and lyrically, peaking at number six on the charts and becoming his first real runaway hit. But beyond the familiar hits, the album features an eclectic assortment of tracks. Underrated eight-minute funk suite "D.M.S.R." is littered with tasty guitar licks, synths, powerful drums and an abundance of sexual energy. "Automatic," an overlooked gem, is a worthy deep cut, featuring seductive lyrics and harmonious structure that allows for endless head bopping. There are more overt sexual references on "Lady Cab Driver," and further showcases Prince's Casanova persona. While prior works were mostly funk oriented and stripped down, 1999 is heavy on bright, clean production in addition to predominant electronic and synthesizer elements that would come to define Prince's work. – GM
Rating: 9.6 out of 10