Celebrate the Catalog: Prince
My Name is Prince?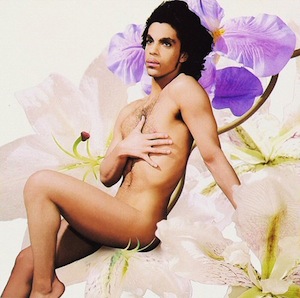 Lovesexy
(1988; Paisley Park/Warner Bros.)
The question of how to follow a groundbreaking, masterpiece record is a rare dilemma for most artists, but by the time that Prince went into the booth after releasing Sign "O" the Times, it was a familiar one to him. And his solution this time, as previously, was to plunge furiously into new artistic territory, recording two albums, The Black Album and Lovesexy, that were completely unique and opposed each other. Whereas The Black Album fleshes out the dark, psychosexual undercurrents of Sign "O" the Times, Lovesexy (recorded specifically as a reaction to the first) goes in the completely opposite direction, exploding with religious fervor. Here, using wide arrangements (both vocal and instrumental), Prince seamlessly integrates gospel, jazz, and hip-hop (samples, rapping, drum machines) into an utterly unique synthesis. The fact that the writing and recording of Lovesexy was rushed is hardly apparent in the balance of the album, which flows smoothly (assisted by the gorgeous hooks scattered throughout) from the rousing, sexual romp of "Alphabet St." to the haunting vulnerability of "When 2 R in Love," despite an almost complete absence of conventional song structure. At a time when the rise of hip-hop demanded a response from all preexisting artists in urban music, Lovesexy proved that Prince was still artistically relevant, reinventing his sound with the changing musical landscape and offering a confident, uplifting, and spiritual response to the violent ethos in rap music that disturbed him so deeply. Few artists from the 70s managed to pull this off successfully; Prince did it here with aplomb. – CB
Rating: 9.0 out of 10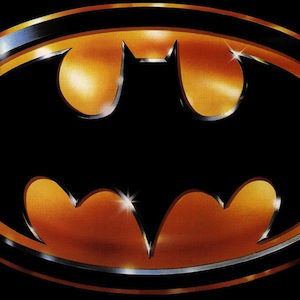 Batman
(1989; Warner Bros.)
Long before Seal had the most recognizable Dark Knight anthem, Prince had his first foray with the Caped Crusader. You might have forgotten about it; it's the one with this scene. Is the entire album pure cheese just like the "Partyman" scene? Absolutely — but that's part of the charm. Warner Brothers had originally tapped Michael Jackson to write songs, but due to touring obligations, he backed out and Prince took his place. The timing couldn't have been better for Prince, who had the year prior seen disappointing sales of his Lovesexy album, and being connected to a highly-anticipated franchise from a major studio was his chance at revitalizing his commercial appeal. When Prince saw the first 30 minutes of the film, he immediately went to work and recorded the album in six weeks. Now, Batman is arguably a lazy album and it doesn't show the Purple One's real talents, but strangely enough, it's also his comeback into the mainstream. While Batman is loaded with campy songs like Prince's duet with Sheena Easton, "The Arms Of Orion," and boring filler tracks like "Vicki Waiting" and "Lemon Crush," other tracks like "The Future", "Electric Chair" and "Scandalous!" are wonderfully crafted pop songs and could have easily been salvaged for another album. Even "Batdance," a song mostly littered with sampled dialogue from the film, became a number one hit single. However you want to look at it, it's a soundtrack for a movie and because of the film and Prince's reputation, it sold more than three million copies in the U.S. alone. As silly as most of these songs are, this was a commercial boon for Prince, boosting his reputation as the '90s approached. – GM
Rating: 6.3 out of 10
Graffiti Bridge
(1990; Paisley Park/Warner Bros.)
Prince released five soundtrack albums between 1984 and 1996, ranging from the sublime funk-rock of Purple Rain to the abbreviated rough-guide collection Girl 6 (omitted here for comprising mostly previously released material). Graffiti Bridge is far from the best of the bunch, but still a strong enough collection of material from Prince. It is, certainly, way too long for what it is, spanning 17 tracks for no good reason, including two versions of "New Power Generation." Add to that a series of tracks by The Time, George Clinton and Tevin Campbell and the guest appearances might give one the impression that this veers a bit off course from being a Prince album proper. But His Purple Badness maintains creative control, even going hard on a handful of standouts like "Thieves in the Temple" and "A Question of U." There's nothing half-assed about this album, but that doesn't mean it couldn't benefit from a little editing. – JT
Rating: 6.4 out of 10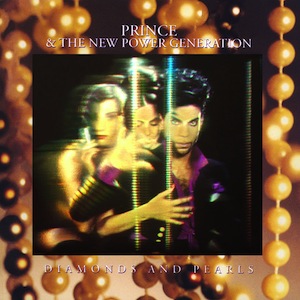 Diamonds and Pearls
(1991; Paisley Park/Warner Bros.)
It's probably fair to say that when most people envision Prince, it's the Purple Rain Prince with the ruffled shirt, crushed velvet purple coat and a look that makes the buttons on your top suddenly pop open. For me, however, the Prince that lives in the nasty gutter that is my mind is New Power Generation-era Prince, with the skintight body suits, "let's fuck and forget" attitude and his horny cries for you to "get off." Don't tell me his butt-baring outfit from the 1991 MTV Video Music Awards isn't burned into your memory. There's a bronze statue dedicated to it in mine, and I was seven years old. Seven! Where the fuck were my parents?
Diamonds and Pearls is New Power Generation Prince at his sexiest, though romance is not lost on the man. In the title track, Prince with assists from a backup singer croons about wanting to shower his boo with diamonds, pearls, hell, even the world, if that that will make them "a happy boy or a girl." And just when you're thinking, "Aw Prince, you heart melting angel," he follows with "Cream," another classic in the singer's erotic collection that manages to be sweltering and so totally cool simultaneously. But then he follows that with the most WTF-how-did-this-get-in-here song, "Strollin'." You just got me all weirdly horny and then you throw this random Perry Cuomo shit at me? No, I don't want to go roller skating to the ice cream parlor. I have cream all over my boobs, you freak.
Luckily, Prince finds his way back to the dark side when "Gett Off" comes in. If "Diamonds and Pearls" was all candles and lovemaking, "Get Off" is a trip to pound town that skipped the foreplay. Wait, maybe save those candles so I can pour the wax on your nipples. Many of the tracks do that super '90s thing with the random sassy singer shouting for you to do something or random mediocre rapper (or rappers) that are there for what feels like no good reason. It's so "Everybody Dance Now" when they come in. All in all, this album has a lot of forgettable songs and a few missteps mixed with some bona fide (boner-fied?) sex jams that'll make you slightly sweaty. – AZ
Rating: 5.5 out of 10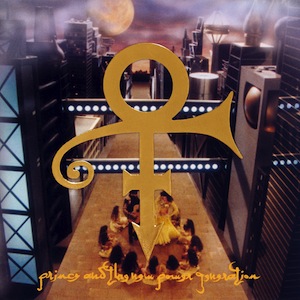 O(+> (Love Symbol Album)
(1992; Paisley Park/Warner Bros.)
From 1999 through 1987's Sign 'O' the Times, Prince kept up an enviable streak of both unbridled creativity and commercial success, earning himself a comfortable spot in the rock pantheon whether or not he ever reached that level of inspiration or chart success again. And though a number of his albums have gone platinum since then (Batman, Diamonds and Pearls, Musicology, etc.), few seemed to present the artist as such a creative force within the mainstream as O(+>, often referred to as the "Love Symbol Album," which later became the symbol he adopted to replace his own name. That became a running pop culture joke, and with good reason — who names himself after an unpronounceable symbol? But the fact that it got so much traction only meant that Prince was still a crucial part of the conversation. And punchlines or not, when has Prince ever given a shit what other people thought?
But back to being a creative force within the mainstream: O(+> was Prince at his most visible in the 1990s. The album launched five hit singles and 12 (!) videos, several of which — especially "7" — received heavy airplay on MTV between airings of "Rump Shaker" and any number of singles from Guns and Roses' Use Your Illusion albums. And while it wasn't the best selling Prince album of the '90s — that would be the sprawling Emancipation — it's still an impressive showcase for Prince's songwriting and adaptability to contemporary hip-hop and R&B sounds (for 1992, anyway). Now, it's a bit long and kind of overblown in its presentation — there's a "soap opera" plotline and segues starring Kirstie Allie as a reporter. But when you get to the songs — the party anthem "My Name Is Prince," the James Brown in silk sheets funk of "Sexy MF," the thumping strip-club trip-hop of "I Wanna Melt With U," or psychedelic pop of "7" — O(+> is basically just jam after jam after jam. It's not perfect by any means, and it could have been trimmed down considerably, but when he's on he's on — and damn, is he ever on. – JT
Rating: 8.4 out of 10