Celebrate the Catalog: Beck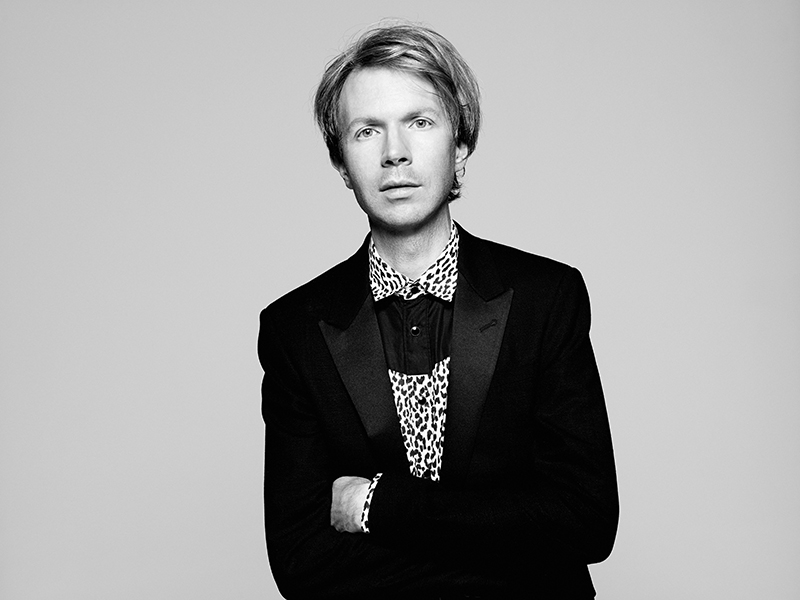 Peter Hapak/courtesy of Nasty Little Man
As an artist, Beck has explored countless genres, styles and sounds. His body of work is so extensive, it's hard to pin him down under just one small umbrella. But, because of his diverse background as a musician, it also makes him a more dynamic and eclectic performer. In fact, he stands out in particular for having been such a bold artist while signed to a major label. Beck's body of work features something for everybody. Whether it's his anti/freak folk leanings or the hip-hop oriented tracks, Beck's versatility is one of his most underrated talents. If I was a musician, I'd probably be like Beck.

Golden Feelings
(1993; Sonic Enemy)
Beck's first release is a strange introduction to one of pop music's most diverse musicians. It's definitely not an album for everyone. In fact, I found myself quite distant from it most of the time while listening. A lot of the tracks on Golden Feelings utilize an abundant amount of rusty tape noises and voice manipulation along with the lo-fi sound quality attached to it. Keep in mind, though, this is only the seed of what Beck's career would end up growing into later down the line. The bulk of Golden Feelings (and really every Beck album) are folk songs with some hilarious and bizarre narratives ("The Fucked Up Blues," "Heartland Feelings," "Will I Be Ignored By The Lord?"). If anything, Golden Feelings seems like an early freak-folk album. It's layered with messy, discombobulated sounds, samples, experimental acoustic guitar playing and slowed-down vocals. The whole thing gets repetitive, but the songwriting still shows promise. Golden Feelings has become somewhat of a rarity and collector's item among hardcore Beck fans, as its fairly niche status left it to go out of print in both CD and cassette formats. What Golden Feelings provides is an early look into Beck's evolving career.
Rating: 6.5 out of 10
---

Stereopathetic Soul Manure
(1994; Flipside)
According to release dates and depending on who you ask, Stereopathetic Soulmanure is Beck's official second album. Released a month before his major label debut, Mellow Gold, Stereopathetic is just a refined and polished version of Golden Feelings. Some reviews indicate that a lot of these recordings took place between 1988-1993. And taking the same elements from Golden Feelings, there is still an array of samples and acoustic guitar. But there are also other elements like live recordings done on old tapes that feature Beck hamming it up on stage. Most of them are unconventional in their manner and sloppily put together. But really, that's all a part of Beck's style and aesthetic. Stereopathetic serves as the key starting point in Beck's signature style, as Golden Feelings was more of an exercise rather than a performance. While still holding on to the mutant blues and anti-/freak-folk leanings, there were also strange and interesting interludes along with a batch of great songs again, often with hilarious narratives ("One Foot In The Grave," "Satan Gave Me A Taco"). Although still retaining those same themes explored on the first album, Beck takes his recordings a little more seriously here. Some tracks are memorable, but again, this is still early Beck, and his material has barely started to develop.
Rating: 7.0 out of 10
---

One Foot In the Grave
(1994; K)
Another one of Beck's albums that seems to awkwardly into the timeline, One Foot In the Grave was originally recorded prior to Mellow Gold, but released after the success of "Loser." In essence, the album is Beck's return to a full-on folk album. Like his first two albums, this one never charted and sold very few copies. Despite the release issues that Beck would eventually come across with the label, One Foot In The Grave is a predecessor to Odelay. While there aren't too many samples, the folk guitar playing and narratives are still present. Think of it this way, One Foot In The Grave could serves as Odelay's more primitive demo. The album may seem like a step back, but it's strong enough to be a staple in indie folk music. Compared to his first two, One Foot In The Grave seems to be the most accessible, loaded with blues influenced songs like "He's A Mighty Good Leader" and "Asshole." While he'd retain this sound in his other works, Beck would never again sound so raw and ragged.
Rating: 7.7 out of 10
---

Mellow Gold
(1994; DGC)
The Beck that everyone knows basically starts here. Mellow Gold would be the album that would establish Beck as an artist within the early '90s alternative mainstream. "Loser" would become the anthem for all the burnouts, freaks and, yes, losers that often sought some form of representation on the radio. But aside from the stellar single, Mellow Gold is an album that still holds well in today's musical climate. "Fuckin With My Head" is a track that should make you want to bop your head instead, while the witty "Beercan" is an anthem for party animals drinking and passing out in the dirty streets of LA. The weird part about Mellow Gold, despite the smash success of "Loser," is its hesitation to be a commercial album. Ironically, it went on to platinum status and cemented Beck as a commercially viable artist for years to come.
Rating: 8.0 out of 10
---

Odelay
(1996; DGC)
If there's any album that defines the '90s, it's this one. I could go on and on about how this is really the only album people remember Beck by, let alone his early singles from Mellow Gold. In any case, this album not only outshined his major label debut, but it proved that Beck could appeal to a much bigger audience. In the age of '90s MTV, I remember Beck's videos being littered all over the music video shuffle. Teaming up with the Dust Brothers and various other musicians, Beck mixed up rock, hip-hop, folk and electronica on Odelay. And that still doesn't really cover it. So many different sounds and styles fill up this album, it's essentially a party album that has something for just about anybody. Not to mention Beck could spit some serious rhymes ("High 5", "Where It's At"). The layered samples and superb production make this album one that everyone should at least listen to once, because it is precisely that kind of populist party that offers something for all kinds of listeners. Not to mention the fact that it's one of the few albums by an LA artist that captures the weird spirit of the city. Whenever I think of LA, I think of this album.
Rating: 10 out of 10
---

Mutations
(1998; DGC)
Right after the commercial success of Odelay, Beck shifted back a bit toward a more stripped down sound. As a result, Mutations was born. While not as commercially successful due to its less mainstream musical content, Mutations is one of Beck's underrated gems. It features some gorgeous melodies and a more refined approach in his folk sound, which previously seemed much more raw and sloppy. If anything, Mutations serves as an early precursor to the elegant, emotional Sea Change. But much like Odelay, these aren't just folk songs, they show off a wide variety of genres like Tropicália (also the name of one track on here), country, blues and bossa nova. Despite being critically received, the album didn't chart high, though it did receive Gold certification. Nonetheless, this album has aged very well.
Rating: 8.8 out of 10
---

Midnite Vultures
(1999; DGC)
Released at the tail end of the '90s, this was Beck's return to the diversity and variety of themes he explored on Odelay. However, much of the elements on the album are pulled from funk, hip-hop and electronica, along with some bluesy ballads. For those of you that grew up in the '90s and had Windows 2000, you might remember that "Beautiful Way" was featured as a 30-second sample (and was actually how I ended up getting into Beck's music) on the software. This album does what Odelay did in 1996, capturing the strange spirit of Los Angeles, but under different circumstances. In this case, it's more about the end of the '90s and transitioning into the 21st century. With songs like "Nicotine and Gravy," "Hollywood Freaks," "Sexx Laws" and "Beautiful Way," it makes for a pretty broad album. It combines a heavy influence from Prince, the Dust Brothers and Talking Heads, as well as more commercial pop music circa 1999. The unfortunate thing is that this album, while critically well received, wasn't much of a commercial success. Looking back, though, it was definitely ahead of its time. I play it often now and it always sounds like it came out just last year.
Rating: 9.5 out of 10
---

Sea Change
(2002; DGC)
Teaming up with Nigel Godrich three years later, Beck returned with what would become his second most famous album. The majority of Sea Change was written following a recent break up with his girlfriend of several years. It was Beck's decision to ultimately channel his anger and depression into something much more soothing and angelic. While it may seem on the surface like just another mopey album about losing the girl, it dives much deeper and really explores a wider range of emotions. Many critics consider this to be his magnum opus. While that is entirely debatable, this is no doubt one of Beck's finest moments on record. Surrounded by gorgeous string sections, and a wall of sound courtesy of Godrich, Sea Change is an album bound to pull at every heartstring. It's sad, but honest. And like many of the other albums that preceded it, it's a timeless classic.
Rating: 8.9 out of 10
---

Guero
(2005; DGC)
Let's just get this out of the way: Guero is Beck's weakest release. There are some stellar tracks ("E-Pro", "Missing", "Que Onda Guero"), but this album ultimately falls flat on almost all levels. Even its good songs can't make up for the trainwreck that it ultimately turns out to be. It seems like an attempt to create an unofficial sequel to Odelay, but it's entirely unnecessary. At the same time, Beck had already gotten personal and vented his private problems on his previous album, so it's only natural that he would go back to the sound that made him a fan favorite. In any case, this album is the least memorable, even with the mention of the handful of decent tracks. Guero merely serves as a testing ground for better things to come, so it would seem reasonable that this would be the floppiest release in his entire catalog.
Rating: 5.0 out of 10
---

The Information
(2006; DGC)
Hopping back from the shoddy work of Guero, The Information serves as a more appropriate return to form. Guero was just an exercise, but The Information revises and eliminates the flaws that plagued the album. From the start, The Information is an exciting album. "Elevator Music" starts off with a rapid beat, followed by Beck's playful rhyming, while "Nausea" and "Cellphone's Dead" capture the heart of the album. Featuring some spoken word performances from guests Dave Eggers and Spike Jonze, The Information finds Beck back in a more creative headspace. More importantly, this would be the album that would cement his later career into the 2010s as a producer.
Rating: 7.7 out of 10
---

Modern Guilt
(2008; DGC)
Fulfilling the final album of his contract, Modern Guilt is Beck's last major label appearance, for the time being anyhow. Danger Mouse provides production support and is able to maintain the aesthetic Beck has kept up for the bulk of his career. It's a fitting end to a series of great releases and the occasional flop. Featuring two guest spots from Cat Power ("Orphan" and "Walls"), Modern Guilt is another underrated piece in the Beck catalog, continuing the path of sounds that he began exploring on The Information, and with Danger Mouse revealing a playful approach that foreshadowed his work with James Mercer in Broken Bells. In any case, Modern Guilt is an album that was overlooked by many, especially now Take a listen, it's both exciting and a nice way to end a chapter in a long and rewarding career.
Rating: 8.0 out of 10