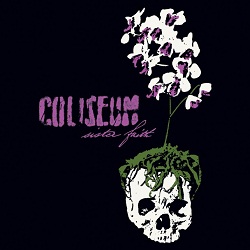 "Disappear From Sight," the first track on Coliseum's Sister Faith, is two minutes of adrenaline-gushing punk rock, 27 seconds of which comprises suspenseful build. It winds up tightly, leaving just a slight interlude of suspense before the tension snaps and the ride begins. It's pretty simple really — just three musicians hammering out some well-oiled, streamlined and, above all, powerful punk rock. It's nothing fancy, but damn, is it ever a satisfying sound.
Coliseum, for how well they can pull off a three-chord punk rave-up, have never really been a straightforward punk band. They weren't in 2004, when they released their self-titled debut of raw and furious crust-punk. They weren't in 2010 when they expanded into more melodic, sometimes psychedelic territory on House With a Curse. And they're certainly not now, but to the extent that the band has embraced hooks and pop-friendly songwriting, Sister Faith is most definitely their most accessible album to date. Recorded with J. Robbins in Baltimore, the album follows the stylistic path tread on House With a Curse, but with an even stronger set of songs and an unyielding urgency.
Despite its explosive opening, Sister Faith marks the point where Coliseum truly feels more like a post-punk band than a punk band. The Louisville trio has been pursuing darker, more nuanced textures for a few years now, and they've come to harness them in increasingly compelling ways. Just two songs and a few short minutes after the conclusion of "Disappear From Sight," the band delivers "Love Under Will," the longest and most subtly intriguing track on the album. Frontman Ryan Patterson tones his feral bark down, and opts for more delay and reverb on his guitar than mere fuzz, echoing shades of early U2 as each verse leads up to a climactic chorus in which he melancholically sings, "You go, I'll follow/ Say the words, just once." There's a more sinister groove to "Under the Blood of the Moon," which carries a similarly subtle melodic approach, but one with riffs that carry a little more sting. "Everything in Glass," though, is the most emotionally vulnerable thing here. It has a bit of strip-club swagger to its rhythm, and there's some definite carnal knowledge in its verses, but it's still essentially a love song — during the mesmerizing chorus, Patterson confides, "When she comes to me/ Everything is clear."
Then again, when Coliseum is set on being a punk band, there are few bands that can stand up to the level of wreckage they unleash. "Black Magic Punks" is a particularly kick-ass example, a fairly frivolous tale of left-hand-path punk rockers that wins on simply having some roaring riffs, plus some guest fretwork by Boris' Wata. "Bad Will" is similarly searing, the band pounding at their Hot Snakes-style best. And then there's "Fuzzbang." Fantastically titled as it is, the track certainly lives up to its exclamatory label. It's got the most immediate hook on the record, for one, as well as even more fuzz than usual (duh), but after Patterson delivers some verses with a cynical eye toward religion, he backs it up with a big-hearted one-with-the-misfits chorus that's positively anthemic: "We're at the end of days/ We can run away/ We can close our eyes and make it all/ Make it go away!" You'd think you were listening to a Japandroids record.
The skulls that adorn the artwork of Sister Faith send a certain message to Coliseum's audience, namely that the metal and hardcore their music is rooted in still plays a heavy part in who they are. But Coliseum have grown and refined their sound by a striking margin since their earliest, crustiest days. Their punk edge remains intact, and Sister Faith is a loud record that sounds optimal when cranked to eleven. More importantly, though, Coliseum recognize that volume isn't everything, and it's in the moments that don't blare quite as barbarically that show just how far they've come.
Similar Albums:


Torche – Harmonicraft


The Bronx – The Bronx (IV)


Jawbox – For Your Own Special Sweetheart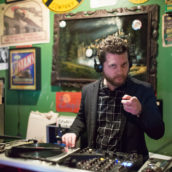 Jeff Terich
Jeff Terich is the founder and editor of Treble. He's been writing about music for 20 years and has been published at American Songwriter, Bandcamp Daily, Reverb, Spin, Stereogum, uDiscoverMusic, VinylMePlease and some others that he's forgetting right now. He's still not tired of it.