Culted : Oblique To All Paths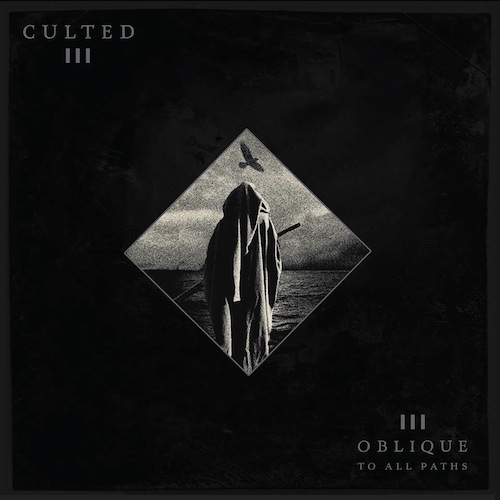 Buy at iTunes | Buy at Insound (vinyl)
The question of what makes music heavy is continually more difficult to answer, especially when it comes to metal artists. One of Treble's favorite 'blackened' albums in 2013 — Deafheaven's Sunbather — definitely featured dark, bold elements, but received much of its praise for its gorgeous and complicated compositions, taking more inspiration from post-rock and shoegaze than traditional metal acts.
Self described 'blackened doom' four-piece Culted are similarly difficult to put a finger on. Composed of three Canadian instrumentalists and Swede vocalist Daniel Jansson, the band has never performed together in person, and could be viewed as more of a recording project than a traditional band. Still, 2009's Below the Thunders of the Upper Deep saw the band crafting epic stretches of dark, creepy sounds and follow up Oblique to All Paths shows the band expanding their aural palette to create a unique definition of the words 'doom' and 'blackened.'
Like Deafheaven, Kvelertak, and many other bands best described as 'blackened,' you won't find many non-screamed vocals on Culted's songs. Yet, like an expanding army of post-metal acts, the instrumentalists use an expanded musical vocabulary to create unique sound combinations. On 19-minute opener "Brooding Hex," the band spends about 10 minutes wrapping warped, noisy guitars and repetitive, chunky bass around the vocal lead, until breaking in to a slow, dissonant section that feels much more like dream-pop than metal. Still, throughout the record's experimental moments, Jansson's muted growls ensure the sounds are sludgy, evil and dark throughout.
Culted's greatest downfall, though, is their lack of a live approach to their music. Oblique has a tendency to let songs, verses, or even individual bars drag on without purpose. That's not to say that these stretches of noise aren't enjoyable in their own right, but the pace and song structure isn't always fitting to the overall timbre of the piece, and most of the tracks here would benefit from the filter of repeated, live 'trial runs' and amendments.
Moments on the record ("Illuminati," "Jeremiad,") settle into a more Sabbath-like groove, holding on the blackened doom intentions of the record, but all in all, Oblique To All Paths is a more complex record than that. Sure, it's definitely heavy — in its vocals and sludgy aesthetic, but long stretches of the record might be better appreciated by ambient-noise fans than traditional metal enthusiasts. Overall, it's an involved and intricate listen — not a complete gem of an album, but boasting its fair share of shiny moments along the way.
Similar Albums:


Serpentine Path – Serpentine Path


Deafheaven – Roads to Judah


Indian – From All Purity