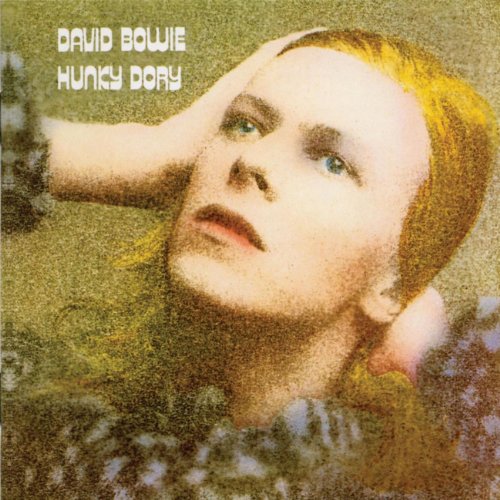 Before he was Ziggy, he was Hunky Dory, that being an American slang term for being OK, and also the third album since David Bowie's reinvention of himself. While The Man Who Sold the World had its cover banned for Bowie's cross-dressing appearance, Hunky Dory was his much more risqué, suggestive and sexually ambiguous album, despite its tamer cover, a grainy, touched-up photo of Bowie pulling back his blond tresses, staring up to the heavens. The album also found the ever-changing (no pun intended) artist going back to his folk stylings, some lounge-y crooning, and a nod to the Velvet Underground. In other words, Bowie was getting more and more comfortable with the music he wanted to make, and despite low record sales at the time, has since gone on to become one of the most influential and long lasting single artists in music history. This album always vies for the top spot in my personal favorite Bowie album competition, and it is mostly due to the inclusion of the following five songs:
The album's most famous song, "Changes," only went to number 66 on the Billboard Singles Charts upon its initial release, but is now considered one of Bowie's standards and most recognizable hits. The song features an element which is accentuated throughout the album, that being Rick Wakeman's piano. Bowie's "Ch-ch-ch-ch-Changes" line echoes the Who's stuttering "My Generation" in both style and substance. Originally intended to be a lounge pastiche, Bowie used the song as a reflection on life, death, war and youth. I doubt he knew that John Hughes would eventually use the lyrics from "Changes" as an endnote to The Breakfast Club, but then again, the inclusion illustrates my point of Bowie's longevity and versatility.
"Oh! You Pretty Things" was originally given to Peter Noone, formerly of Herman's Hermits. Noone made a hit out of it, but it, along with the non-album track "All the Young Dudes" are Bowie through and through. Again focusing on youth, Bowie is at a stage in his life where he still has some hope for humanity, singing that the 'pretty things' will become the 'homo superior' and take over the world, for the better. Again, Wakeman's jaunty piano lines during the memorable chorus are what make this song transcend pop hit into lasting classic.
Bowie was considered to be the UK's first and biggest Velvet Underground fan. Some think that the song "Queen Bitch" even out-Lou-Reeds Lou Reed. Regardless, Mick Ronson's heavy guitar takes center stage away from Wakeman's keyboards, a prelude to what was to come with The Rise and Fall of Ziggy Stardust and the Spiders from Mars. In the song, Bowie watches a drag queen strutting his/her stuff down the street and in the chorus he remarks:
She's so swishy in her satin and tat
In her frock coat and bipperty-bopperty hat
Oh God, I could do better than that.
This song and "Oh! You Pretty Things," among others on the album, highlighted Bowie's ambiguous sexuality, even though he had been married to his wife Angela for a year.
"Quicksand" is one of Bowie's strangest songs, yet one of the most accessible due to its acoustic setting. In the song, Bowie succumbs to the power of his own mind, overwhelmed by thoughts of life after death, finally coming to a realization that faith isn't all it's cracked up to be, and that true answers only come with death itself. This is a fairly stark song to open up a tour with, but that's exactly what he did in 1997, with his Earthling tour.
Probably the best song on the entire album, and maybe one of Bowie's best of all time is "Life on Mars?" Equally inspired by crooners Anthony Newley (of "Pure Imagination" fame) and Frank Sinatra, the song is an over the top cabaret rock song with one fairly direct verse and one a little more up for interpretation. It is the rousing chorus that moves us to sing along as he builds up to it with an "as they (I) ask her (you) to focus on"
Sailors fighting in the dance hall
Oh man! Look at those cavemen go
It's the freakiest show
Take a look at the lawman
Beating up the wrong guy
Oh man! Wonder if he'll ever know
He's in the best selling show
Is there life on Mars?
The paradox of art imitating life or vice versa is used to elegant extent by Wes Anderson in The Life Aquatic with Steve Zissou, as it and "Queen Bitch" are the only Bowie-sung Bowie songs in the film. (The rest are sung by Portugese singer/actor Seu Jorge.)
Five Bowie albums and one 'best of' collection made Rolling Stone's 500 Greatest Albums of All Time list. Of course, Ziggy ranked highest, but a deserved close second went to Hunky Dory, an often underrated and overlooked album by a musical chameleon who, if not at the top of his game, was quite nearly there, building a signature sound out of a melange of musical styles including folk, glam, rock, blues and cabaret, topping it off with a velvety voice that can only be David Bowie.
Similar Albums/Albums Influenced:


Brian Eno – Here Come the Warm Jets


T. Rex – Electric Warrior


The Velvet Underground – Loaded