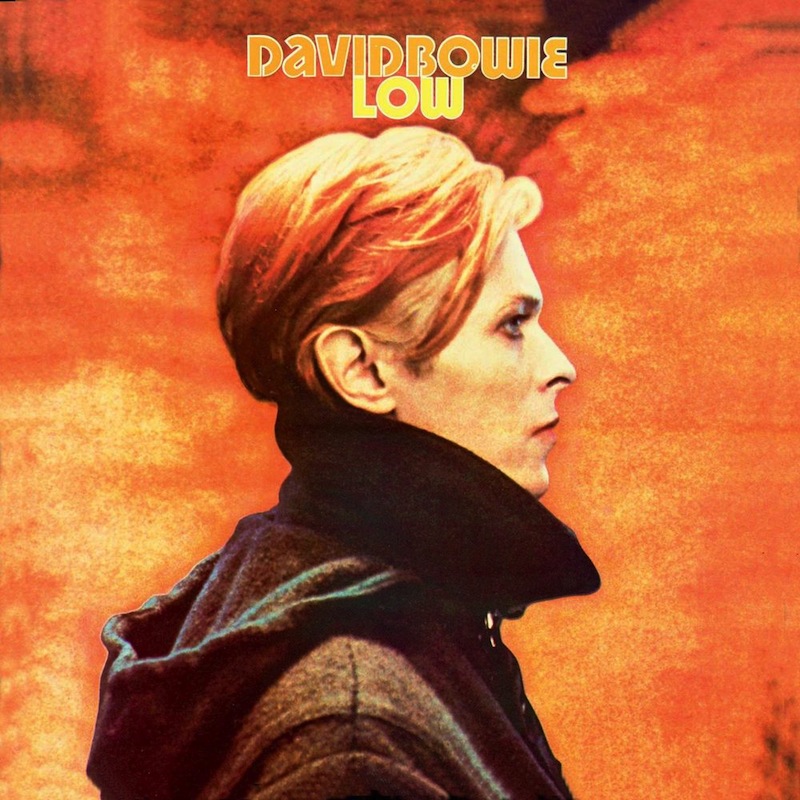 I once read something somewhere that compared the Beatles evolution as artists to 'N Sync becoming Radiohead in a matter of six years. That's pretty impressive. But David Bowie, on the other hand, went from pop songwriter to krautrocker to classical composer to ambient experimenter in the course of one album. Low is the first of the storied Berlin Trilogy, a series of albums he recorded with producer Brian Eno to escape the drugs of Los Angeles. While we now wait years upon years for musicians to release their next album, Bowie also completed and released the second album of the trilogy, "Heroes," in the same year. The exact same year. 1977 was a good year to be David Bowie.
As a performer, Bowie has numerous unforgettable incarnations: Ziggy Stardust, Aladdin Sane, the Thin White Duke, whatever personality he decided to use as an excuse for Earthling, etc. But, for me, there has only ever been two Bowies. There is high-voiced Bowie and there is low-voiced Bowie. In the earlier part of the '70s, Bowie doesn't stray very far out of his higher range but as the decade, and his career as a whole, wore on, his voice dropped. In the '70s, at least, high voiced-Bowie is the more traditional pop singer, creating classics like Hunky Dory and The Rise and Fall of Ziggy Stardust and the Spiders from Mars, while low-voiced Bowie is a completely different animal, charting much more experimental ground.
Due to vocal dubbing, which effectively allowed Bowie to become his own back-up singer, Low is the unification of the two Bowies, which, in effect, becomes a metaphor for the framework of the album itself, succeeding in being both a pop record and an experimental one. While the beginning of Low is populated with the more established pop song structure, the latter half of the album gives way to territory that Bowie, as a pop singer, had not yet tread. Low's first single "Sound and Vision," which his record company begrudgingly released but became Bowie's biggest hit in years, is the perfect coupling of Bowie's two sides. High-voiced Bowie sings, "Blue, blue, electric blue," while low voiced Bowie joins in with "That's the color of my room / Where I will live." "Sound and Vision" follows Low's overall aesthetic in that it's part pop song, part experiment. More than half the song is exposition before the vocals even come in and when they do appear, they are sparse and certainly not the forefront of the song. It's the instrumentation that's so beguiling and it seems to go in loops until you feel like you'll get dizzy if you listen to it for any longer.
The rest of the pop-structured songs on Low are equally as atypical. Their running time, only two clocking in at over three minutes, suggest they are more snippets that fully realized songs but Bowie is able to make them seem complete. Songs like "Breaking Glass," which boasts a guitar line that actually seems to bend to get inside your ears, and "Always Crashing the Same Car," which, if it had been released scant years later it would have been a New Wave smash, rank among Bowie's best, even if they happen to be a little stranger than the rest. But isn't that what made Bowie so great in the first place?
As a producer, Eno left his indelible mark all over Low and his 1975 masterpiece Another Green World is as much as precursor to Low as Bowie's own Station to Station. On Another Green World, Eno was able to perfect the art of the ambient soundscape and he is not stingy about sharing the wealth with Bowie. "Warszawa" is beautiful and atmospheric, almost classical in composition, "A New Career in a New Town" is bouncy and fun. But Eno wasn't Bowie's only influence on Low and, in this way, Berlin became more of a just a place for Bowie to escape LA's drug-fueled scene. The song "Weeping Wall" could have been a Kraftwerk song, with its chugging, repetitious synths, if it weren't for the chant at the end, which was the just too damn human for the band of robots.
Low ends with "Subterranean," an ironic title for a man who made a name for himself as an extraterrestrial. And while Ziggy Stardust faded from view and was replaced by other personas before the start of the Berlin trilogy, it's almost as if Bowie is saying to his audience, "I'm constantly changing. You need to keep your eyes on me to find out what I'm going to do next." Low gives us a reason to keep watching.
Similar Albums/ Albums Influenced:
Brian Eno – Another Green World
Kraftwerk – Trans Europe Express
Radiohead – OK Computer