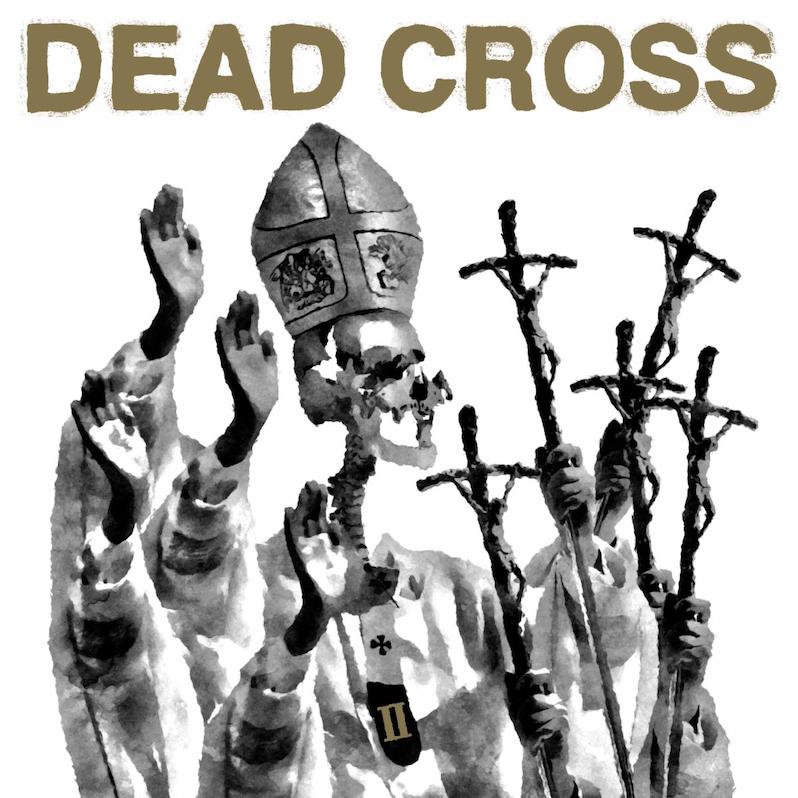 Mike Patton is always busy with any number of musical excursions. He is, at the moment, a member of at least five somewhat active bands, with Dead Cross being one of three with former Slayer drummer Dave Lombardo. It's not necessarily the heaviest of the bands they've played in together, since Mr. Bungle could pull out an even more raging Easter Bunny or Fantômas might make an even bloodier mess of horror movie theme songs. With their second album, II, there is less of a grindcore feel, with some moments even recalling the avant anthems of Angel Dust-era Faith No More. 
One of the particularly enjoyable elements about Dead Cross' second album is the dissonance at the core of what they are doing. Sounds clash and echo, with a creepier feel than your average AmRep noise-rock band. Patton's vocal outbursts are more punk in their intentions, and in this regard it would only make sense that more of the influence of bassist Justin Pearson, also of The Locust, comes through in the songwriting. "Animal Espionage" showcases a more interesting lyrical and vocal performance, and things remain sonically dense even when being kicked farther toward punk. Yet it's the darker atmospheric passages that bring a needed balance to the album.
Cool riffs alone does not a good song make, particularly in heavy music, and Dead Cross abide by this rule while proving on "Strong and Wrong" that you can use a cool riff to nudge the song in the right direction. Sometimes a cool riff is needed to keep some of the chaos more grounded, as on "Ants and Dragons." For that matter, a cool riff might have given them more focus before blasting off into the more straightforward punk of "Nightclub Canary."
Then again there's another perfectly good rule to abide by: When Dave Lombardo is in your band it's fine if you write riffs that sound like Slayer. This can be most clearly heard on "Christian Missile Crisis," and the thrashier sound works better than their detours into noisy punk. The album closes with "Imposter Syndrome," which features a more brooding verse, where Patton has more room to emote through his lyrics than on the album's more punk-influenced moments, though that vibe returns once again in the chorus.
Dead Cross' II is often more reminiscent of Faith No More, though there are many parallels that can be drawn to the sonic zip code of earlier Tomahawk. When it comes to sheer musicianship, the approach here is more raw and less progressive, but the band instead brings a youthful vigor to the expression of discontent the music conveys. It's dark and compelling in its jarring freakshow of sound.
---
Label: Ipecac
Year: 2022
---
Similar Albums: