Death Cab for Cutie : Codes and Keys
Even at their earliest and least sonically enhanced, Death Cab for Cutie has always been about making big statements. Their first album, Something About Airplanes, scruffy and fuzzy as it was, began with the dramatic chamber ballad "Bend to Squares," ultimately swelling into a climax that opened the floodgates for the nine catchy, albeit emotionally charged pop songs that followed. On its follow-up, We Have the Facts and We're Voting Yes, the band seemed even more introspective and insular, but within those seemingly personal accounts from frontman Ben Gibbard were expansive and tragic tales of romance, particularly on the epic standout "Company Calls Epilogue." Ultimately, over time, their production quality started to match up with their ambition, and on albums like Transatlanticism, they began to reveal themselves as the unlikely rock stars as they are today, still tapping that same, heartbroken nerve they always have, but with a sound made for stadiums rather than basements.
After Transatlanticism, however, the band began to lose some of that shaggy, stargazing charm. Though Plans had its moments of twinkling brilliance, 2008's Narrow Stairs seemed to lack the kind of big-dreaming innocence and unkempt endearment of their earlier albums, and more importantly, the level of quality songwriting. Though it had its standouts, such as "Cath" and "No Sunlight," other songs like "I Will Possess Your Heart" and "You Can Do Better Than Me" seemed overcooked, as if, having proven everything they set out to before, Death Cab determined the only logical course of action was to make their songs longer, bigger, just plain more. Admirable as that kind of ambition might seem on paper, on record it turned out overworked, and despite the audacious production values, largely forgettable.
Though seventh album Codes and Keys is by no means any less ambitious than its predecessor, the focus this time around is somewhat different. Whereas Narrow Stairs found Death Cab for Cutie indulging in some attempts at psychedelia and Pet Sounds-style pop that sat well outside their comfort zone, their latest album is more atmospheric and heavily based in synth-laden production. It's not exactly The Postal Service, but it's certainly closer than the band has ever come before. Leadoff track "Home Is a Fire" ignites the album with a persistent pulse, and a tense buildup that recalls tracks like "Brand New Colony" and "Natural Anthem." Yet where those songs were marked by DNTEL's bleepy, 8-bit melodies, here guitarist Chris Walla and Gibbard offer the song an atmospheric intrigue, one that recalls the likes of The Cure more so than contemporaries such as Wilco or Modest Mouse.
The band's warm, familiar and recently neglected charm emerges in the title track, a simple and infectious pop song driven by piano chords and a gorgeous string section. Slightly unexpected krautrock homage "Doors Unlocked and Open" has a sinister groove to it and a Chameleons-like post-punk vibe that suits the band splendidly, leading one to wonder why these darker and sexier moments arise so infrequently. The answer probably lies somewhere with "You Are a Tourist," the band's new single and most identifiably Death Cab-sounding song here. With its mid-tempo progression, infectious guitar hooks (which, interestingly enough, sound at times like those of "A Move Script Ending") and quotes like "When there's a burning in your heart/let it grow," demanding a Trapper Keeper on which to be scrawled, the song marks off every field on the Death Cab song checklist. But I can't help thinking they can write songs like this in their sleep.
"Unobstructed Views" sits smack in the middle of the album, a six-minute exercise in Eno-like ambience that paces itself for a solid three minutes before Gibbard's voice even appears. In a way, it divides this record much like "Transatlanticism" did to the album of the same name, yet without the same invigorating climax. Some might call this an exercise in restraint, I'm inclined to say it's just boring. And from this point, the interesting ideas explored in the first half fade away. In their place, the band offers up Death-Cab-by-numbers with cringeworthy lyrics ("She may be young but she only likes old things/And modern music, it ain't to her tastes") on the synth-buzz of "Monday Morning"; Gibbard's strangely warbling delivery on "Portable Television"; more god-awful lyrics on "Underneath the Sycamore" ("We are the same/ we are both sane"); and sprightly, tossed-off indie folk on closer "Stay Young, Go Dancing."
Much as their material has always been, Codes and Keys is another "big" statement by Death Cab for Cutie. Yet while the band explores the depths of its expansive production, no doubt a significant benefit of having a much bigger budget to work with these days, the songwriting on the album often seems like an afterthought. As Ben Gibbard recently said in an interview with Exclaim, "I'm not a 22-, 23-year-old person going through the things that I was going through at that time, listening to the music I was listening to then, wanting to emulate these other kinds of records; it just can't happen." And making We Have the Facts over again would only lead to other criticisms. The primary problem is that where the band once masked their production limitations in cleverly written songs, here they pull that trick in reverse, and it's much less satisfying on the other end.
Similar Albums:
The Postal Service – Give Up
Modest Mouse – We Were Dead Before the Ship Even Sank
Coldplay – Viva La Vida or Death and All His Friends
Video: Death Cab for Cutie – "You Are a Tourist"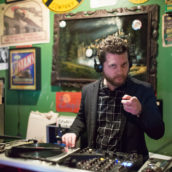 Jeff Terich
Jeff Terich is the founder and editor of Treble. He's been writing about music for 20 years and has been published at American Songwriter, Bandcamp Daily, Reverb, Spin, Stereogum, uDiscoverMusic, VinylMePlease and some others that he's forgetting right now. He's still not tired of it.