Death Cab for Cutie : Narrow Stairs
It's hard to believe that Death Cab For Cutie has been making music for a decade. And if you're like me, having ordered their debut Something About Airplanes from Barsuk back in 1999 because no local record stores stocked it, then it's even odder to have seen them eventually become million sellers. With Death Cab, however, their success has been on such a gradual scale, there was never much of an impending risk of `too much too soon,' causing the band to burn out too quickly. In fact, they managed to release four stellar albums before even aligning themselves with a major, and the ensuing Atlantic debut, Plans, was pretty much the next step in the band's evolution.
With Plans, however, the band's evolution had reached a plateau. While certain songs like "Marching Bands of Manhattan" and "Your Heart Is An Empty Room" showed that the band was on top their game for at least part of the time, more than a few tracks fizzled in comparison, suggesting that Death Cab For Cutie might be in need of some new ideas. Fortunately, on sixth album Narrow Stairs, Death Cab For Cutie has plenty of new ideas to offer.
In many ways, Narrow Stairs will be an easy album for fans to warm up to. Chris Walla's guitar jangle and Ben Gibbard's melancholic lyrics of failed relationships and discomfort in growing up haven't gone anywhere, and still make up the album's center of gravity. And yet, some things have definitely changed. Nowhere is that more apparent than the eight-plus minute single "I Will Possess Your Heart." Described upon its initial leak as having "prog" or "krautrock" traits, it's, truthfully, just a really long indie pop song. Of course, I mean that in the best way; as much as I'd love to hear the band explore new territory, I'm not sure I'd want them attempting to sound like Yes. The song's echoing piano, ambience and rolling bassline propel it into a laid back groove, ultimately making it more like late '90s Yo La Tengo.
Death Cab makes more blatant attempts at experimentation with "You Can Do Better Than Me" and "Pity and Fear." In the former, piano and timpani drive the whimsical, brief tune, falling somewhere between "All You Need Is Love" and Pet Sounds, while Gibbard self-deprecatingly muses "sometimes I think of leaving/ but that's something I'll never do/ because you can do better than me/ but I can't do better than you." The latter, meanwhile, opens with tabla and a vaguely psychedelic vibe, but soon amps up into a bigger rock song. While both attempts at stylistic expansion are admirable, neither song taps into the band's strengths, leaving both sounding somewhat forced.
When the group makes smaller strides, they fare much better, and dramatically so. The Built To Spill-like "Cath…" has more than a touch of classic Death Cab to it, but with a gauzy sheen and a fantastic riff. One of the best songs here, it reveals a tale of a girl marrying the wrong man, with Gibbard sympathizing "I would have done the same as you." The urgent "Long Division" is a thrilling standout, not only for its high level of energy, but for its Jawbox-like melodic aggression. Opener "Bixby Canyon Bridge" feels somewhat familiar, building in a manner similar to that of "Marching Bands of Manhattan," yet breaks from a familiar pattern by climaxing in a militant, staccato breakdown and a lengthy, electric outro. Lyrically, it's also one of the best, with Gibbard singing of his need for connection to others: "It's hard to want to stay awake/ when everyone you meet/ they all seem to be asleep." The peppy "No Sunlight" is yet another winner, catchy and upbeat as the band has ever sounded in spite of its dark view of adulthood ("with every year that came to pass/ more clouds appeared, till the sky went black").
On Narrow Stairs, Death Cab For Cutie embraces change while acknowledging the pain of undergoing such transformation. Gibbard may lament "the optimist died inside of me" but he also readily admits "I've still got miles to go." Considering how far they've come already, it's encouraging that the band is willing to grow, even if there are some creative obstacles to endure along the way.
Similar Albums:
Built To Spill – You In Reverse
Rogue Wave – Descended Like Vultures
Headlights – Some Racing, Some Stopping
Video: "I Will Possess Your Heart"
Download at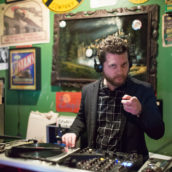 Jeff Terich
Jeff Terich is the founder and editor of Treble. He's been writing about music for 20 years and has been published at American Songwriter, Bandcamp Daily, Reverb, Spin, Stereogum, uDiscoverMusic, VinylMePlease and some others that he's forgetting right now. He's still not tired of it.