Pretty soon, the word DeVotchKa will be on everyone's lips, or at least everyone who likes great indie music and art house films. After a two-year absence, they've just released an EP featuring two new tracks and four covers (including Siouxsie & the Banshees' "The Last Beat of My Heart," the standard "Something Stupid" and the Velvet Underground's "Venus in Furs"). They are also providing the soundtrack to the film, Little Miss Sunshine directed by Jonathan Dayton and Valerie Faris, the duo who made stunning music videos for the likes of Smashing Pumpkins and the Red Hot Chili Peppers. But before all of the current hype and slight jump in name recognition that is to come (after all, look at what happened to Gogol Bordello after Everything Is Illuminated), DeVotchKa was just a simple band from Denver, Colorado, a wide variety of world influences, three album releases from the same small label, and with one song, they blew me away.
How it Ends was DeVotchKa's third album, and at the time of its release, I had heard only whisperings of the band named after Anthony Burgess' NadSat word for 'young girl.' Just as Burgess' 'droogie' language was based on Russian, so too is the music, in part, of DeVotchKa. In fact, the band takes liberally from Eastern European, Middle Eastern, and Latin-flavored music to create their own unique hybrid of indie music. Despite a friend's strong recommendation, and various skirts around the style in reviewing an album by the likeminded Reverend Glasseye and a fondness for the aforementioned Gogol Bordello, DeVotchKa eluded my clutches; that is, until I saw the trailer for the film Everything is Illuminated. The trailer almost fell into the unfortunate classification of being better than the actual film, like with the Jake Gyllenhaal tearjerker, Moonlight Mile, but instead they merely stood as two separate entities. The trailer is almost a mini-film in itself and is all set to the song that stands as the centerpiece of How it Ends, the song from which the title comes from, "You Already Know." The track fit perfectly with the story of a collector in search of his family history, playing with both the ideas of fate and the way that trailers typically spoil the endings of movies.
This swelling, soaring and emotional track definitely stands out amongst its brethren on the disc, but the rest of How it Ends is equally rich ore to be mined at the listener's pleasure. Singer / songwriter Nick Urata is like a multicultural Morrissey, singing with intense yearning. In fact, the opening guitar tracks of "The Enemy Guns" has moments of callback to the Smiths' pinnacle moment, "How Soon Is Now." Tracks alternate between mariachi, Romani, Greek and Slavic as if Urata was a rock and roll Rick Steves. Aside from the requisite guitars, pianos and drums, you'll find bouzoukis, vibraphones, accordions, glockenspiels, and that unsung instrument, the Theremin. While this sounds like it could end up one messy melting pot, it is instead much like America's current tag of choice, a salad bowl, with each track finding its own style and substance, separate from the rest. For those who enjoyed "You Already Know" there are the equally poignant songs "Dearly Departed" and "This Place is Haunted." Fans of their Latin rhythms might enjoy "You Love Me" and "We're Leaving," complete with mariachi horns. The Eastern European bloc will surely find comfort in "Such a Lovely Thing" and "Charlotte Mittnacht."
To the thousands of fans who have already discovered DeVotchKa and their intense live show, I have not revealed anything new, but maybe I can reach those people who had never been exposed to one of the most exciting and important bands on the indie scene today. How it Ends is a great place to start, but it surely won't live up to its title, as it will only be the beginning of your musical journey.
---
Label: Cicero/Anti-
Year: 2004
---
Similar Albums: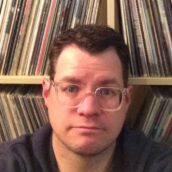 Terrance Terich
Terrance Terich firmly believes that 1985 is the best year for music. He lives near Seattle with his books, movies, and music.