DJ Shadow : The Less You Know The Better
With a title like The Less You Know The Better, it's hard not to imagine that DJ Shadow was making something of a statement with his fourth album. The Northern California-based turntablist and sample collagist, born Josh Davis, has made a career of throwing off expectations, and perhaps with a blank slate, one might be better poised to enter the album with an open mind. But that's a hard thing to achieve given his history. For 15 years, Davis' career has existed in the shadow (ahem) of his landmark album Endtroducing. Simply put, its slowly unfolding soundscapes changed hip-hop. But since then Davis has taken great effort to avoid repeating himself. On the more psychedelic The Private Press, which has aged surprisingly well, and the hyphy-flavored The Outsider, which most definitely hasn't, Shadow put reinvention above pleasing crowds. So, The Less You Know The Better, arriving five years after his most exasperating release, arrives like a heavily loaded disclaimer.
On the surface, The Less You Know The Better actually delivers exactly what one should expect from a DJ Shadow record: big drum sounds, alternately energetic and melancholy arrangements, the occasional guest vocal and a lot of cleverly placed samples. But on just a slightly deeper level, The Less You Know suffers from a similar problem that The Outsider did, namely that it's a confusing jumble of songs that seem not to belong on the same album. In just the first few tracks, Shadow transitions between the generic hard rock loops of "Border Crossing," the fairly straightforward hip-hop of "Stay the Course," the hippie psych-balladry of "I've Been Trying" and the morose torch song style of "Sad and Lonely." Very little of it seems to make any sense, contextually, even if production wise, he hits a sweet spot every now and then.
In the past, drawing from such a broad palette hasn't been such a problem; UNKLE's Psyence Fiction, for instance, saw Davis not only making a successful leap into rock music, but by actually getting pretty remarkable performances from his collaborators. But with The Less You Know, very little of the material hits with the same kind of impact as that 1998 highlight. He's certainly done away with hyphy this time around, but his shift toward more conservative rock sounds is by no means a step in a more interesting direction. The big guitars in "Border Crossing" could have translated to a more dynamic embrace of rock's heaviness, but instead they cycle in the same predictable pattern of every Big Beat record released between 1997 and 2002. Similarly, the Tom Vek collaboration, "Warning Call," offers little in the way of anything new or interesting from either artist, easily passing for a five-year-old Bloc Party b-side. Early single "I Gotta Rokk" showed potential, at least leaning more on rock's more chaotic elements, but it benefits greatly from the brevity of a single edit, here wearing out its welcome about halfway through the track.
For as much time is wasted on half-hearted diversions into guitar-based aggression, The Less You Know The Better has its share of redeeming tracks. The pair of atmospheric pair of tracks placed at the album's center, "Tedium" and "Enemy Lines," are a prime example of Shadow's capabilities as a subtler, more careful craftsman. The heady "Redeemed" equals some of the best moments on The Private Press, with its dream pop guitars and gloomy melody. And "Scale It Back," a soulful collaboration with Little Dragon, is a welcome foil to the earlier Tom Vek misfire, showcasing both artists in a lush groove that stands up to similar collaborative efforts on last year's Gorillaz album, Plastic Beach.
Much like the album's name, the song titles on The Less You Know the Better paint a fairly defensive picture as well. "Stay the Course," "I've Been Trying," "Tedium," "Going Nowhere," "Scale It Back" – these sound more cynical than confident, more guarded than defiant. And within the confusing mixture of songs on The Less You Know, DJ Shadow seems to be both pushing back at his critics and trying to appease them all at once. There's enough interesting material here to suggest that DJ Shadow still has a great album in him, but I'm left wondering where the rest of it is.
Similar Albums:
Gorillaz – Demon Days
RJD2 – The Colossus
Teddybears – Soft Machine
Video: DJ Shadow – "I Gotta Rokk"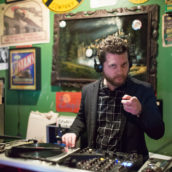 Jeff Terich
Jeff Terich is the founder and editor of Treble. He's been writing about music for 20 years and has been published at American Songwriter, Bandcamp Daily, Reverb, Spin, Stereogum, uDiscoverMusic, VinylMePlease and some others that he's forgetting right now. He's still not tired of it.