Dusty Springfield : Dusty in Memphis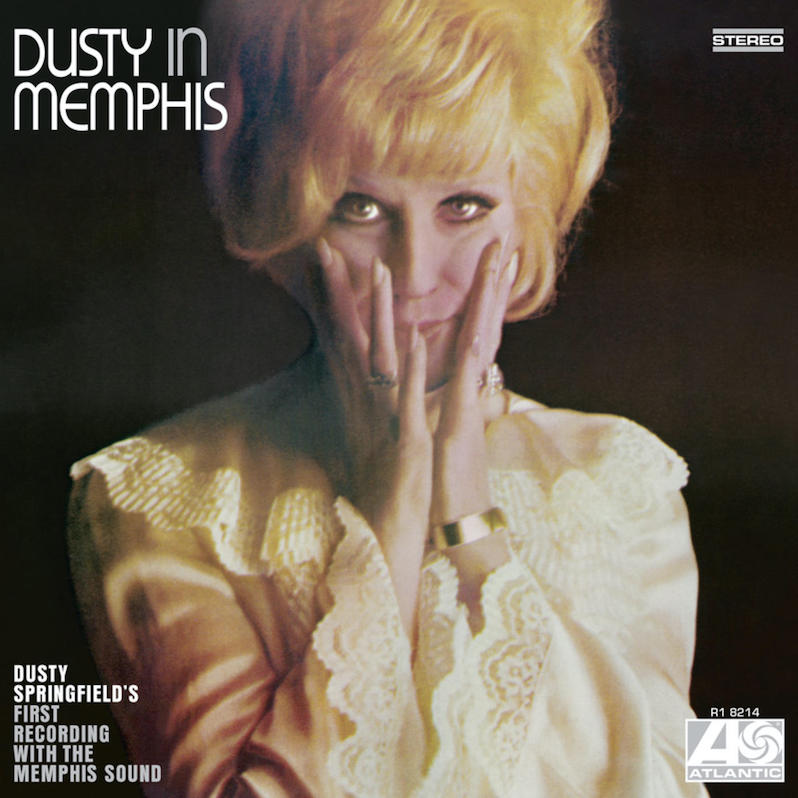 Mary Isabel Catherine Bernadette O'Brien had one of the most distinctive voices in pop music. 'Who is that?' you may ask. Well, her adopted stage name sits atop this review. Originally a British pop diva, she was so moved by the sounds coming from American radio during a tour of The Springfields, the group she was in at the time, that she broke off on her own and started recording songs influenced by Motown R&B and Nashville country. While she had some major successes, including her rendition of "Wishin' and Hopin'," as well as some mediocre releases, no one could have predicted the effect of Dusty in Memphis. Those involved in the production couldn't have predicted the album's immediate lack of success, and everyone else couldn't have predicted its subsequent success over the years.
Now considered a classic, and by some a masterpiece, Dusty in Memphis was somewhat of an experiment. While Dusty herself wanted to remain firmly in the R&B vein, her producers, Jerry Wexler, Tom Dowd and Arif Mardin, saw something different for the chanteuse. They wanted Dusty to record in, well duh, Memphis, backed by the Memphis Cats, an extraordinary backup band that had previously played with Wilson Pickett, King Curtis, and Elvis Presley. Mixing a little of Dusty's R&B leanings with some soul, country, rock, and gospel, the producers were more than visionary.
Everyone in this generation has by now heard at least one track off of Dusty in Memphis, that usually being "Son of a Preacher Man," made famous by Uma Thurman's Mia Wallace, shown only in lips and feet, as she makes John Travolta's Vincent Vega wait for her before their ill-fated date from hell. The twangy guitar into, backup singing by The Sweet Inspirations, inspired horn section, and volcano buildup of Dusty's smoldering vocals all made and still make this song a classic. Aretha Franklin turned down the offer to record this song at first, but after hearing Dusty's version, she just couldn't pass it up. Dusty recalled meeting the Queen of Soul in an elevator, "All Aretha ever said to me—and I died—we were in a lift, and she just put her hand on my arm and went, 'Girlll!'" High praise indeed.
In a year more remembered for Abbey Road, Tommy, Woodstock, Led Zeppelin's first two albums and civil unrest, Dusty in Memphis was somewhat lost in the shuffle. While it lacked the edge of the current rock and pop, it had a complexity and maturity that is sometimes only seen in hindsight. Songs like the Randy Newman penned "I Don't Want to Hear it Anymore" and "Just One Smile" are sad storytelling works of art in Dusty's voice. "The Windmills of Your Mind" was a song that Dusty wasn't sure should be on the album, but its dramatic string arrangement, piano bar atmosphere, and sixties Broadway musical feel make it simply stunning. You can picture Dusty, big hair and raccoon eyed mascara, stepping out of an empty dark stage and just emoting the hell out of this song. Then at the three minute mark we can imagine either some wacky psychedelic spiral shaped lights filling the stage or a bunch of short skirted dancers doing the monkey.
Taking a cue from other experimental artists from that period, the producers had instrumentalists play sitars, congas, and even a cimbalom which is a Hungarian dulcimer. In essence, what the producers had done was to take Dusty's immeasurable vocal talent, record it over a simple rhythm track, and then create a musical landscape around it. This is how it should be done, with music supporting a singer, not the other way around as it seems to be today. This is why the album still holds weight today and why it is considered a true classic. Today, Dusty Springfield's name is sometimes said in the same sentence as Aretha Franklin, Dionne Warwick and Carole King, and deservedly so.
Rhino records has released a deluxe edition of the classic album with fourteen extra tracks, which is remarkable considering the original album only had eleven. They include the stunning "Willie & Laura Mae Jones," "That Old Sweet Roll (Hi-De-Ho)" and "You've Got a Friend," a song she recorded before James Taylor had a hit with it in 1971. The album is well worth getting in its original form. With the extra tracks it just makes the package that much more enticing.
Since that time, Dusty faded somewhat into obscurity, resurfacing in the eighties to record the song "What Have I Done to Deserve This" with the Pet Shop Boys. Rumors had circulated years earlier about her sexuality and they cropped up again after the collaboration. In the end, what did it really matter? Dusty was an amazing talent and a strong woman who stood by her beliefs which actually got her deported from South Africa for refusing to play to a segregated crowd. It was a huge stand against apartheid and is just one story of her steadfast ethics. Ten days before being inducted into the Rock and Roll Hall of Fame in 1999, Dusty Springfield succumbed to breast cancer. Yet her brilliance is captured for posterity in a handful of albums, and one particular favorite of mine, Dusty in Memphis.
---
Label: Atlantic
Year: 1969
---
Similar Albums: