English Beat : Special Beat Service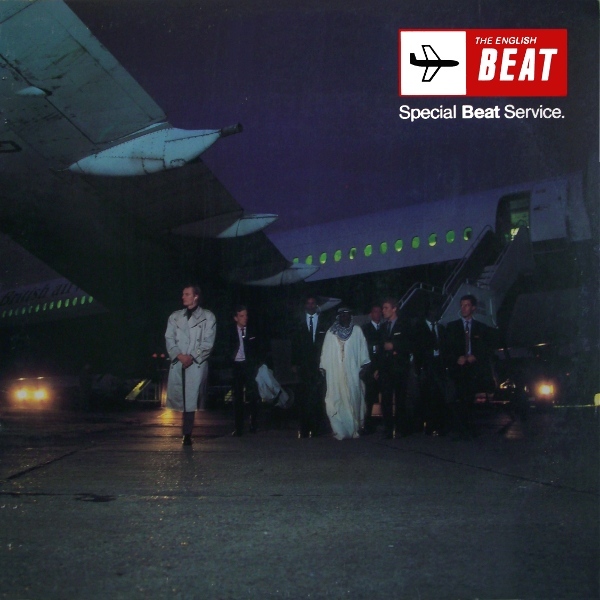 They started out as just the Beat, but were forced to change their name in America to the English Beat. Most die-hard ska fans will tell you that their best album is their first, I Just Can't Stop It, with the two-tone focus of songs like "Mirror in the Bathrom," "Twist & Crawl," "Can't Get Used to Losing You" and the Smokey Robinson classic, "Tears of a Clown," done in their signature ska sound. A second album, Wha'ppen, failed to chart as many singles, but still mined the vein of politically charged ska, reggae, toasting and pop. But when it came time for a third album, the English Beat veered in an altogether new direction. Gone were attacks on Thatcher and her reign over England and in their place, songs about love triangles, kids' games and various aspects of relationships. With the subject matter, so too did styles change. There were still the requisite sax-heavy skanking numbers and at least one toasting track, but for the most part, the English Beat became a jangly pop confection, and one that made an absolutely exquisite album. Special Beat Service quickly became one of my favorite albums, and still finds its way into my playlist on a regular basis.
When Dave Wakeling first started singing with the English Beat, he would get so nervous he'd throw up after shows. His confidence built and he has never sounded better than he does on Special Beat Service. Going between somewhat of a lounge croon and punky yelps, Wakeling is the focal point. With his chiseled good looks and new wave blond hair, Wakeling looked more like a California surfer kid than the lead singer in a ska band. Ranking Roger became his counterpart, the other half of the black and white two-tone (add word). Their dual vocal method, one the lead, the other the sideman, would go on to be used by the likes of Public Enemy, 311 and Kid Rock. That pairing, their chemistry and success, is what eventually led to the band's breakup before a world tour in support of Special Beat Service. Thankfully, we still have the album.
"I Confess" kicks off the album with a lounge act piano that then skips its way into a Joe Jackson like pop riff. Almost thrown aside during the 'alternative' pop early '80s, the song, about a love triangle, has underrated lyrics such as "done too much of both types of w(h)ining." A truly chilling moment arrives when all but the drums strip away to have Wakeling passionately sing, "He screams my life's not open, please get out, I know I'm shouting, I like to shout!" The more ska-like "Jeanette" tells an equally shameful story of a one night stand. "Sole Salvation" starts with the Jam-like bassline from David "Shuffle" Steele that grabs your attention. "Rotating Head," one of my favorites from the album, is better known in its remixed instrumental form, called "March of the Swivelheads," which played over Ferris Bueller's mad dash to make it home in time to avoid the big bust. It's that tabla and looped shout that give it away, but props also have to be given to drummer Everett Morton for creating such a tense and driving beat. "Save it for Later" is a big paradox. It's absolutely beautiful, a sweeping string part, the repetitive Byrds-era guitars of Wakeling, and some would argue the birth of jangly Britpop, yet the song is one of the wittiest tracks about oral sex ever written. The placement and emphasis on words such as 'sucker' and 'come' nearly give it away, but they actually change the chorus to "Save it fellator" in the lyric sheet toward the end of the song. "End of the Party" brings back Wakeling's croon, sadness and spite from "I Confess," before the album closes with a song referencing a Jamaican kids' game, "Ackee 1 2 3."
At this point in their careers, the English Beat had somewhat already conquered England. In fact, I Just Can't Stop It had more hit singles in the U.K. than Michael Jackson's Thriller. But because the band was more concerned with being a singles oriented act, they were dismissive of the fact that their third album was a hit in the U.S. That, combined with the burden of splitting up royalties between eight band members, brought the English Beat to a full stop. Dave and Roger famously went on to form General Public who continued writing radio-friendly pop singles in the John Hughes era '80s while guitarist Andy Cox and bassist David Steele went on to form the equally pop-friendly Fine Young Cannibals. An attempted VH1 reunion was thwarted by Cox and Steele who refused to even answer the door, but the rest did get together and play. The part they didn't tell you is that those members already had reunited the year before, albeit also sans Cox and Steele, playing a major concert at the Royal Festival Hall. How's that for anticlimactic?
---
Label: IRS
Year: 1982
---
Similar Albums: