This Week's Essential Tracks: Denzel Curry, Thank, and more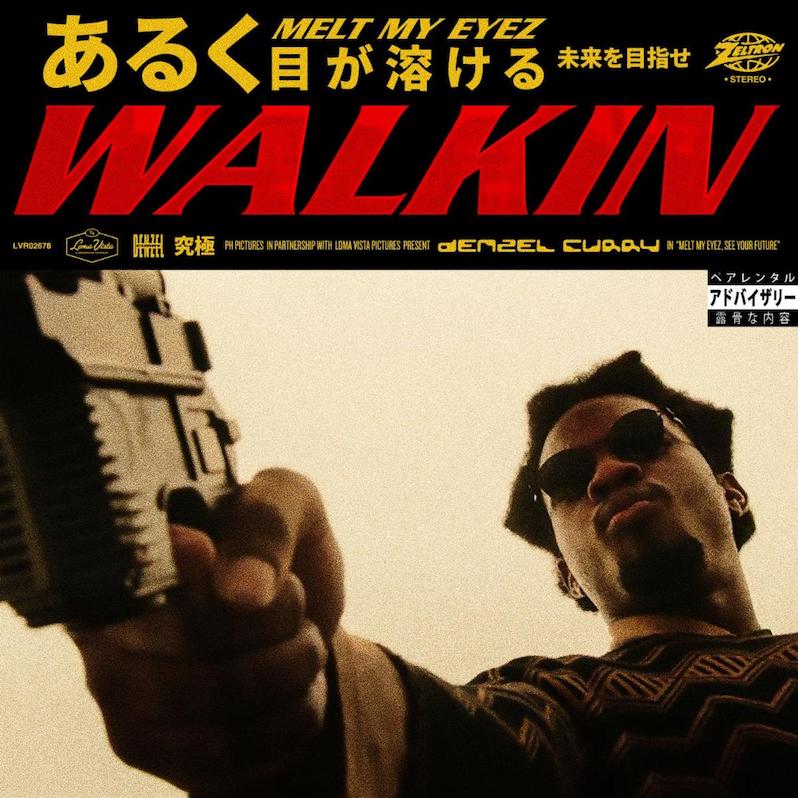 Another week down, and five more great new tracks to hear, including hip-hop with nostalgic vibes, shimmering and slightly abrasive alt-rock, and buzzing, sardonic noise rock. Dive into this week's favorites.
Plus listen to our ongoing 2022 Essential Tracks playlist.
---
Denzel Curry – "Walkin"
Confession: I really don't like most throwback rap—the kind of stuff that seems to deny the latent futurism and hauntology of hip-hop that makes it so vivid and vibrant. Denzel has never had that problem; even when "Walkin" cops a laidback '90s flow, it's married against a drunken beat that sits just catercorner to the metronome so that it produces a modernist broken-tape machine swagger. When that modern near-trap almost 2000s polished hi-hat beat comes in, totally changing the perceived beat structure of the underlying sample, the image snaps together: just like his half-conceptual works before, this new one is looking to be a post-modern nightmare of the eras of Common and Xzibit. – Langdon Hickman
From Melt My Eyez, See Your Future, release TBA
---
P.E. – "Blue Nude (Reclined)"
The clanging, clapping beat that opens "Blue Nude (Reclined)" confirms what we've essentially known for a few years now: P.E. have some honest-to-god dancefloor bangers in them. The first single from their follow up to 2020's Person is a bit more subdued than their industrial-pop early singles like "Top Ticket" and "Pink Shiver," easing into a jazzy noir-groove with a minimalist bass pulse and richly hypnotic saxophone driving this sophisti-skronk track toward pure ecstasy. This is music of a kind of late-night, after-hours hedonism, with just enough light to see your own breath. – Jeff Terich
From The Leather Lemon, out March 25 via Wharf Cat
---
Greet Death – "Punishment Existence"
New Hell, Greet Death's 2019 record, has slowly climbed to being a constant companion for the past few years now. "Punishment Existence" continues that '90s bummer rock hybrid vibe to my great satisfaction, feeling like a hybrid of emo, shoegaze, alt-rock, and that particular kind of pre-2000s indie rock that was still in touch with hardcore kids learning to work a melody and show their hearts a bit. This is the feeling I was terrified would last forever in the darkest nights of my 20s rendered in firm flesh I can return to forever, my own private hell. That's beautiful and heartbreaking. – Langdon Hickman
Out now via Deathwish Inc
---
Thank – "Dread"
Leeds noise rock group Thank draw from a wide palette, from blistering, cacophonous freakouts to sleazy no wave funk. "Dread" leans farther toward the latter, carving out a nasty groove with a dirty, one-note bassline and the simmering menace of synth arpeggios. But it's the shots-fired refrain from Freddy Vinehill-Cliffe that stands as its most memorable moment: "There's never been a good band from London." That he follows it up with "There's never been a good band from Leeds" takes it from outwardly hostile to self-deprecating, but whether topically pointed or simply dadaist, the message comes across as cathartic nonetheless, the song achieving a cleansing climax with the unmistakable bleating of atonal no-wave saxophone. – Jeff Terich
From Thoughtless Cruelty, out February 4 via Exploding in Sound
---
Ex-Vöid – "Churchyard"
Classic punk rock to a tee. At its heart, this is a bubblegum pop song, the kind that wouldn't be out of place on a '60s girl group compilation, syrupy Motown pop perfect. Here, that same songwriting idiom, an endless series of hooks compacted into a sub-two-minute slab that would fit comfy on one side of shellac, is met with that great, great '90s fuzz and strum. This stuff is simply but pure and hard to deny. The rise of Carly Rae Jepsen may have been confusing to some doddering Gen-Xers who forgot what great pop is, but despite the different sonic palettes Ex-Vöid is practically kissing cousins to that Canadian queen. Motown is perfect music and so is this. – Langdon Hickman
From Bigger Than Before, out March 25 via Don Giovanni
---
Support our Site—Subscribe to Our Patreon: Become one of our monthly patrons and help support an independent media resource while gaining access to exclusive content, shirts, playlists, mixtapes and more.