10 Essential Berlin Albums

Mote Sinabel/Courtesy of the artist
Welcome back to the Treble World Tour, a series of Top 10s covering albums that best represent certain locations—cities, states, territories, even entire nations. We consider representative releases on three levels: they were made by artists from a place, they contain music about or inspired by the place, and/or they were made in that place. The next stop on our musical itinerary is one of Europe's most resilient and most fervently creative capital cities. Berlin has a history of transcending evil and misfortune to advance itself and the world. The magnanimity of a conquering Napoleon allowed the city to progress into the Industrial Revolution, for example, while German Expressionism flourished in the face of World War I. Many outsiders' impressions of Berlin are currently, strongly, and rightly influenced by both its role as the hub of Hitler's Third Reich and the political morass of the Cold War. But in spite of (and in some cases because of) that terrible twin legacy, The Grey City became a lynchpin for inspiring new and challenging art. In particular, 20th- and 21st-century music moved Germany and especially Berlin beyond grand traditions of orchestra and opera. The city's favorites and influences became legion: cabaret music and torch singers like Marlene Dietrich, edgy jazz and New Wave, a growing reggae and hip-hop scene, and of course all things electronic and synthetic. You can't have a welcoming embrace with just one participant—as Berlin, warts and all, continues to invite creators inside its borders, here are 10 who best met the challenge.
---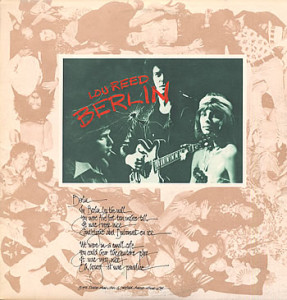 Lou Reed – Berlin
(1973; RCA)
Before Sid and Nancy there were Jim and Caroline, Lou Reed's fictional-yet-believably-doomed lovers and the subject of his 1973 rock opera Berlin. Reed's follow up to Transformer was recorded in London and New York but, as the title suggests, Berlin serves as the main setting for the events that conspire. And those events are heavy; collectively, the couple suffers from addiction, commits infidelity, gets their children taken away and commit suicide. And through it all, Reed crafts a sparse, haunting image of the streets of Berlin, more akin to that of Gotham City in the grittiest, most surreal of Batman comics.
Berlin belongs to an odd set of albums; those released — by an established artist — to a mostly negative response, but eventually lauded in the eyes of critics and fans alike. It's a dismal and minimalist affair, but it shows Reed's songwriting ability at its strongest. After all, few other singer-songwriters could push through the gambit of emotions on a song like "The Kids" with the relatively quiet and gentle approach Reed takes. – ATB
---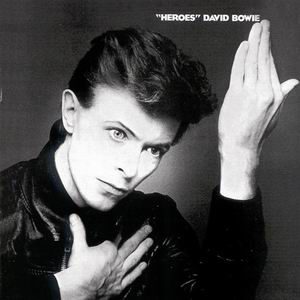 David Bowie – "Heroes"
(1977; RCA)
It's stupefying to think of David Bowie's late-seventies output in today's terms: starting with 1976's Station to Station, he put out five of rock's all-time greatest albums in as many years. Blame it on the cocaine, maybe, or his fruitful partnership with Brian Eno, which saw the two holing up in Berlin's Hansa Studio by the Wall to record what has since been termed "the Berlin Trilogy," consisting of 1977's Low and "Heroes," and 1979's Lodger. Ask three people and they each might pick a different favorite, but "Heroes" is certainly the trilogy's most iconic record. There's a polished rawness to its sound; amidst production that is somehow simultaneously cacophonous and immediately catchy, Bowie sounds like he's beaming in from an underground bomb shelter. There's the title track, a still-relevant teen anthem; the ambient experimentalism of "Sense of Doubt" and "Moss Garden;" the drawling comedy of "The Secret Life of Arabia;" and, perhaps the album's most rewarding track, the post-apocalyptic doo-wop, "Sons of the Silent Age." "Heroes" comes from the most fruitful era of Bowie's almost half-century of a career, and the fact that it seems to have hardly aged only reinforces its iconic status. – SP
---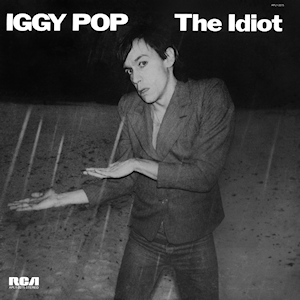 Iggy Pop – The Idiot
(1977; Virgin)
Iggy Pop and David Bowie must have had some sleepless nights in Berlin. After going almost completely insane — at times cutting himself on stage while drugged up on who knows what — with The Stooges, Pop checked into rehab and disappeared from the music scene for a while. After checking out, he joined forces with Bowie for the production of The Idiot, Pop's first solo effort, and what he has called his "album of freedom." From the opening moments of "Sister Midnight," Pop is already a more subdued man. He's sing-speaking instead of yelling like a banshee, and the music behind him is more Bowie than The Stooges. With Bowie on keyboards, synth, guitar, piano, saxophone, and xylophone, and Bowie's guitarist, Carlos Alomar, playing on The Idiot, some critics believe that Pop was deliberately co-opted by Bowie. Nevertheless, there must have been something special about the Hansa Tonstudio in Berlin: Bowie and Pop each released two albums in 1977 — Low and Heroes, and The Idiot and Lust For Life, respectively — that were recorded at the locale often referred to as "Hansa Studio By the Wall." The Idiot may be unrepresentative of Pop's other music, but the art-rock and proto-punk genius of this album was an influence for someone like Joy Division's Ian Curtis; the record has the dubious distinction of being found spinning on his turntable when he was found after hanging himself. Sure, some of The Idiot is bleak — check Pop's lyric sheet or the siphoned siren sounds of "Mass Production" — but when the snappy piano swagger of "Nightclubbing" plays, it's time to hit those ghostly streets. – JJM
---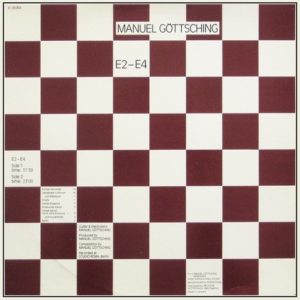 Manuel Gottsching – E2-E4
(1984; Inteam/MG-Art)
You normally hear the band Ash Ra Tempel (later called Ashra) mentioned only in advanced discussions of Krautrock, yet their influence and creative cross-pollination touches Kraftwerk, Tangerine Dream, and other titans of the genre. Legend has it that late in 1981, co-founding guitarist Manuel Göttsching recorded some musical ideas so he could listen to something in his Walkman during a Berlin-Hamburg flight. Three years later he would release that single take as E2-E4, his first solo album. The title references notation for a common opening chess move, and as the album's sound and concept snuck up on Göttsching, so it goes with listeners: Nine continuously-mixed sections of deftly handled drum machines and simple synthesizer figures, joined later by his guitar improv, form a hypnotic 111 BPM groove-cocoon over the span of an hour. This is accidental alchemy turning space rock into early techno, with elements lifted and homage paid far into the future by the likes of Daft Punk, Ricardo Villalobos, LCD Soundsystem, and Basic Channel. – AB
---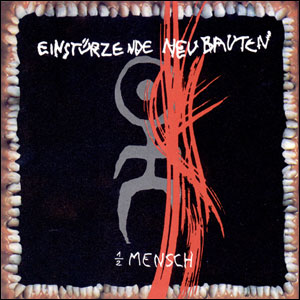 Einsturzende Neubauten – 1/2 Mensch
(1985; Some Bizzare)
Germany remains a spiritual and functional home to the genre of industrial music, yet today's synth- and sampler-based electronic body music is far removed from the bang-on-a-can noise art of yesteryear's experimentalists. Unlike English legacy act Throbbing Gristle, who were content to scare the shit out of you, the Berlin collective Einstürzende Neubauten remain cobblers who careen from tone poems to conventional balladry based on how far their instruments—conventional and homemade—can carry them. Their fourth proper studio album stands as a high point in their catalog because it really shows this range without being so avant garde as to turn off the casual listener. 1/2 Mensch has moments of kitchen-sink (ha!) cacophony like "Der Tod ist ein Dandy" but this is actually a surprisingly spare release, with tracks like "Yü-Gung" and "Z.N.S." focusing on the interplay between the band's tuned percussion and Blixa Bargeld's wide spectrum of theatrical vocals. The technique and sound can be heard in the catalogs of The Jesus Lizard, of Korn, even of latter-day Tom Waits. – AB
---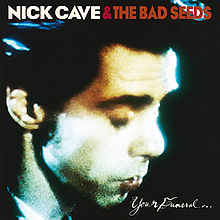 Nick Cave and the Bad Seeds – Your Funeral… My Trial
(1986; Mute)
Your Funeral… My Trial is considered by many — including members of the band — to be Nick Cave & The Bad Seeds' best album. While that's a particularly tough competition, it's clear that the album is of a rare breed: One that perfectly captures a band (and a man) at a particular moment of time. In 1986, Nick Cave was living in West Berlin and using quite a bit of his spare time to indulge his heroin addiction. So when I say that Your Funeral… My Trial perfectly encapsulates Cave's tenure in West Berlin, I mean that it is artistically perfect but spiritually and physically tormented — as twisted and murky as post-punk gets. Cave & Co. build off this personal torment to create a distorted, lost sort of feeling on stand outs like the spiraling "The Carnie," the mesmerizing "Stranger Than Kindness" and the guttural "She Fell Away." It's a dark momentum from a dark time in Cave's life, but you can't help but give into the intensity and honesty of it all.- ATB
---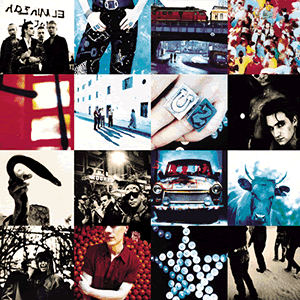 U2 – Achtung Baby
(1991; Island)
Achtung Baby, named after a line in Mel Brooks' Nazi send-up The Producers, was borne from an ambrosian hangover. U2 received blowback for the first time in their career for the film and album Rattle and Hum, which for some sounded like a restatement of their own importance and acclaim. That's a smidge unfair, although Rattle and Hum wasn't that good, but U2 made what turned out to be a very sound decision to deconstruct themselves for their brittle and discomforting seventh album. True believers' overreaction to their shift was often amusing – Brian Eno encouraged the use of buzzwords like "trashy," "throwaway" and "sexy" during the sessions – but looking back Achtung Baby's drastic second act might have been the most crucial step in their immortality.
Recorded in Hansa Studios where Bowie made "Heroes", Berlin's industrial, lightly mechanical pleasures actually made Bono more human, or at least sounded like he was finally taking the same drugs we were. The crumpled narrator of "Zoo Station" bleeds into the coy salesman of "Even Better Than the Real Thing" and "The Fly," and The Edge's and Larry Mullen's retreat from their epochal statements on guitars and drums found them filling in the outer edges more thoughtfully. But it's the album's gentle, desperate songs of subtext and fear of loss – "One," "Tryin' to Throw Your Arms Around the World," "Who's Gonna Ride Your Wild Horses" – where the distance from Dublin to Berlin really shortens. They're the moments that Bono became the most human he ever sounded, giving into his vulnerabilities. Personally I prefer Zooropa 'cause that's where things really got screwed up, but for a gateway drug Achtung Baby is more than sufficient, and still reveals new sides to U2 more than twenty years later.- PP
---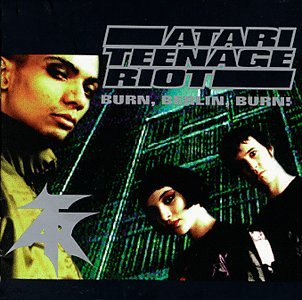 Atari Teenage Riot – Burn, Berlin, Burn!
(1997; Digital Hardcore/Grand Royal)
This was a Beastie Boys-endorsed compilation of singles and early D.I.Y. album cuts introducing Alec Empire's "digital hardcore" movement, label, and signature band Atari Teenage Riot to the rest of the world. The angry young Berlin man's sound embraced a hyperspeed version of then-still-new drum 'n' bass punched up with industrial-style vocal and instrumental aggression. It was anything but easy listening. Full of bile and hopelessness ("Delete Yourself," "Deutschland (Has Gotta Die)") and samples of blubbering victims from sci-fi and horror flicks, Burn, Berlin, Burn! manifests the band name's historical references to technology (Atari, the old video game and computer company) and punk nihilism (Sonic Youth's epic anthem). It could be argued that much of the creativity from post-war Berlin was a collective attempt to create a new culture that bandaged the wounds inflicted on the city's psyche by Nazism and the Cold War. Alec Empire's prescription was far different: cauterize those wounds, or just fucking amputate. – AB
---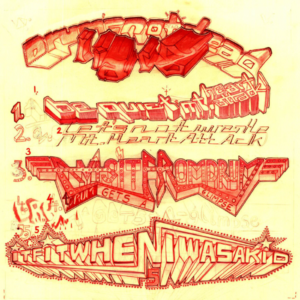 Liars – Drum's Not Dead
(2006; Mute)
Liars are an American band with an Australian-born singer. They were founded in New York, and currently reside in Los Angeles. But for a time, they retreated to Berlin for the sake of putting themselves amid new surroundings — an act that has become part of their regular creative process, in a way. The music that resulted was the best of the band's career, putting aside the dancepunk of their debut and experimental post-punk of its follow-up in favor of a more abstract and minimal sound. If one were to draw inference from the relationship between Drum's Not Dead and the city in which it was written and recorded, well, it's not an easy one. Outside of a vague, universal darkness — and the industrial landscape that sets the imagination toward a certain clanging, pounding rhythm — Drum's Not Dead feels more alien than of a certain time and place, much like This Heat's Deceit, an album that marks an early precursor to the kind of unfettered art punk the band was delving into here. This is music for pagan forest rituals. Or anarchist cabaret — which probably means it could have only been created in Berlin. – JT
---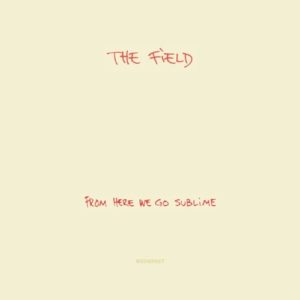 The Field – From Here We Go Sublime
(2007; Kompakt)
Germany has come to be known as the techno capital of the world, and downtown Berlin its epicenter. Sweden's Alex Willner — currently based in Berlin — thought his debut From Here We Go Sublime wouldn't get a positive reception because it's different than most techno. He was wrong. The breathtaking electronic album ended up on numerous best-of lists and Resident Advisor, an electronic music magazine dedicated to the global dance music scene, ranked it as the 29th greatest album of the decade. Working under the moniker of The Field, Willner has consistently used repetitious backbeats as transcendent weapons for the mind, but it's what he layers over those beats that separate him as an artist. Mostly sample-based — manipulations from the likes of Kate Bush and Lionel Richie are cut up into the context of milliseconds — as well as featuring some guitar with e-bow ("Mobilia"), From Here We Go Sublime is a special kind of music. Willner is not mashing beats; he's building anthemic landscapes of sound while banging hard enough for the club. Not bad for low expectations. – JJM