Fela Kuti's "Coffin for Head of State" was genuine life-and-death protest music
Music has never really felt truly "dangerous" in much of our lifetimes. It can speak truth to power, maybe make us think more deeply about something or, at best, make us feel less alone, but that's usually about where the line is drawn. Aside from the usual bruises at hardcore shows, lectures from Fox News hosts about rap music and the occasional outbreak of hepatitis at a String Cheese Incident, any discussion of late about danger in music is hyperbolic or overblown at best. No amount of "punk's gonna get good again" posturing is going to change that—and in the past three years or so, punk hasn't really changed much of anything. Britain's still Brexiting. Trump's still normalizing fascism.
This wasn't always the case. Outside of members of Rage Against the Machine and MC5 being arrested for trespassing or disturbing the peace, American music has rarely posed a genuine threat to authorities—at least as far as those authorities see it. But the Tropicália movement in Brazil in the 1960s, however short lived, was a much different story. The ruling military dictatorship considered the absurdist critiques of the nationalist government in the Tropicalistas' songs as undermining their authority. So much so that the sound's principal architects, Gilberto Gil and Caetano Veloso, were arrested, jailed and eventually temporarily exiled from the country. Chilean singer Victor Jara saw even more cruel and savage retaliation under the rule of Augusto Pinochet's dictatorship; Jara challenged Chilean right-wing rule by writing songs about peace and social justice. The government's response was to detain, torture and eventually murder him.
Perhaps no musical activist had as storied a legacy of dissent and as enduring a saga of standing up to authority as Nigerian Afrobeat pioneer Fela Kuti. His story is epic, and every tale you've heard about him is probably true—more or less. He was jailed multiple times, imprisoned for 18 months in the '80s, and even once infamously traded stool with a fellow prisoner to avoid prosecution—which is how Expensive Shit came into being. A biopic was reportedly in development for a few years, with Steve McQueen attached to direct, though unfortunately the project fell apart. But then again, no Hollywood script could sufficiently harness the tragedy, anger and sheer defiance of "Coffin for Head of State."
By 1981, Kuti already had spent a full decade crafting epic, powerful and rhythmically hypnotic critiques of the Nigerian government. Following a brief period of playing highlife with Koola Lobitos and some time spent performing in both the U.S. and UK, where he'd made a fan and collaborator of Cream's Ginger Baker, Kuti returned to Nigeria on a musical mission. With his band, the Africa 70, he crafted supremely funky anthems driven by James Brown-inspired grooves, the improvisational groove of jazz fusion, and a pointed, righteous anger. He was Brown, Bob Marley and Miles Davis all in the same jam session, and he focused his ire—often satirically and even humorously—at the military junta in Nigeria. As he saw it, music couldn't be played purely as a vehicle of entertainment, because to do so would be to ignore the struggle of his own neighbors, family and friends.
"Music can be an instrument of enjoyment," he once said. "But in my environment, my society is underdeveloping because of an alien system on our people now. So there's no music for enjoyment. There's nothing like love. There's a struggle for people's existence. So as an artist, politically, artistically, your whole idea about your environment must be represented in the music. As far as Africa is concerned, music must not be for enjoyment. Music must be for revolution."
The music that made Kuti a legend in his home country, and eventually worldwide, also made him a thorn in the side of the Nigerian government. He was arrested numerous times in a sequence of censorship actions whose strongest contemporary parallel would be Pussy Riot, but it wasn't until Fela and the Africa 70 released 1977's "Zombie" that the situation escalated into actual violence. That song, perhaps his most well-known composition and one of the greatest musical moments of the '70s, depicted the military leaders as mindless brain-eating drones: "Zombie no go unless you tell am to go." As a piece of music, it sent a shockwave that disrupted pop music, electronic, jazz and post-punk, its ripples still felt sending aftershocks more than 40 years later. As an act of protest, it was met with a decisively, disproportionately violent retaliation.
On February 18, the military raided the Kalakuta Republic—Kuti's compound, which was home to him and his bandmates, and also housed a free health clinic and recording studio. General Olusegen Obasanjo's men burned the compound and threw Kuti's mother out of a window. The attack left her in a coma for eight weeks, and she ultimately succumbed to her injuries.
Fela wrote a song about it, naturally. Four years after the raid of the Kalakuta Republic, he released "Coffin for Head of State," a sole 22-minute composition released in two different versions, one instrumental and one with vocals, each occupying one side of the full LP. And true to the Africa 70's most sprawling compositions, even the vocal version is mostly instrumental, driven by skeletal organ chords, a repeating bass groove, Tony Allen's fluid rhythms and zig-zagging horn patterns. It's only when Kuti and his backup singers break through the hypnotic funk that the song transcends melodic ecstasy, turning what's initially a critique of religious hypocrisy into a prayer incantation, following up chants of "Amen! Amen! Amen!" with "Allah Wakubar Mohammed Salamalekum."
It's defiant, mesmerizing, but even that doesn't quite offer proper preparation for what unfolds. In simple language, Kuti narrates the raid on Kalakuta Republic ("Them burn my house too/Them kill my mama") in a falsetto that cracks with an emotion beyond mere fury—there's genuine anguish in his voice. To a degree there's pain in all of Fela's music, but here it breaks through the stylish surface, plainly, for all to see that he was more than just the voice of the struggle. His platform didn't spare him from that same struggle. The difference was he never stopped fighting back.
Here's where it gets really interesting. In the song's climax, he chants, "We go Obalende, we go Dodan barracks, We reach them gate o, We put the coffin down." After his mother's death, Kuti brought a coffin representing her to the Dodan barracks, where Obasanjo and Vice President Yar'Aduwa were staying, literally delivering death to their doorstep. They opted not to receive it, but the message was out, and not even threat of state-sponsored murder would prevent him from spreading it. The state had blood on its hands, and Kuti wasn't going to let them brush it aside. The album's cover even depicts the photographic evidence of its special delivery.
Though Fela Kuti was born with the middle name Ransome, in the '70s he substituted "Anikulapo" as his chosen middle name, a word that translates from Yoruba to "He who carries death in his pouch." And he brought it directly to the president's gate.
---
Support our Site—Subscribe to Our Patreon: Become one of our monthly patrons and help support an independent media resource while gaining access to exclusive content, shirts, playlists, mixtapes and more.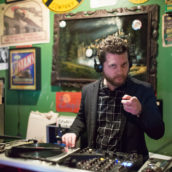 Jeff Terich
Jeff Terich is the founder and editor of Treble. He's been writing about music for 20 years and has been published at American Songwriter, Bandcamp Daily, Reverb, Spin, Stereogum, uDiscoverMusic, VinylMePlease and some others that he's forgetting right now. He's still not tired of it.