Flying : Just-One-Second-Ago-Broken-Eggshell
The way I see it, freak folk just isn't freakish enough. Don't get me wrong; Devendra Banhart, Akron/Family, Six Organs of Admittance–they're all great. But freaks? I don�t know about that. They really just seem more like hippies than anything else, which, particularly in indie music, isn't all that out of the ordinary. Animal Collective and CocoRosie are genuinely freakish, at least musically, I suppose, but they seem to be on the extreme end. Brooklyn's Flying, however, bring a genuine freakshow feel to their unique art folk. Not merely content to strum the old acoustic guitar around the campfire, Flying throws in a myriad of oddball sounds, creating leaps in volume and turning the musical experience into one of a carnivalesque atmosphere, with new sights and amusements at every turn.
Flying may actually be more freak than folk, running the gamut from Danielson-like yelps to Deerhoof-ish art rock to Os Mutantes inspired psychedelia to Elephant 6 pop. All over the place, in a good way, there are countless moments of pure joy and just as many instances of vast confusion. Of all those comparisons, however, the two that seem the most apt are Deerhoof and Os Mutantes, as Flying shares both bands' penchant for unconventional structures, wild stylistic changes and an underlying sense of cuteness. While Just-One-Second-Ago-Broken-Eggshell is of the artiest schools of rock, it's also extremely childlike: a tin pan alley symphony for the Island of Misfit Toys.
In just the first song, the wonderland appropriately titled "Alice," Flying packs more ideas than one can possibly process after one listen. Some static, electronic gurgles, fingerpicked guitar, crashing percussion, harmonized boy-girl vocals, samba rhythms–it's almost enough to cause epileptic shock, that is, if it weren't so damn fun. "Love Dies Here" is a similarly wide-swinging psych-folk tune, while "My Mission" is a bouncy and fairly straightforward hippie strum-along, which rolls along gently until the last 30 seconds unveil a dragon swing of staticky drums.
The oddball percussion and almost Vaudevillian nature of "Our Cave" instantly reminded me of Os Mutantes, as it likely will others. Though, unlike any tracks by the Brazilian psych legends, this song's melody is interrupted at one point by what sounds like a giant woodpecker. Not every song by these folk-freaks is as dizzying as some of these first few. "Stations" is a gentle gem, soothing and lovely, as sole voice and acoustic guitar are juxtaposed against a background of crashing waves. Likewise, "Forbidden Sands" combines handclaps and simple, silly harpsichord leads.
As can often be the signal of a great and perfectly sequenced album, the best moments on Eggshell are during the final third, beginning with "Minors." Starting off with distorted farfisa, handclaps and pounding bass drum, the melody gives way to a rollicking barroom piano stomp, and the song becomes a joyous, tripped-out romp. After an atonal instrumental interlude, "#1 Chariot" takes on a bluesier, cabaret feel, climaxing in a cacophonous pounding of piano keys and crashing drums. And the final two songs, "Soldier's Tongue" and "Falling Leaves," are each piano-driven ballads, at times sounding like '70s Tom Waits, particularly the latter. It's easily the most accessible song on the album, primarily for being the most straightforward. Closing the record with a romantic, nostalgic New York nightclub vibe rather than that of a drugged-out South American circus, Flying reveal themselves to be as tender and sober (figuratively speaking) as they want to be.
As I look back over the descriptions I've given Flying—childlike, psychedelic, cute, arty—I can't help but wonder at how unusual such a band truly is. Both unsettling and wondrous, absurd and sublime, they're an oxymoron of a band. Each listen brings new surprises as well as familiar melodies, and each song refuses to wear out its welcome. I think I'm going to have to tell everybody I know about this record.
Similar Albums:
Deerhoof – The Runners Four
Os Mutantes – Os Mutantes
Animal Collective – Feels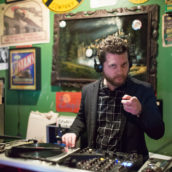 Jeff Terich
Jeff Terich is the founder and editor of Treble. He's been writing about music for 20 years and has been published at American Songwriter, Bandcamp Daily, Reverb, Spin, Stereogum, uDiscoverMusic, VinylMePlease and some others that he's forgetting right now. He's still not tired of it.