For the Record: Halloween Edition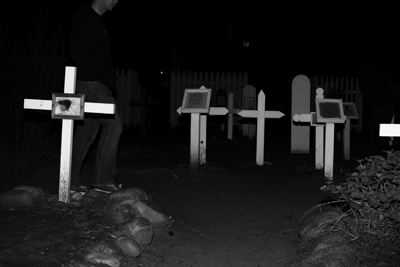 Stock up on candy corn, polish the crystal ball and Ouija board, strap on your garlic necklace and fire-up the Hi-fi, because Halloween is almost here! It's a tradition here at Treble to scare up a good feature on the most ghoulish of music for Halloween, and while we've already offered up features on our favorite scary songs, Halloween classics and murder ballads, there's always a new way to exorcise demons through music. It just so happens that Halloween week is the week we chose for our latest round of For the Record. Those keeping up with the feature should be familiar with the system by now: we select five albums we haven't heard in their entirety, and have a roundtable discussion of sorts on our reactions.
Since this is the spooky season, however, we've taken it a step further by selecting five albums that encapsulate the Halloween spirit in five different ways. We've lined up the outlandish macabre camp of Screamin' Jay Hawkins, the villainous stadium rock of Alice Cooper, Dr. John's New Orleans voodoo, This Mortal Coil's dark and bleak ethereal trip and, lastly, the menacing industrial horrors of Coil. Some of it's scary, some of it's silly, but we aim to find more tricks than treats.
This month's panelists are Jeff Terich, Ernest Simpson, Tom Lee and Chris Morgan. As always, send us your recommendations for the next round of albums on Facebook, Twitter, or send us an-email.
Screamin' Jay Hawkins – I Put a Spell On You (1958, OKeh-Epic)
Buy at iTunes
Jeff: Screamin' Jay Hawkins is one of the more absurd characters in pop music history, playing up voodoo camp with a wardrobe consisting of leather and furs, a bone through his nose and a prop skull named Henry. And, of course, there's the reason he got his name: the dude could wail. The title track on his first album, I Put A Spell On You, is an essential for any great Halloween party playlist, and an enduring standard of possession, both demonic or by a jealous lover. Not everything on the album has the same kind of drunken, spooky voodoo charm, but the rhythm and blues standards on the album are all highly enjoyable tunes, even if Jay's imitations of German, French and Chinese language aren't the most politically correct. That said, his Tourette's like delivery only serves to bolster the idea of Screamin' Jay as cartoon, and is sometimes pretty hilarious. Particularly notable, however, is Hawkins' take on exotica standard "Temptation," which is likewise sultry and eerie. Screamin' Jay Hawkins was, basically, a cartoon, but his outsized caricature of a personality is what made him so influential and interesting, particularly considering this came out in 1958. And even though Marilyn Manson gave it a good shot, Screamin' Jay got the shock rock thing down nearly 40 years earlier.
Ernest: If it's odd to think of Alice Cooper now as an avid golfer, it must also be strange to think of the outlandish Screamin' Jay Hawkins as an aspiring opera singer. But, that's the truth. Luckily for us, his dreams fell through and he became the living cartoon that we know and either alternately love and / or revile. Sure, he apparently left an estimated 75 children scattered around the world out of wedlock, and some of his songs lacked any kind of political correctness ("Hong Kong," anyone?), but he was some kind of captivating performer, to be sure. There's no denying the power of "I Put a Spell on You." It now seems out of place sandwiched between the squeaky clean "I Love Paris" (until he goes into his horribly offensive language schtick again) and the classic "Swing Low, Sweet Chariot," but in Hawkins' early days, he hadn't yet donned the voodoo persona, originating from a dare to emerge from a coffin on stage. Hawkins will forever be known because of "I Put a Spell on You," but his wacky take on "You Made Me Love You" and other standards make this an interesting, if not entertaining, album. There are two songs in existence that make me think of the X-Files, one is Nick Cave's "Red Right Hand," and the other is "I Put a Spell on You," used in the episode "Humbug."
Dr. John – Gris Gris (1968, Atlantic)
Buy at iTunes/Insound
Jeff: Halloween is a celebration of the supernatural, so it seems only natural to include an album whose themes loosely revolve around New Orleans voodoo. Gris-Gris, the title of the debut album from New Orleans' own Dr. John, is a reference to a hoodoo talisman, which is commonly a sack of herbs, or more notoriously, a voodoo doll. As such, there's a dark, mystical stew being cooked up on this record, a funky, jazzy and trippy blend of musical styles that incorporates a heavy African influence. Going by Dr. John the Night Tripper on this album, the good doctor actually borrowed from Screamin' Jay Hawkins' persona for his performances, and that shines through on tracks like the super cool, eerie "I Walk On Guilded Splinters." This track, in addition to stirring up a thick, smoky stew of psychedelic jams, includes quite a few references to icons in voodoo, including Li Grand Zombi, which is the religion's snake deity. Certainly there's a little bit of camp element to the album, but Dr. John's strong adherence to swirling grooves and tribal rhythms keeps it from being silly. That this album has retroactively become regarded as one of the greatest ever released isn't that surprising, as even more than 40 years on, there aren't many rock albums that sound quite like it.
Ernest: I'm not sure why Alan Ball and his team didn't just use the entire Dr. John catalog as incidental music throughout True Blood. It's not necessarily that the music of Dr. John, the Night Tripper, such as on his debut, Gris-Gris, is necessarily scary. Heck, even the cover seems a bit hokey as opposed to frightening. But, it truly captures a Southern Gothic feel that few others have achieved. Gris-Gris, named after a voodoo hex bag, is awesome throughout. New Orleans Blues, Latin flavors, raspy Tom Waits-ish vocals, and just an all around display of craftsmanship surrounds this debut. "Mama Roux" has a great Van Morrison vibe, and I absolutely dug the shorter tune, "Jump Sturdy," and Dr. John's pronunciation of words like "turned (toined)." If there is one scary moment it is the general feeling throughout "Croker Courtbullion," which at times evokes the paranoiac feel of Polanski's `apartment' films, but then quickly turns the tables with more of a classic horror film set to Esquivel essence. Either way, it's a fantastic debut, and one that was made during breaks between recording a Sonny and Cher album! Now, that's scary!
Alice Cooper – Billion Dollar Babies (1973, Warner Bros.)
Buy at iTunes/Insound
Jeff: Alice Cooper said in an appearance on Anthony Bourdain's "No Reservations" that he adopted his macabre persona in the late 1960s because there weren't enough villains in rock music. Bear in mind that this was several decades before Fred Durst, Kid Rock and Scott Stapp arrived. But Cooper found himself a good gimmick, and for what it's worth, launched a highly successful career out of it, which includes a handful of classic albums, among them Billion Dollar Babies. Pairing theatrics with quality hard rock songwriting, it's something of a rock opera, albeit without one consistent storyline. That said, it's a highly cohesive work, right down to the snakeskin on the cover that lie underneath a coin featuring a picture of what looks to be an artist's rendering of a baby Cooper himself (so apparently Lil Wayne wasn't the first one to come up with the idea). The title track and "No More Mr. Nice Guy" are standouts, as well as the cynical political sloganeering of "Elected," and the sweetest ode to necrophilia I know of, "I Love the Dead." And really, some good, not-so-clean fun is what everyone needs on Halloween, right? Cooper may hawk hot dogs and endorse golf clubs now, but back in the'70s, the man could push society's buttons with tasteless panache.
Ernest: The Monks, the Sonics, and Funkadelic. These are all bands that have become personal favorites after taking part in this For the Record feature. Another one can be added to the list is Alice Cooper. I was already familiar with the ubiquitous singles, "I'm Eighteen" and "School's Out," but Billion Dollar Babies was Cooper's best effort, combining Bowie theatricality and Edward Gorey style with a classic rock foundation. At times recalling the Beatles, the Who, T. Rex, and even the James Bond theme, Cooper and his band deliver on every track. Though "No More Mr. Nice Guy" was a hit single, and rightfully so, all cuts here are equally worthy, and sometimes better. The title track, with backing vocals by Donovan, is timeless, while "Elected" certainly never seems to lose its satiric punch.
This Mortal Coil – It'll End In Tears (1984, 4AD)
Buy at iTunes
Jeff: For the goths, every day is Halloween, and while This Mortal Coil was only on the periphery of the goth-rock genre, no band better summarizes the gloom and bleakness most often associated with the genre. The project of 4AD founder Ivo Watts-Russell, TMC featured collaborations from other artists on the label, ranging from members of the Cocteau Twins to Dead Can Dance and Wolfgang Press. And while this album evades the camp or terror that we so often associate with All Hallow's Eve, it more than makes up for it by being hopelessly dark. It's a gorgeous album, though, half of it consisting of covers and the other half originals. While the originals are often quite lovely, it's the covers that provide the most interesting listens, overall. Elizabeth Fraser's vocal on Tim Buckley's "Song to the Siren" is the group's best known single, and with good reason. Its otherworldly, ethereal sound is stunning. Likewise, Howard Devoto's elegantly unsettling vocal on the cover of Big Star's "Holocaust" is powerful, if extremely depressing. The second half isn't quite as thrilling, and Dead Can Dance's Lisa Gerrard is, frankly, an acquired taste. And I can't say I've acquired it. But the garagey cover of Colin Newman's "Not Me" makes up for that with some momentum and pep. It'll End In Tears isn't particularly scary, though it's definitely haunted. It almost sounds as if it were performed by ghosts, and sometimes that eerie, unexplainable feeling can make a bigger impact than something more tangible.
Ernest: I was excited about this entire batch of For the Record reviews, but I think I was most looking forward to diving into this particular album. It'll End in Tears is often given single-handed credit for defining the eventual trademark 4AD sound, which makes sense, considering it's a project led by the label's founder. Ivo Watts-Russell formed a `supergroup' consisting of himself, members of Cindytalk, Buzzcocks, and Cocteau Twins, and the result is phenomenal. The album is equal parts covers and originals, and both succeed. The covers probably get more attention, and considering the gorgeousness of the opener, Big Star's "Kangaroo," its follow-up, Tim Buckley's "Song to the Siren," and then quickly another Big Star track in "Holocaust," it's easy to hear why. The covers act as the opening salvo, a big beautiful introduction to a lavish and delicate project. The band has since become part of a joke in Patton Oswalt's act, in his bit about KFC bowl meals, but don't let that stop you from discovering, or rediscovering, a fantastic piece of music.
Coil – Horse Rotorvator (1987, Some Bizzare)
Jeff: While three of this month's albums exude a campy sort of Halloween spirit, and one is a model of gothic darkness, Coil's Horse Rotorvator is more menacing and unsettling. The longtime project of ex-Psychic TV member John Balance, Coil is one of the pioneers of industrial music, but not in the way that Ministry or Nine Inch Nails were, though Trent Reznor was highly influenced by Balance. In fact, Reznor's latest project, How to Destroy Angels, is actually named after a Coil recording. Horse Rotorvator, however, is not an industrial metal album but a strange blend of goth, pop, noise and the avant garde making for a deeply unsettling approach that's sometimes pretty and accessible, but more often disconcerting. Simply the origin of the album's name, an imagined piece of machinery made from the jawbones of the horses of the apocalypse, is unnerving. Then of course there are the promotional photos of Balance, adorned by a zombie. Furthermore, how can an album with a song titled "The Anal Staircase" not put a listener on edge? Yet that very song, a surprisingly catchy tune, is positively jaunty in comparison to much of what follows. "Circles of Mania" juxtaposes carnivalesque keyboards with blood-curdling screams, while "The Golden Section" is a grotesque spoken word composition with verses combining death, mythology and eroticism over militant beats. And then there's "Blood from the Air," which goes from ominous to Shining levels of heebie jeebies with little warning. Coil's music is often terrifying, but it's also quite stunning. Maybe it'll scare away the trick or treaters, but I'll be sure to give it repeated listens even after Halloween's over.
Ernest: Maybe it's because I didn't get into it at the time, but I just don't quite get what is so edgy about industrial music. Maybe Coil isn't the best example to use to represent an entire genre, but I've heard others. Don't misunderstand me, I really enjoyed Horse Rotorvator. Plus, I can see where plenty of other bands could have found inspiration from the songs within. I'd be surprised if Nitzer Ebb hadn't heard the opening track, "The Anal Staircase." They practically cribbed the entire "one step, two step" line entirely. Placebo must have heard "Slur," and Depeche Mode could have easily been inspired by their peers in "Ostia (The Death of Pasolini)." I enjoyed the short interludes of "Babylero" and "Herald" as they provided some interesting respites between some fairly heavy songs. The aforementioned "Ostia" and "Penetralia" are two of the album's best, with the latter sounding more of what I originally expected to hear from Coil, the strobelight soaked, Lynchian creepfest it turned out to be. "Circles of Mania" is another personal favorite, being an odd mix of DM and a proto-Gorillaz meets Disney's "The Haunted Mansion" ride. But, I'm not about to go out and get an Einsturzende Neubaten tat on my forearm anytime soon.
Chris: Really the only way I am familiar with Coil is through Throbbing Gristle, which I got into in high school trying to acquire a "rivethead" air about me after assuming that I "failed" at "being" "punk." On the one hand I was going about like any old brain dead teenager with then-undiagnosed Asperger's, but on the other hand I still have a soft spot for bands like the Gristle, Cabaret Voltaire and NON since they served as a gateway for all the extreme stuff I would get into later (Big Black, Isis, Swans, Converge, Cable, Helmet, etc., etc.), and they stand the test of time a little better than Ministry. As to the fear factor of this record, it's nowhere near as chilling as some of Throbbing Gristle's tracks, but Coil has one up on TG in matters of arrangement. TG had the tendency to segregate their songs: some were more experimental and noise-based while others were proto-darkwave dance/electronic compositions. Coil saw no distinction, creating bizarre soundscapes of eerie noise textures and structured around pulsing beats. The result is more hedonistic than horrifying, flushing the senses with the feeling of something really red, really warm, but really awesome. This is best exemplified by "Ostia (The Death of Pasolini)" inspired by the unabashedly hedonistic filmmaker and the aggressive "Penetralia." Coil is to old celluloid — mostly European — pornography what Throbbing Gristle is to a snuff film.
Tom: This sounds very industrial and a little macabre. Horse Rotorvator isn't necessarily typical listening for me. The album's subject matter often leaves me neutrally ambivalent and its stylistic incongruity defies many a comfortable cliché. Regardless of this, Horse Rotorvator possesses moments of surprising immediacy with some real high points across its splattered landscape. "Slur" is definitely recommended listening for Trent Reznor devotees and Genders fans, while "Ostia (the death of Passolini)" recalls recent Steve Kilbey material before ending with a burst of brass band. "Penetralia" pre-dates the abstract impressiveness of …Slash the Seats-era David Holmes with a little added abstract voodoo. Meanwhile, "Blood from the Air" is like Bowie writing a super villain sound track for Gaspar Noé. An unusual but worthwhile listen.