Freddie Gibbs & Madlib : Piñata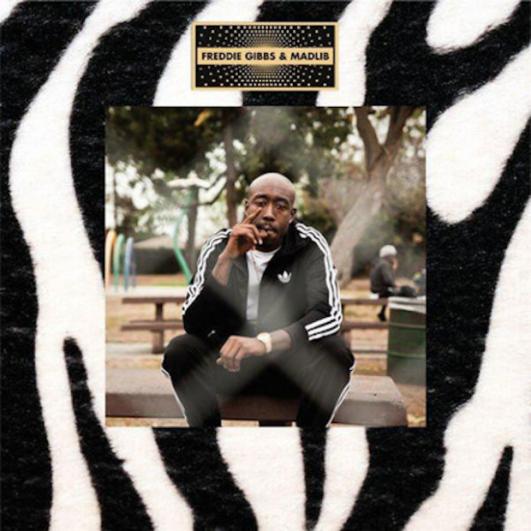 Freddie Gibbs is hungry — always has been. The 31-year-old emcee has been on a hell of a career ride since the release of his mixtape, The Miseducation Of Freddie Gibbs, a collection of work that featured new material along with his brief studio work while signed to Interscope (from which he was quickly dropped). Despite what turned out to be a minor setback, the trajectory of Gibbs' career has gone upward from there, thanks to a few outstanding solo works and some impressive collaborations. The Indiana native is, without a doubt, one of the best MCs out there, and his pairing with prolific L.A. producer Madlib turns out to be an unsurprisingly natural match-up. Their first full-length together, Piñata, brings the best of each collaborator, and serves as a makeshift entry point for either artist. Though, this isn't their first time working together; Madlib & Gibbs first team-up dates back to 2011, when they released the Thuggin EP, a short record that showcased the talents on a bite-sized scale. Three years later, they've returned in full force with some of the most purely enjoyable hip-hop of 2014.
The advertisement for the album reads, "17 tracks, featuring every mother fucker in the rap game worth fucking with." This is a heavy understatement, considering that each guest appearance on the record is worthwhile. No time is wasted, with each rapper showing up to the party ready to spit some sharp rhymes. On "High," the rambunctious, but awesome Danny Brown shows up with some of the most insane rapping of his early career. "Bomb," featuring a brief appearance from Raekwon, likewise lives up to its title. These appearances only build up to something much greater, with Odd Future heavy hitters, Domo Genesis and Earl Sweatshirt delivering a public service announcement for haters to respect the hustle of dropping rhyme science (with some more emotional fodder that touches upon strained father-son bonds).
Piñata operates much like the press release states: a Blaxploitation film on wax. Ghostface Killah did something similar last year with Adrian Younge on 12 Reasons to Die, and yielded some impressive results. And this vibe succeeds largely due to Madlib, whose style and approach has influenced a number of producers, strengthening a culture where the samples are just as important as the rhymes. Opening track "Scarface" not only pays homage to the rapper himself (who makes an appearance later on the album), but also Gibbs' background in his hometown of Gary, Indiana with verses like "'Another day in Gary, 'nother couple niggas in the morgue" to "I started small time, dope game, cocaine…Now them punk detectives in my section know my whole name/Gibbs, nigga." Throughout, Gibbs' channels his past experiences into charismatic performances, and establishes the meat of what Piñata is all about.
Gibbs has said that he perfected his own rhymes to match Madlib's beats — and Madlib himself has admitted that few rappers can pull  off rapping to his beats. Take "Harold's" for instance, an infectious bumping beat with handclaps and a looped guitar sample. Describing it doesn't do it much justice, but listening to it with Gibbs' giving praise to chicken wings, fries and the ghetto life he endured only presents how adaptable Gibbs can be to an unconventional beat. Much like an actual piñata, after repeated strikes, the prizes start flooding out. While the line still forms behind the next proper sequel to Madvillainy, Piñata is a worthy placeholder that allows Madlib to exercise his masterful skills as a producer, and Gibbs his unstoppable lyrical abilities.
Similar Albums:


Freddie Gibbs and Statik Selektah – Lord Giveth, Lord Taketh Away


Mos Def – The Ecstatic


Raekwon – Only Built 4 Cuban Linx 2