Hall of Fame: Madvillain – Madvillainy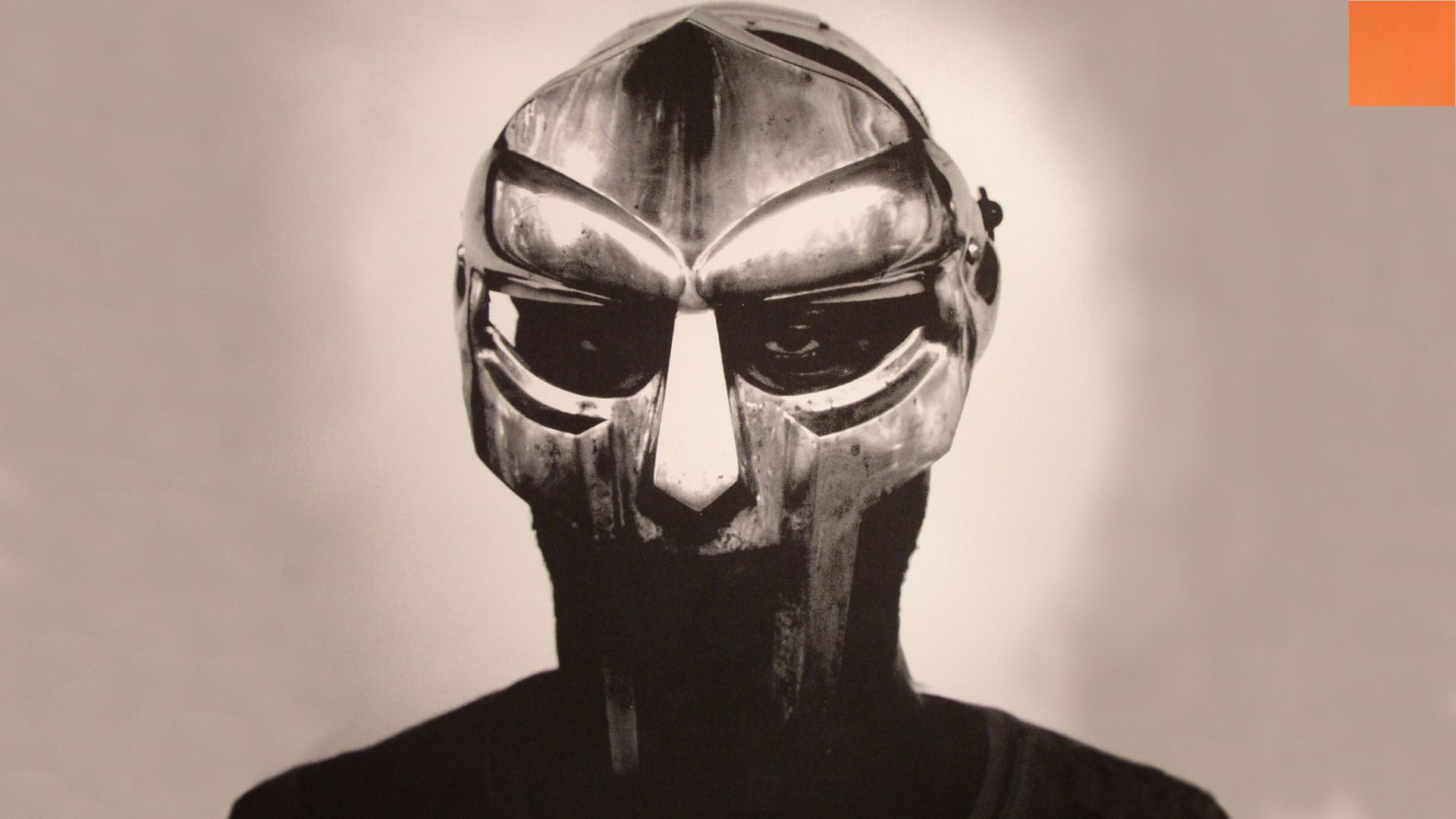 "As luck would have it, one of America's two most powerful villains of the next decade…"
In the summer of 2002, Stones Throw Records announced a then-untitled collaboration between famed underground producer Madlib and elusive, masked emcee MF DOOM. Few details were made available at the time, other than the names of two enigmatic artists, each a rising star in the underground hip-hop community.
DOOM, in particular, sparked interest because of his earlier, much different career as a major label rapper. He was previously known as Zev Love X, an emcee with the short-lived group KMD, who had some brief hits in the mainstream, but were dropped after Elektra rejected the controversial artwork of their second album, Black Bastards. DOOM — born Daniel Dumile — stepped away from the mic for close to half a decade after his brother, DJ Subroc, died in a car accident. Dumile spent several years in recovery mode, eventually returning to the stage in a newly adopted villain persona, the idea behind it being that he sought revenge on the industry that turned against him. His return to rap officially started with 1999's excellent, if — at the time — obscure Operation: Doomsday, an entry point into the strange, off-kilter style of a talented artist who had mostly sought to escape the spotlight after the collapse of his early hip-hop career.
Similarly, Madlib had proven himself an unstoppable entity via mostly underground releases, until he caught the eyes of Stones Throw record head and producer Peanut Butter Wolf, who would end up signing him to the label. Soon enough, a series of stellar releases followed: J Dilla collaboration Champion Sound (released under the name Jaylib) and solo debut as alter ego Quasimoto, The Unseen. This next collaboration between he and DOOM was already hotly anticipated before any material surfaced. The sounds and rhymes being concocted would remain a mystery for the next two years, but once released, it would turn the hip-hop community on its head.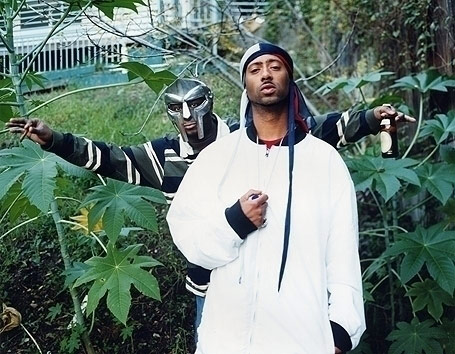 DOOM and Madlib convened in the latter's LA studio, "The Bomb Shelter," named as such because of its history as being exactly that in the 1950s. DOOM first jotted down lyrics and recorded early demos that formed the blueprint of Madvillainy. And the duo's work would continue on the album while Madlib traveled to Brazil in November 2002 to perform at the Red Bull Music Academy, where he previewed early Madvillain cuts to audiences there. The unfortunate result of these preview cuts was their widespread leaking and bootlegging online, much to Madlib and DOOM's displeasure, only building more pressure around the album. (These early demos sold out during Cassette Store Day 2013, but some of them can be heard here.
Madlib continued work on the album via fascinating means. He worked on the beats for "Strange Ways" and "Rhinestone Cowboy" in his hotel room with the following equipment: A portable record player, an SP-303 sampler, and a borrowed cassette deck. By mid-2003, DOOM and Madlib would re-record the vocals and released the album in March the following year, and it was instantly met with widespread critical acclaim.
My own exposure to Madvillainy didn't begin until a year later after its release. Although I can hardly remember it vividly, my discovery of this album and other hip-hop records began mostly through browsing Internet message boards at home. The suburb where I lived offered little in the way of cultural stimulation, and this was the only gateway to any kind of worthwhile escape. Fortunately for me I was able to get my hands on all kinds of records through my local library, which I would take home and copy (shhhh). Looking back at it, I was surprised at how much music the library had on hand and what types of music I had access to (Have you ever found an Out Hud album at a library?) The discovery of Madvillainy, tucked in between stacks of CDs, seemed — both then and in retrospect — a strange one. And after hearing so much about the album, my interest only intensified. My introduction to MF DOOM had really begun on the Gorillaz track, "November Has Come", his lyrical style unlike anything I'd ever heard. More importantly, it allowed a small group of friends and I to connect about his music. We'd often claim that the world was not ready for an artist like him.
You can only hear Madvillainy for the first time once, but it's not an easy experience to forget. An ominous and eerie introduction built from a collage of old film and TV samples builds up a brief background for the album's two characters — the villains — who arrive, ready to pillage the ears of the listener. We are then shoved right into the beginning of an album that captivates and awes from beginning to end. "Accordion" immediately shows off the skills of both artists, Madlib laying down an eerie and altered Daedalus sample, with DOOM darkly intoning, "Living off borrowed time, the clock tick faster." His presence only intensifies on "Meat Grinder": "Still back in the game like Jack LaLanne/Think you know the name, don't rack your brain."
From there, Madvillainy almost becomes a game for Madlib and DOOM to try and outdo themselves on each subsequent track. Underrated stoner's anthem "America's Most Blunted" features Madlib alter ego Quasimoto, accompanying DOOM in an homage to one of the special herbs that flavors the album. And save for a few guest appearances from Stones Throw label mates, Wildchild and M.E.D., most of the features on the album are from DOOM and Madlib's own alternate personalities. For example, "Fancy Clown" features DOOM alias Viktor Vaughn, who rips on his lady for cheating on him — which could, in its surreal way, be considered the first schizophrenic, self-diss track in hip-hop. "Rhinestone Cowboy," a track where DOOM raps in the third person, spitting flows in a stream of consciousness style, is a narration of the making of the album, which includes mention of the bootlegged leaks, and finally addressing how badass both he and Madlib are.
Madvillainy has, since its release 10 years ago, become an essential album in hip-hop. Its influence — as well as that of subsequent later releases from each artist — would seep into the styles of current groups such as Odd Future, who owe a lot to DOOM's style. It's often replicated, but never matched. Similarly, Madlib's crate-digging style that prominently features rare samples from lost and forgotten artists, has further boosted the art of sample-based production.
And then there's the cover. Its design has become an image synonymous with DOOM — mysterious, yet iconic in its presentation. In an interview with Ego Trip, Stones Throw art director Jeff Jank, designer of the album's artwork, recalls DOOM didn't really have a recognizable image and few even knew about him. DOOM had initially been set against using the image on the cover because he didn't like pictures of his face on records, and mostly preferred keeping his aura mysterious. Jank further elaborates on him being present during the recording process, where he observed how Madlib and DOOM worked seamlessly together. The look already made a bold statement and went hand-in-hand with the theme of a villainous pair of really nice boys, who just happen to be on the wrong side of the law.
Madvillainy remains one of the most potent hip-hop records released in the post-millennial age. There aren't many records that sound like it, and I credit it for opening me up to many different forms of hip-hop, from the classics to heavy hitters maintaining the genre as a serious art form. It is an essential record, one that pushed Stones Throw Records to greater prominence, and for many, provided an introduction to both Madlib and DOOM.
Just remember — ALL CAPS when you spell the man's name.
---
Support our site: Buy this album at Turntable Lab