Raekwon : Only Built 4 Cuban Linx II
It's a curious coincidence that on the same week, two hip-hop legends, both around 40 years old, should release albums tagged as sequels, of sorts, to classic albums from their respective catalogs. Jay-Z, 39, released The Blueprint 3, a celebratory victory lap that found the rap giant delivering an album that had little to do with the original's conceit, and rather lined up 15 songs that sounded more like he was just playing around than trying to rekindle the magic he summoned back in 2001. Raekwon, 41, took almost the opposite approach. While his fourth album Only Built 4 Cuban Linx II may not necessarily be a direct sequel to its 1995 counterpart (in spite of the cover art similarities), unlike Jay, he brought the vibe, the tightness and the fire of its predecessor back into the present day, and as a result stands as one of the best rap albums of the year.
Even before OB4CL2 finally arrived, its first two singles strongly indicated that Rae was ready to unleash one of the fiercest Shaolin attacks in years. "New Wu" isn't merely the first RZA production on a Raekwon record in 14 years, but a damn fine reunion track of sorts, as Rae, Method Man and Ghostface trade some high energy verses in a hands-in-the-air party jam. Even better than that was "House of Flying Daggers," a militant J Dilla production that reincorporates elements of "Clan In Da Front" and finds Meth, Inspectah Deck, Ghostface and the marquee headliner spitting lyrics lined with lighter fluid. Best line: "Bury me in Africa with whips and spears and rough diamonds out of Syria."
And yet "New Wu" and "Flying Daggers" only gave the slightest peek into the 70-minute opus that Raekwon had spent the last three years crafting. Rae lines up no fewer than 13 producers on 22 tracks, making for an expansive and diverse array of sounds erupting from this immense set. Yet for as exhausting and lengthy as it is, its hits are frequent and its misses are practically nonexistent. While "Flying Daggers" sets the tone for the almost non-stop flow of intricate, exclamation-addled standouts, Pete Rock lays down some perfectly laid back funk to make a foundation for Raekwon's true crime yarn, complete with well-timed coughs and gunshots. And at only 55 seconds long, "Pyrex Vision" is saved from being a throwaway thanks to Marley Marl's jazzy production, replete with jazzy guitar licks.
RZA's other two contributions aren't quite as exhilarating as "New Wu," though "Black Mozart" gets some clever points for its use of the melody from the Godfather theme. Yet "Fat Lady Sings," which almost works more like an interlude, finds Raekwon's storytelling acumen at its sharpest, playing witness to a scuffle that erupts when a drug dealer sells on the wrong corner. The tracks produced by the late J Dilla, however, are some of the album's highest peaks. "Ason Jones," a tribute to Ol' Dirty Bastard, finds Raekwon waxing nostalgic about his fallen friend over a soulful, string-laden beat, reaching a teary-eyed, matter-of-fact climax as he sighs, "I just miss the nigga." On the other end of the spectrum, "10 Bricks" pairs a vintage guitar sample with some bruising lyrics that find Cappadonna, of all people, stealing the show: "Meanwhile, back on the block we see two trucks/ Then the windows roll down, we see these two fucks/ As soon as they jump out, see these tools bust."
Dr. Dre contributes a pair of tracks, the tropical-flavored "Catalina" and the more characteristic "About Me," with a surprisingly subdued guest spot from Busta Rhymes. If one producer's tracks can rival Dilla's, however, it's those of Wu affiliate Icewater, whose trio of songs are pretty much all tens. "Cold Outside" is essentially the best hip-hop song I've heard all year, intensified with its lengthy intro but made even more stunning with Ghostface's laundry list of a crumbling urban landscape: "Lanay got AIDS, five kids smoked out/ house is brick, bills haven't been paid in days/ her Brooklyn man's a molester, court case and the crime's raisin'/ swastikas on the church, they Satan/ Holiday season is here and I'm vexed/ who the fuck made Christmas up and broke it?!" Likewise, "Canal Street" sounds absolutely badass with its string and horn layers, and Raekwon's ominous opening line "All our fathers were bankrobbers." And "Have Mercy" is a touching and devastating prison tale narrated by Beanie Sigel ("my days getting shorter/ my nights getting longer/ my cell getting smaller/ my son getting taller").
There are a handful of lighter moments, like "We Will Rob You," which finds Slick Rick singing the title to the tune of "We Will Rock You," but even that track is laced with blood and grit. As raw and as menacing as much of Only Built 4 Cuban Linx II is, it's refreshing to hear that Raekwon, even further removed from its subject matter now than he was the first time around, can still spin a dark and detailed tale with lyrical finesse. Raekwon may not be the most prolific Wu-Tang alum, or the most successful, but with only four full-lengths to his name, he's already released his second masterpiece.
Similar Albums:
Ghostface Killah – Fishscale
Wu-Tang Clan – Enter the Wu-Tang (36 Chambers)
Nas – It Was Written
Video: "House of Flying Daggers"
Download at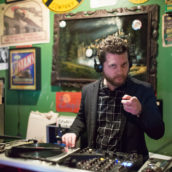 Jeff Terich
Jeff Terich is the founder and editor of Treble. He's been writing about music for 20 years and has been published at American Songwriter, Bandcamp Daily, Reverb, Spin, Stereogum, uDiscoverMusic, VinylMePlease and some others that he's forgetting right now. He's still not tired of it.