Frightened Rabbit : The Midnight Organ Fight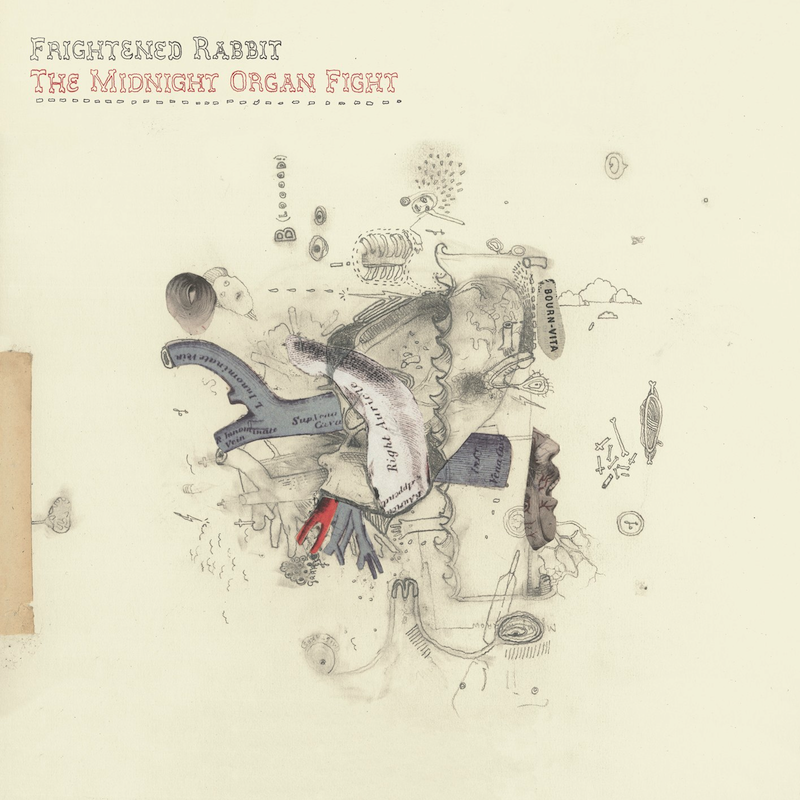 I've always liked the expression, `you clean up nice / good.' Sure, there's something slightly insulting in the phrase, with the implication that the object in question is usually the sloppy sort, with a Pig Pen-like cloud that follows them around interminably. But it's one of those phrases that can also lift up the spirits of those who usually don't find themselves very attractive, who aren't often fashion conscious or take pride in that sloppiness, suddenly having to doll themselves up for some special occasion. It also strikes me as one of those great classic movie phrases, as if it were something due to be uttered by Frank Sinatra, Humphrey Bogart or Cary Grant. You know, those times when men were men, dames were broads and a cup o' joe cost a nickel. Well, those days are over, but the phrase still seems to linger.
Frightened Rabbit is a Scottish band that turned heads a few short years ago with Sing the Greys, a delightful hodge-podge of demos that were at once melodic, charming and irreverent, if a bit messy. Yes, Sing the Greys was the Pig Pen of Scottish indie pop. But, after all that attention, Scott and Grant (they prefer to be known only by their first names) are certainly going to have to tighten things up a bit for their follow-up, right? The answer to that question came in the form of producer Peter Katis, the man behind the highly glossy, immaculate productions of albums by Interpol, the National and Robbers on High Street. In other words, Frightened Rabbit has cleaned up, but they cleaned up nice on Midnight Organ Fight.
In an attempt to either transition the listener into the crisp new sound, or to satisfy those fans desperate for a little imperfection, the opening track, "The Modern Leper," begins with acoustic guitar notes that seem a bit out of tune. But then the Scottish brogue comes in, sounding so clear, birds would just fly right into it. And in one terrific song, Frightened Rabbit prove to both camps, those who were hoping for something a bit cleaner, and those reveling in the purity of the band's quirky primitiveness, that there's enough of both for everyone. This pairing is also evident in another highlight, the soaring pop majesty of "Good Arms vs. Bad Arms." There's a danger here in a possible sonic likeness to Snow Patrol, but the Hutchisons (Scott and Grant's usually dropped last names) manage to deftly escape that tag with self-deprecating lyrics and a slight residual trace of grit that Katis wisely left in. Plus, as I mentioned in my review of Eyes Open, you can polish up a song with no depth and it's just polish. Frightened Rabbit give each one of their songs a beating heart and a bared soul, with the polish merely helping that heart and soul stand out.
One of my favorite tracks from the new record is "Old Old Fashioned," a foot-stomper that, if not sonically, at least lyrically references the `soft, soft static' that makes homemade records and radio so warm. "The Twist" is another standout, with a repetitive piano line that makes it sound like LCD Soundsystem Unplugged, especially when it gets to the two and a half minute mark and really resembles "All My Friends," albeit a Scottish Highland version. The lyrics remark, "I need human heat," and that's exactly what it seems Rabbit has brought to this blueprint. Elsewhere, a song like "The Head Rolls Off" can resemble the acoustic strength and oddity of a Frames track. "Keep Yourself Warm" is probably the song that would be voted most likely to be confused for Snow Patrol were it not for the central lyric, "It takes more than fucking someone you don't know to keep warm," though the falsetto at the close, over a droning keyboard finds more in common with tracks by another FatCat band, Sigur Rós. But even those who might be wary of this newfound cleanliness will still most likely be astonished by the sheer beauty of a song like "Poke," buried near the end of the album.
Midnight Organ Fight came along quickly for American listeners. It was only six short months ago that Sing the Greys graced our shores with a dust cloud interminably surrounding it, though a lengthier two years in Europe divided those releases. Every music devotee worries about their favorite band losing their edge, but this isn't what's happened with Frightened Rabbit. The lyrics are still laying in the gutter even though the production might be looking at the stars. So, rest easy, this is still the Frightened Rabbit we knew and loved from their charmingly 'dirty' debut. It's just that these boys managed to clean up real nice.
Similar Albums: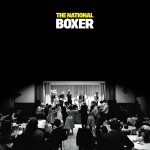 The National – Boxer

Death Cab for Cutie – Plans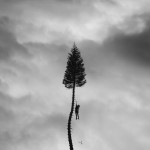 Manchester Orchestra – A Black Mile to the Surface