Fujiya & Miyagi : Transparent Things
It's a rare occasion in which you would ever hear the words "krautrock" and "sexy" in the same sentence, let alone when referring to the same music. Laudatory critical tomes notwithstanding, Can and Faust were hardly known for their ability to compel sweaty, young, attractive people to grind against one another in libidinous ecstasy. Contrary to what common sense might dictate, Brighton trio Fujiya & Miyagi (that's right—British trio, not Japanese duo) stirs up a fun and funky sound that can best be described as sexy, krautrock-influenced pop, with just a little Madchester for that UK touch.
F&M's album Transparent Things, which compiles a handful of the group's singles, essentially comprises a hybrid sound overall, particularly in their funked-up singles. But looming large in their repertoire are repetitive, robotic and oddly warm Teutonic-informed, synthesized instrumentals, such as "Conductor 71" and "Cassettesingle." That "71" could very well be in reference to the year, as its motorik gear-grinding transports the listener back to Can and Neu!'s heyday. Yet these two tracks, sandwiched in the middle of this well-dressed, aurally stunning anachronism, are merely comedowns between the most energetic and witty tracks on here.
Opener "Ankle Injuries" shares a similarly repetitious and hypnotic flair for Neu! as the album's two gorgeous instrumentals, with the added mantra "Fujiya/ Miyagi/ Fujiya/ Miyagi," lulling one into a trancelike state, as the atmosphere slowly intensifies. The band has stated this song is about discovering the opposite sex's naughty bits in a magazine while walking on the way to school, though, as the synthesized arrangement thickens, the stunning array of sounds is enough to distract one from whatever lasciviousness abounds. This is not the case with the single "Collarbone," which oozes, emits and expels sex. On the one hand, it's kind of silly—lyrics nicked from "Dem Bones"; its pun-tastic chorus of "got to get a new pair of shoes/to kick it with her." Yet it has a Gainsbourg-like swagger, a laid back allure. It's like James Murphy in a finely tailored Italian suit, or Hot Chip fronted by Jarvis Cocker, and has just a hint of The Stone Roses' "Fool's Gold" in its easy-going groove.
"Photocopier" speeds up the funk and makes it just a tad grittier, cueing the "sexy" tag once again on a track that's one of the group's most danceable. The lyrics still mine absurdist territory, with vocalist David Best whispering lines like "I'm just monkeying around with your furniture" and "We are just pretending to be Ja-po-nese" (a-HA!), but when a song is this fun, how much sense the words make is of little consequence. The title track does offer up some downtempo reprieve, but "Sucker Punch" merely kicks the cosmic funk back into high gear, with a fat bassline laying it down all nasty like.
The US version of Transparent Things ends with bonus track "Reeboks in Heaven," a fun and touching extra, while the original closer is "Cylinders," a gorgeous outer space waltz that would sound right at home on Moon Safari. Here, Best croons his most tender lyric: "I read your star sign before I read my own." For a band that can seem almost Dadaist at times, it's a sure bet that they're about a whole lot more than pubescent curiosity and broken collarbones. If Transparent Things proves anything, it's that anything—from an elegy to a mundane office observation—can be made sublime with the right bassline.
Similar Albums:
Hot Chip – The Warning
Stereolab – Emperor Tomato Ketchup
LCD Soundsystem – LCD Soundsystem
Download: "Ankle Injuries"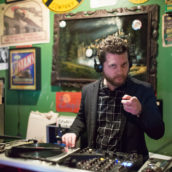 Jeff Terich
Jeff Terich is the founder and editor of Treble. He's been writing about music for 20 years and has been published at American Songwriter, Bandcamp Daily, Reverb, Spin, Stereogum, uDiscoverMusic, VinylMePlease and some others that he's forgetting right now. He's still not tired of it.