George Clinton's "Atomic Dog" at 40: Still Barking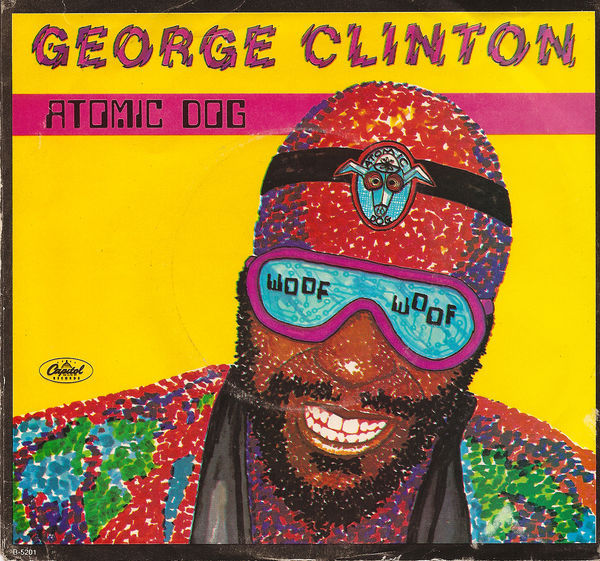 There are a billion reasons why George Clinton's shapeshifting, behemoth of a culture changer, electronic-leaning single from the early 1980s, "Atomic Dog," should not have happened. But it did. Jettisoning the legend even deeper into the culture after a brief reset.
The imploding of his black rock and funk supergroups Parliament and Funkadelic, Clinton's Uncle Jam Records going out of business, and the times moving the sound of music into new places almost left the P-Funk empire for dead. But Capitol Records, ignoring the unofficial blacklisting of Clinton and hoping to maximize the already built-in fanbase, signed him as a solo artist.
If the landmark vibraphonist Roy Ayers, a contemporary, could pivot his elongated, heavenly, lush disco arrangements from the '70s into groove-centered boogie arrangements of the '80s and Ronald Reagan, a new pundit and target to push against, can go from a bad actor to a worse President without skipping a beat Sheeit. Clinton could switch up for the new decade too.
In the introduction to a Spin Interview from 1985 conducted by the late Greg Tate, Clinton's ability to transform the situation remains steadfast: "Listen to Clinton's lyrics and you find him playing plenty of roles: hustler, preacher, poet, pimp, professor, psychoanalysis, student of politics and sexual manners, carny barker, soul man, swingmeister, bebopper, doo-wopper, druggy, subliminal seducer, free spirit."
Computer Games, George Clinton's debut (wink wink) album released by Capitol on November 5, 1982, was described by Rolling Stone in a 1983 review as "not on-the-one with premium P-Funk, but for a nation hungry for grooves, it's a tasty side dish while awaiting the return of the mothership." As the album turns 40 years old this year, 81-year-old Clinton is still funking for his life, soberly.
His recent appearance on The Masked Singer on FOX is yet again another example of this forward-thinking senior citizen's penchant for constant rebranding. A polymath's hustle enmeshing himself once again within the youth culture—is what he's done ad infinitum. From taking acid with the hippies in the early days of Parliament, producing Freaky Styley, the 1985 album by Red Hot Chili Peppers, to releasing sample records for young producers to loop and repurpose, keeping the Parliament/Funkadelic music alive in the late '80s and early '90s. Staying on trend with the kids never escaped his purview.
"Atomic Dog," released in December 1982, put Kraftwerk, Can, and Gary Numan on notice, finding a middle-aged Clinton maxing out on some new type of electro-funk, bumping up against new wave concoctions by Thomas Dolby, answering the electro call put out by Soul Sonic Force and eventually hitting number one on Billboard's R&B chart, kicking Michael Jackson's "Billie Jean" down the lighted sidewalk.
None too bad for a track that was improvised—well, sort of.
When Clinton recorded the track's vocals at Detroit's United Sound Studios, the backing arrangements were played in reverse by accident. Being under the influence or amplified for the most subtle frequencies, he went in and sang against the reverse arrangement with these ideas about canine energy inside of man, right down to the million dollar hook "bow-wow-wow, yippy-oh, yippy-ay".
As is typical, a high George Clinton can hear a hit in reverse, while a record company can't hear shit stone-cold sober. Capitol released "Loopzilla" as the first single while the rest of Black radio, Black clubs, Soul Train, breakdancers, barbershops, beauty parlors and anybody running in the streets of Oakland, Brooklyn, D.C., LA, and most definitely Deeetroit all anointed "Atomic Dog" as THE jam that it was, still is and shall always remain.
Clinton's nonsensical catchy block bass clamor flew past those aforementioned contemporaries, simultaneously signaling to the world what Detroit techno artists had in store for the future, while simultaneously leaving an open playbook for emerging hip-hop producers to borrow from. Heavily.
---
Support our Site—Subscribe to Our Patreon: Become one of our monthly patrons and help support an independent media resource while gaining access to exclusive content, shirts, playlists, mixtapes and more.
John-Paul Shiver
John-Paul Shiver has been contributing to Treble since 2018. His work as an experienced music journalist and pop culture commentator has appeared in The Wire, 48 Hills, Resident Advisor, SF Weekly, Bandcamp Daily, PulpLab, AFROPUNK and Drowned In Sound.