Gershwin Prize ceremony for Joni Mitchell featured performances from James Taylor, Brandi Carlile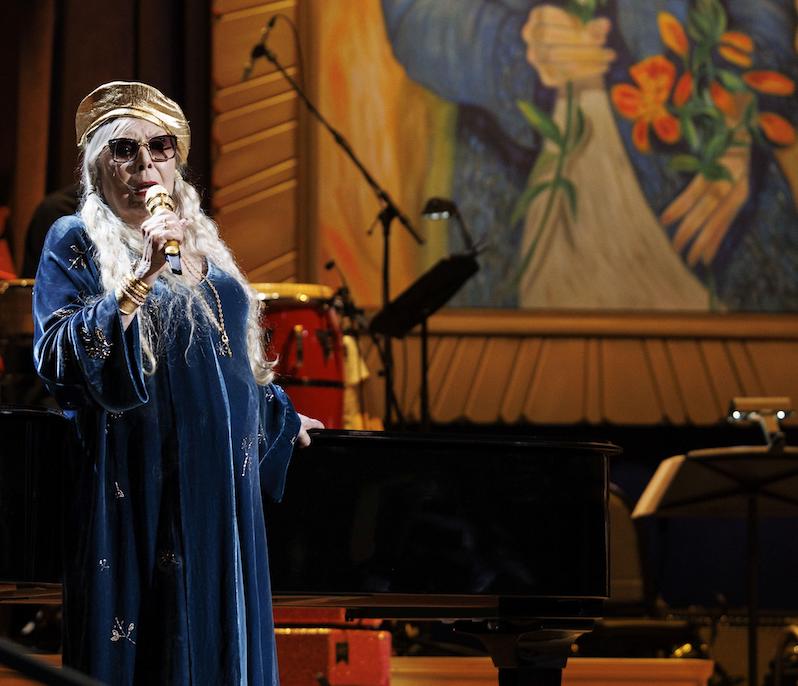 Shawn Miller/Library of Congress
With recipients from Paul Simon to Garth Brooks, the library of Congress' Gershwin Prize for Popular Song finally arrives at the doorstep of another great, Joni Mitchell. With a career stretching from 1968 to now, the Canadian singer/songwriter epitomizes the late '60s and early '70s folk-rock movement, all the while adding jazz or pop influences, and was an pioneering artist as a woman in a male-dominated music industry during those early years.
The ceremony, held at Constitution Hall in Washington, D.C. on March 1, was a star-studded event with musicians paying tribute to Mitchell's influence and excellence. Marcus Mumford, of Mumford and Sons, got the tunes rolling, covering "Carey" from Mitchell's well-known album, Blue. The lineup was interspersed with clips from past ceremonies as well as Mitchell's friends, like Carole King and Lionel Richie, giving their congratulations.
Annie Lennox sang "Both Sides Now" followed by an Afro-pop-infused "Help Me" by singer Angelique Kidjo—where Kidjo even came down into the audience to sing right to Joni Mitchell in the first row. Though that was hard to follow up, Brandi Carlile sang "Shine" from Mitchell's 2007 eponymous release to great applause.
Then because of technical difficulties, the audience was lucky enough to hear not only James Taylor singing "California" twice but Cindy Lauper's version of "Blue" (with cello and trumpet giving it a cool symphonic/jazz shakeup). Both musicians showed strength and sorrow in their covers, both stirring and mesmerizing.
Graham Nash sang a stirring version of "A Case of You," recalling his relationship with Mitchell and the amazing songs she'd shared with him early in her career. Then jazz pianist and singer Diana Krall, very serious and all, spoke of her admiration, performing "For the Roses."
After another clip of past winners, legendary pianist Herbie Hancock—whose album River: The Joni Letters won the 2008 Grammy Award for Album of the Year—improvised on "River" (what else?) with Ledisi on vocals. This was one of the finest covers yet.
And in a mesmerizing finish, after Mitchell was called on stage to receive the award, she graced us with a song. "It's so exciting to see all of these musicians that I admire performing my music," she told the crowd. "And I wanted to kind of express my gratitude by singing a Gershwin song. Yeah. So I'm gonna sing "Summertime.'"
An encore of all the tribute artists performing "The Circle Game" brought the event to a brilliant close. A night no one will be quick to forget.
PBS stations will broadcast the concert — "Joni Mitchell: The Library of Congress Gershwin Prize for Popular Song" — at 9 p.m. ET on Friday, March 31 (check local listings) and on PBS.org and the PBS App.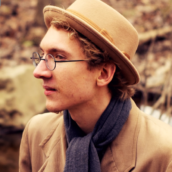 Konstantin Rega
Born in Krasnoyarsk, Russia, Konstantin Nicholas Rega currently attends East Anglia's famous MA in Creative Writing with the Ink, Sweat and Tears Scholarship. He is a professional musician, the former host/producer of Jazz Jams on CSRfm 97.4, and twice a Dan Veach Prize for Younger Poets finalist. He is the Fiction Editor for Crack the Spine and a contributor to The Black Lion Journal. He also blogs.