Gnarls Barkley : St. Elsewhere
A lot has already been said about how quickly Gnarls Barkley's "Crazy" shot to the top of the UK singles chart and instantly set a record for fastest selling download in the UK as well. At that time, the number one iTunes download in the US was Daniel Powter's "Bad Day." A month later and it's still in the top 5. "Crazy," meanwhile, is only in the thirties. I hesitate to say that the UK is hipper than we are in the singles department, seeing as how a recent look at all their #1 singles since the dawn of the millennium reveals a motley crew of ex-Spice Girls mixed with Oasis, Westlife and most inane US singles. Still, they jumped on "Crazy" a lot faster than we did, with the exception of the bloggers and blog readers that took advantage of the single's leak back in November.
The UK has always had a stronger singles market, however, and the benefit of the dynamic duo of Cee-Lo and Danger Mouse recording an entire album is that, to sound cliché, it's all good. What could have stood alone as a grand one-off collaboration turned into one of the year's most vibrant and joyous debuts. Knowing each collaborator's respective histories—Cee-Lo's tenure in Goodie Mob and psychedelic soul/hip-hop solo albums, Danger Mouse's records with Jemini, Gorillaz, MF Doom, and The Grey Album—one would assume that this project would yield at least moderately interesting results. Seeing the Wayne's World, Napoleon Dynamite and Clockwork Orange themed press photos, however, might lead one to believe that it's all one big goof.
St. Elsewhere isn't a goof; I guarantee you that. It is, however, a glorious, soulful celebration. Cee-Lo and Danger Mouse seem to be conducting a gospel choir inside of a rainbow-colored church where patrons drink of the electric Kool-Aid. Harmony comes pouring out of the stained glass windows, and that's just the first song, "Go-Go Gadget Gospel," a Motown-drenched send-up of "Bombs Over Baghdad," without the politics. What comes next is "Crazy," but we all know that song quite well by now. I'll only add that it's still a perfect single and flows perfectly in the context of the album.
As a collaborative effort, St. Elsewhere blends the two participants' talents perfectly. "Crazy" wouldn't be what it was if Danger Mouse's smooth and buttery beats didn't match up with Cee-Lo's tenor croon. Nor would the title track, were Cee-Lo's shift in pitch and volume not be so perfectly synched with DM's climactic cymbal crashes and horn samples. That in mind, the album excels as an example of vocals and music being impeccably matched, just as every good single should be. Yet, this synergy holds throughout the course of all 14 tracks, the duo's bond never loosening with each stylistic change.
One of the earlier leaked tracks on St. Elsewhere is the strange, if somewhat straight, cover of the Violent Femmes' "Gone Daddy Gone." It's not bad, by any means; it just seems random. And compared to the Motown groover "Smiley Faces," doesn't do either Cee-Lo or Danger Mouse's talents justice. But "Smiley Faces," throwing out its positive, enduring chorus of "I can tell you know how hard this life can be/but you keep on smilin' for me," is an absolute joy, the kind of soul single that (tragically) nobody's written for decades. Silly Scooby-Doo horror pops "The Boogie Monster" actually would have fit well on The Mouse and the Mask, and you can practically picture the big hairy oogly-boogly gettin' his ass down to Cee-Lo's vocal. Shorter jams like "Feng Shui" and "On-Line" shouldn't be overlooked as well, each one a production masterpiece, alternately showing off Cee-Lo's rapping skills and smooth, low-end singing. In only three minutes, "Storm Coming" goes through varied movements, a veritable soul symphony. Closing with "The Last Time," the psychedelic pop-hop masterpiece that Beck wished he wrote, the album comes to an end under 40 minutes, which displays another trait that most of the duo's hip-hop contemporaries do not share: brevity.
There's nothing terribly complex or labored about Gnarls Barkley's method. There's no heavy-handed theme to St. Elsewhere, nor are there any unnecessary segues, skits or shout-outs. By throwing out the rules, Gnarls Barkley were able to compose the perfect party album for 2006, one that finds a way to cram interior decorating, necrophilia, the supernatural, gospel, hip-hop, rock and a Violent Femmes cover all into one concise, neatly wrapped package.
Similar Albums:
Outkast – Stankonia
Jamie Lidell – Multiply
Danger Doom – The Mouse and the Mask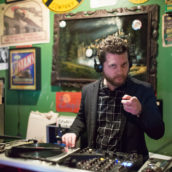 Jeff Terich
Jeff Terich is the founder and editor of Treble. He's been writing about music for 20 years and has been published at American Songwriter, Bandcamp Daily, Reverb, Spin, Stereogum, uDiscoverMusic, VinylMePlease and some others that he's forgetting right now. He's still not tired of it.