Greatest Hits: The best Angel Olsen songs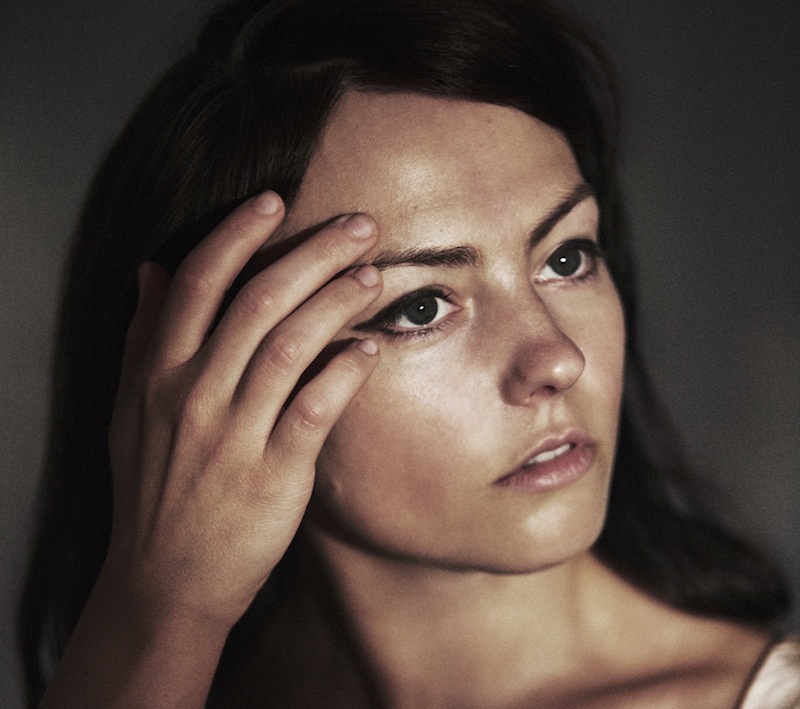 Eight years ago, Angel Olsen released her debut, home-recorded cassette Strange Cacti. In terms of the technology used, it sounds like a demo. It's crackly and humble, a fairly straightforward recording of an artist with her acoustic guitar, making some gorgeously affecting sounds with simple means. Nearly a decade later, she's playing festival stages, performing on Austin City Limits, selling out large theaters and making the most ambitious music of her career.
Angel Olsen has covered a lot of ground in the past decade, having performed as a member of Bonnie "Prince" Billy's band before carving out her own solo career, which saw her grow immensely as an artist. The only thing she ever needed was a guitar and her own voice, but she's built so much more on top of that foundation, from swirling fuzz and psychedelic sounds to intricate, introspective ballads. As often as she bends and stretches the sound and style of her music, which is a constantly changing thing, there's always an element of classic pop songwriting. I might even go so far as to call it timeless; I compare one of her songs below to Roy Orbison, and another to Chris Isaak, and neither one is mired in retro-nostalgia for its own sake. Sometimes a vintage aesthetic can make something sound fresh, as counterintuitively as that might sound, and though Olsen never stops pushing forward, she's also able to take what's old and make it new again. And perhaps even more importantly, she's able to capture deeply affecting, sometimes utterly devastating feelings with just a few chords. It feels like magic.
Though Angel Olsen's only released three full-lengths, her wealth of rarities, singles and EP tracks is rich, and it all adds up to a pretty overwhelming discography in the scheme of things, even if there's clearly so much more that we can expect in years to come. Before her two performances at Coachella, we've put together a playlist of (what we consider) the 16 best Angel Olsen songs. Some of them rock, some of them burn slow, but they're all products of one of the strongest singer/songwriters of the moment.
---
"Hi-Five"
from Burn Your Fire For No Witness (2014; Jagjaguwar)
If Burn Your Fire For No Witness isn't Angel Olsen's best album—and I'm not necessarily sure that it isn't, because it's phenomenal—it's her most endlessly replayable. There are no doubt quite a few moments of subtlety and slow-burn chills, but there are also songs like "Hi-Five," which go straight for the pleasure centers. It's not as if Olsen gave any indication that she couldn't do big rock songs before, she just didn't go to that well very often. With a tremolo effect, some saloon piano and a distorted vocal effect, she kicked up some dust and had some fun with effects pedals, turning a song about lost souls taking a leap together into an ironically sad sing-along. "Are you lonely too?" she asks sweetly. "Me too! High five!" It's dark humor, but damned if it isn't charming.
---
"Acrobat"
from Half Way Home (2012; Bathetic)
Part of what makes Angel Olsen such a compelling songwriter isn't just her melodies or lyrics—both of which are consistently strong elements of her music—but rather the way she sometimes builds songs from their barest structures into more active, living, breathing things. "Acrobat" is a prime example of this, by no means an elaborate song or one with dozens of layers. But it starts out so quietly, so sparsely, that by the time an accordion breaks through her gentle acoustic strums, it feels explosive. It's at this point that the song transforms into something unexpected, still gentle but richer, even goosebump-inducing.
---
"Forgiven/Forgotten"
from Burn Your Fire For No Witness (2014; Jagjaguwar)
When the second song on Olsen's sophomore album queues up, it's something of a shock to the system. Though she'd done proper rock songs before—including on the between-albums Sleepwalker EP—"Forgiven/Forgotten" just sounds so much more punk rock, more blown-out, more intense. It's only two minutes long, but she makes great use of that short span of time, delivering a song that, despite the increase in volume, distortion and swagger, is actually pretty simple. It's emblematic of Olsen's versatility, a sharp transition from her more intricately written and performed ballads like "Acoustic" into an amp-cranker that gets in and fucks shit up before anyone's the wiser. Still, her pop arrangement is a truly glorious thing here, reaching its climax with her own harmonized, double-tracked vocals: "I don't know anything…but I love you."
---
"Shut Up Kiss Me"
from My Woman (2016; Jagjaguwar)
Angel Olsen writes love songs, but those love songs are rarely the happily-ever-after sort. To the contrary, they're bittersweet, sometimes just bitter, often devastating. Tracks like "Acrobat," an in-the-moment meditation on sex, are actually fairly unusual in her catalog. Then again so are songs like "Shut Up Kiss Me," which is at once a sweet song and a kind of stubborn one, bolstered by an infectious garage-rock sound and a harmonized solo that rides the song out. On the Song Exploder podcast, she described it as being kind of "mean," though that might be a little harsh for the underlying message, which is one of appreciating what you have. "Stop pretending I'm not there," she scolds, "When it's clear I'm not going anywhere." In the end, the two people inside this relationship may or may not work out whatever issues they have, but the chorus of "Shut up, kiss me, hold me tight!" still comes across as oddly romantic all the same.
---
"The Waiting"
from Half Way Home (2012; Bathetic)
Half Way Home found Angel Olsen not only using better quality equipment and capturing higher fidelity sound, but the more richly arranged, full-band songs still were in the minority. "The Waiting" is one of those moments, however, and by no means a bombastic one. Rather, it takes her classic, open-hearted songwriting and fills out the space a bit, taking on a sound not unlike Elliott Smith's during his Kill Rock Stars days. The harmonized guitar leads are a treat to hear, lending some edge and energy between Olsen's frustrated laments: "Sometimes I need you to be the one to call."
---
"If It's Alive, It Will"
from Strange Cacti (2011; Bathetic)
Olsen's first lo-fi cassette release (later reissued) captured her excellent songwriting at its rawest and simplest, unadorned by full-band arrangements or studio gloss. "If It's Alive, It Will" proves she never needed much more than her voice and guitar, and even the latter's as straightforward and subtle as it gets. This devastating acoustic number is all about the emotion in her delivery, a sound that feels timeless yet otherworldly, more like Roy Orbison than any contemporary singer. "If It's Alive" also carries the age-old feeling of heartache and sadness in its verses, leading up to a deeply cynical and pessimistic chorus: "I used to think I was the only one…But I've learned quite a few things since then/I've learned that no one ever really is the only one."
---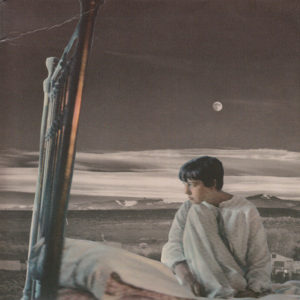 "Sweet Dreams"
from Sleepwalker (2013; Sixteen Tambourines)
Despite the relatively restrained approach on her debut album Half Way Home, Olsen's always had a pretty rugged rock 'n' roll streak running through her veins. On "Sweet Dreams," however, it partially takes the form of Chris Isaak's throwback rootsy rockabilly. In fact, "Sweet Dreams" at times feels like a mashup between "Wicked Game" and "Go Walkin' Down There." Yet Olsen injects a pretty intense darkness into the track, opening with the line "Every time I close my eyes, something small within me dies," leading into a chorus that's simultaneously sad and badass: "And when I sleep, I sleep…alone." She can write a great ballad, certainly, but Angel Olsen more than has it within her to kick ass.
---
"Sister"
from My Woman (2016; Jagjaguwar)
One of the notable things about Angel Olsen's last album, My Woman, is that it featured a couple of the longest songs she'd ever written. "Sister" is, in fact, the longest song on any of her albums at just shy of eight minutes long, and it's a spacious exploration of an ambiguous relationship with another person, whether another woman she admires or perhaps a version of herself that she's getting to know as she matures. And she takes her time to get to the climax, easing through a Velvet Underground-style groove that slowly escalates into a dramatic repetition of "All my life I thought I'd change." In the end, "Sister" doesn't offer much in the way of specifics, but the depth and emotion behind it give the ambiguity richness and meaning.
---
"White Fire"
from Burn Your Fire For No Witness (2014; Jagjaguwar)
These songs aren't ranked—whenever Treble publishes these Greatest Hits features, they're intended to flow like a good mixtape should, or perhaps like a live set. But if they were, "White Fire" would be my choice for Angel Olsen's best song. There's a special type of song that stops you in your tracks the first time you hear it, and this was one of those songs—I even emailed my wife immediately and said "You have to hear this song!" Which isn't out of character for me, but still, I'm continuously in awe of the power of this dark, seven-minute ballad. Something like a less turbulent version of Leonard Cohen's "Avalanche," "White Fire" is a lengthy meditation on a loss of innocence, and a yearning for something simpler. "So I turned on a picture show, I disappeared the lines," she sings in hushed tones. "As memories came flooding in, the tears blew out my eyes." It's a song that radiates with ache, and in just a slight change of melody, when she sings "fierce and light and young/When you don't know that you're wrong," it hits that much harder. It's soul-haunting musical poetry that doesn't hide its scars.
---
"High & Wild"
from Burn Your Fire For No Witness (2014; Jagjaguwar)
When equipped with nothing more than one instrument and her own voice, Angel Olsen can make some pretty devastating music. But given a broader palette of tools, her songs can seem like bold, maximalist statements even when they're at their simplest. "High & Wild" is apretty simple, three-chord song when you strip everything away. But look at everything that's layered on top of it: a steady pound of piano, some dirty guitar string bends, Olsen's hypnotic vocal chants and more reverb than anybody knows what to do with. It feels massive, even if it's not overly intricate or complicated. But the illusion is what makes it so interesting.
---
"The Sky Opened Up"
from Half Way Home (2012; Bathetic)
Given that much of Olsen's early material was primarily based around acoustic melodies, the sinister psychedelia of "The Sky Opened Up" came as a pretty big surprise in the bottom half of her debut album's tracklist. With a creeping groove that bears a passing resemblance to Jefferson Airplane's "White Rabbit," the track is a powerful moment of using even a fairly stark arrangement to add depth to one of her songs. And given that Olsen had previously performed as a member of Bonnie "Prince" Billy's band, she carries a little bit of Will Oldham's dark Americana sound with her.
---
"Woman"
from My Woman (2016; Jagjaguwar)
"Woman" can be viewed as a kind of companion song to "Sister," in that they're each the longest tracks on My Woman, and each one involves a complex examination of identity and relationships, particularly as she said when speaking about the album, "the complicated mess of being a woman." The gender dynamic in the song is a complicated one, a tenderness entangled with defiance. As she said of the song in a FACT interview, it's about being with someone with a different, perhaps less progressive perspective—"You forgive them for being old-fashioned and setting limitations upon you." As the slow, psychedelic ballad reaches its most climactic moment, Olsen offers a retort: "I dare you to understand what makes me a woman." On paper it reads as confrontational, but in the context of the song, it feels like time standing still.
---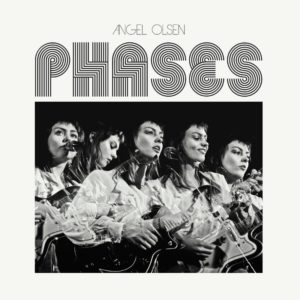 "Special"
from Phases (2017; Jagjaguwar)
An outtake from 2016's My Woman, "Special" ended up on last year's rarities compilation Phases. And though it's easy to see how the song didn't quite fit the album, it's weird, droning psychedelia is easily among the coolest tracks Olsen's ever written, not to mention one of the longest. There's a slow-moving sense of dream-state detachment, not unlike the hallucinatory Velvet Underground song "Heroin," and Olsen even delivers her share of strange ponderings: "Want to be someone special, something like your mother/Want to be someone else, not me but another." It's a slow burner that's really more of a smoker. But it's fun to get lost in the haze.
---
"Unfucktheworld"
from Burn Your Fire For No Witness (2014; Jagjaguwar)
This song became an enduring one for Olsen, not necessarily because it ends up in every set list, but because it turned into a slogan that can still be found on t-shirts at the merch booth. At this stage, it's more a statement about the world. But the song itself is more insular, a lo-fi folk introduction to her second album that almost feels like a fake-out before the amps come on and the fuzz gets blown out. And making a song that doesn't stray far from a few basic chords sound so rich and complete isn't easy—which is why this is here, obviously. It's the barest elements of a song being constructed in such a way that it feels like so much more, which is credit to not just how she puts it all together, but her performance specifically. As she closes out the track with the repetition of "I am the only one now," that ache is palpable. It's hard to walk away from an Angel Olsen song without feeling that burn deep within your soul.
---
"Not Gonna Kill You"
from My Woman (2016; Jagjaguwar)
"Not Gonna Kill You" is Angel Olsen at her most psychedelic. She'd waded in hallucinogenic waters before, usually only for a splash around the shallow end. But this standout track from her last album My Woman (and probably its best song, despite rarely being mentioned as such) slowly builds into her greatest freakout. Lots of delay effects, loops, fuzz and an overarching tension (and eventually some congas!) make what starts out as a good rock song into a squealing odyssey, climaxing as she chants, "Til I am nothing else but the feeling." It's a heady, dense and brilliantly disorienting moment. Far out.
---
"Windows"
from Burn Your Fire For No Witness (2014; Jagjaguwar)
Angel Olsen is capable of creating some truly heartbreaking music, even if she tends to cut sadness with humor or levity (or a good dose of fuzz). "Windows" doesn't do that. In fact, it's easily the most devastating song in her catalog, and it's one of the simplest. It's also ultimately intended to be a message of encouragement: "Won't you open a window sometime," she sings, most likely to a friend struggling with depression. "What's so wrong with the light?" she asks in a slow repetition, at once graceful, catchy and utterly shattering. It's a message of hope, and it cuts deep.