Gruff Rhys : Seeking New Gods

Wales' indie rock laureate, Super Furry Animals vocalist Gruff Rhys, has looked far beyond his backyard, turning to Mount Paektu in East Asia for inspiration on new album Seeking New Gods. Motivated by a desire not to become predictable or stale, Rhys explores the spaces people inhabit over periods of time. With a more optimistic tone and guided by a voice memorable in its range and depth, Seeking New Gods hits a happy nerve in a time when people are separated by distance and affliction.
There's an unexpectedly uplifting quality to most of the tracks here. That's not to say that songs like "Seeking New Gods" lack a seriousness. Rather, the style of the playing and the backing instrumentals is upbeat—though it can also be introspective and contemplative. Rhys can go a bit heavier (like on "Hiking in Lightning") or have a lighter sound, something less dense (like "Holiest of the HolyMen" or "The Keep"). There is a nice versatility in the control of each track yet a constancy, a recognizable style that melds the album together.
My favorite track was "Can't Carry On" which arrives early on in the album, employing backing vocals as a sort of exotic/ethereal chorus. With Rhys' deeper voice that ascends upwards from time to time, the song showcases his range, not only vocally but technically, moving from one place to another with ease. There is a catchiness to most of the songs on Seeking New Gods, yet Gruff Rhys is not a pop singer in any loaded sense of the word. Rhys experiments with a brash array of horns in a jazz-inspired arrangement or a sort of shimmering atmospheric backing effect—something electronic or synthesized.
With more than twenty years' experience, Gruff Rhys has a versatile style and a penchant for trying out new sounds every time he enters the studio, keeping fragments of his sound in each album he creates while still stretching away from his initial start. He moves in slow musical steps, playing with melody and tunes and sound effects. Seeking New Gods can be seen as something more conservative among his recording history; it initially feels more mainstream because of its catchy choruses and heavier, pop-like rhythms. Yet, there isn't much in the mainstream that really sounds much like it; Rhys is his own man and musician, and Seeking New Gods is a wonderful addition to his discography.
---
Label: Rough Trade
Year: 2021
---
Similar Albums: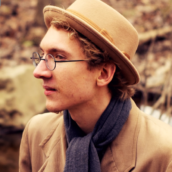 Konstantin Rega
Born in Krasnoyarsk, Russia, Konstantin Nicholas Rega currently attends East Anglia's famous MA in Creative Writing with the Ink, Sweat and Tears Scholarship. He is a professional musician, the former host/producer of Jazz Jams on CSRfm 97.4, and twice a Dan Veach Prize for Younger Poets finalist. He is the Fiction Editor for Crack the Spine and a contributor to The Black Lion Journal. He also blogs.