Here Come Your Men (and Mrs. John Murphy)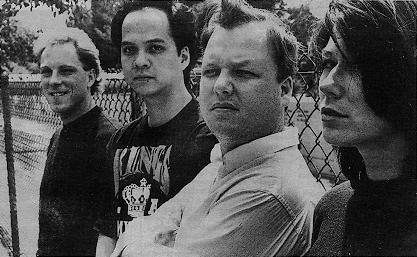 In 1991, a sloppily dressed, blue-eyed, towheaded guitar player, along with a bushy-haired, Cameron Crowe / Alan Ruck type, and a rangy young fireball of a drummer released a watershed album and single that they claimed to have ripped off of one of their favorite bands. In the same year, the latter group released their last original album, a collection of strangeness that acted as a bridge to the solo careers of its feuding members. So much has been written about these bands that few would have trouble guessing that the former band mentioned is Nirvana (having admitted that their song "Smells Like Teen Spirit" is a rip-off of "Debaser"), and the latter band is the Pixies.
Emerging from the Boston Scene in the late eighties, the Pixies quickly rose to cult post-punk status. They combined screaming punk energy with hushed melodies and harmonies thanks to the creative sparks thrown off by the clash of Black Francis (aka Charles Thompson), Mrs. John Murphy (aka Kim Deal), Joey Santiago, and David Lovering. The purple tape (now available on CD for the first time) which served as their demo caught the attention of 4AD, a British label, and they were signed immediately.
An EP followed, called Come on Pilgrim, which was an independent hit, not in the States, but in the label's home of England. In 1988, they released the now classic Surfer Rosa featuring fan favorites "Gigantic", "Broken Face", "Where Is My Mind?", and "Tony's Theme". While Pilgrim featured a large hirsute man on the cover (albeit artfully done), Surfer displayed a topless flamenco dancer, defying a march to the mainstream. Their success in the United States blossomed with their third official release, Doolittle. I still remember picking up my copy of the cassette at Tower Records in San Diego, across from the Sports Arena and wondering what the hell I had gotten myself into. On the one hand they displayed an art-punk energy, but then the pop sensibilities of songs like "Here Comes Your Man" emerged from the speakers. Bossanova brought on more of the same with such varying songs as "Is She Weird?" and "Dig for Fire". Then we come full circle to 1991 and the often under appreciated album Trompe le Monde which featured a few of their best songs including "Alec Eiffel" and "U-Mass".
Having not toured since 1992 (with headliners U2), Frank Black, Kim Deal, Joey Santiago, and David Lovering have reunited, and not thanks to VH-1, to play once again. Here's the thing though, as of this writing they are playing eight shows in Canada (Saskatoon is in the room), one show in Spokane, two in Eugene, one in Boise, one in Davis (count `em, six different types of bike racks for them to use), and one in Indio at the Coachella festival. The big announcement came with the Coachella lineup release and immediately fans starting asking for a particular weekend off (May 1 & 2).
I live in Seattle. This, of course, makes it easy for myself and my friends, providing we get through on internet or telephone, to see them in Victoria (simply a ferry from Port Angeles, total travel time: 3 hours), one of two shows in Vancouver (total travel time: 2 _ hours), or the Spokane or even Eugene shows (5 hours and 5 _ hours respectively). That being said, I know at least a handful of kids who are making the trek all the way to Indio (20 hours) to see the Pixies at their last US show, a month before they head off to Europe for the second leg of their comeback tour.
Now, I realize that stateside kids were late on the Pixies bandwagon, but is this type of punishment really necessary? I love Canada as much as the next guy, but c'mon! At least tell us that you're doing it to protest the Bush regime! Anyone not on the West Coast is at once cursing their luck, checking their pocketbooks and vacation time available, and hoping for a legitimate U.S. tour after the European trip. Call it what you will, either déjà vu or closure, part of the tour involves going back to somewhat recreate their last two shows ever played together at the Commodore Ballroom in Vancouver, British Columbia. The last two dates were played directly after their supporting role on U2's Zooropa Tour.
Parking was scarce at UCLA in April of `92. It was done by lottery every quarter and came with a hefty price tag. What?? What's with this writer's non-sequiturs?
Well, the reason I mention it is that without having been lucky enough to have a parking space, I probably wouldn't have been able to see the Pixies, not once, but twice on April 12th and 13th at the Los Angeles Sports Arena. Without the aid of internet ticketing, I had to keep pressing redial every three seconds on my push-button phone until I finally got through for tickets to the first of the two shows. Having seen the show the night before and still heady from the mixture of great music and illicit second-hand smoke, I was approached by a friend who offered me a free ticket to that night's show in exchange for a ride! Hell yeah!
This reunion of the Pixies is one of the most long-awaited in history. Only reunions that are only possible in Rock and Roll Heaven are more coveted (The Beatles and The Clash as two examples). A lot of their fans are not going to be able to see them if these are their only tour dates. The good news is that they have apparently written new songs to play on the road. Could this mean there is a new album in the works? And another North American tour to coincide with the album release? Could they get the magic back? This is one band that for sure is greater than the sum of its parts. Can those parts be put back together in such a way as to reach the creative heights they had once grasped?
Since they broke up, Frank Black has had a number of solo albums and a few albums with his new band, The Catholics. Kim Deal formed The Breeders with sister, Kelley, Tanya Donnelly, and Josephine Wiggs, then went on to the Amps, did some stuff with Guided by Voices, and then went back to the Breeders. David Lovering played drums for Cracker and the Martinis at times, and has since become a `Scientific Phenomenalist', a kind of punk-rock, nerd performance artist. Joey Santiago, guitarist extraordinaire, hasn't done much but play with Frank Black on a few of his albums, and with David and the Martinis.
Black's first album, self-titled, was fantastic, but it wasn't The Pixies. Unfair? Hell yes, but that's what he gets. Teenager of the Year had moments of brilliance and moments of head-scratching. The Cult of Ray was simply awful. A friend of mine recently tried to get me to change my mind about Frank Black post-Pixies and subsequently loaned me Frank Black and the Catholics' Dog in the Sand and Black Letter Days. I remain unconverted.
I felt a little more strongly about the Breeders. Their first album, Pod, had some good stuff on it. But it was Last Splash that impressed me. I'd say that I really liked over half of the album. Later music by the same band, as well as stuff by the Amps couldn't hold a candle to the Pixies, much less to Last Splash. The only post-Pixies stuff I still have in my collection are Frank Black, Last Splash, and the Head to Toe mint green 7-inch. (Great covers of Sebadoh and Guided by Voices). So, alas, sold back to the record store from whence it came, gone are Teenager of the Year, Pod, Safari, and other various and sundry Black and Deal creations which indie kids adore. I have had numerous effete music fans scold me for not saying that TOTY and Pod are their respective `bests'.
Even though Black Francis wrote most of the songs played by the Pixies, I would argue that Kim Deal had a lot of creative input, input which led to their clashing, and eventually, their demise. Even without creating or writing some of the songs, it is the harmony between Deal and Black that made the Pixies so beautiful and interesting. Just listen to "There Goes My Gun" for a great example, and especially "Hey" with their overlapping "chained"-s. They couldn't have sounded more different, but complemented each other perfectly, as it is with great jazz music. Great musicians can come together playing different notes or keys and make it work. Frank and Kim's voices were jazz instruments that weaved in and out of each other with ease, letting the listener crawl in between them seeking velvety comfort from wailing surf riffs and post-punk aggression.
The effect of the Pixies could be felt and heard in ripples throughout music, from Nirvana and Pearl Jam, to Blur, and then to virtually every hip young band out there today, as is evidenced by the bands that appear on the tribute album, Where is My Mind? Alongside The Replacements and Hüsker Dü, the Pixies are one of the most influential bands in recent history. Affecting both young bands such as the aforementioned Nirvana, Weezer, Radiohead, and now Franz Ferdinand, but also veteran artists such as tour mates U2, and David Bowie (invoking the "I'm my own grandpaw" circle of influence since Bowie was a big inspiration for both Frank and Joey), the Pixies continue to remain relevant.
So, what was it that finally brought them back together? It was rumored that they had jammed together at random times throughout the last few years for kicks. Did they feel the creative spark leaving them? Were they short on cash? Disappointed with their recent projects? Caving to fan pressure? Whatever the answer, who cares? The Pixies are coming, eh! Pass me a Molson's.