Hidden Gems: 18 Albums to Buy on Bandcamp Friday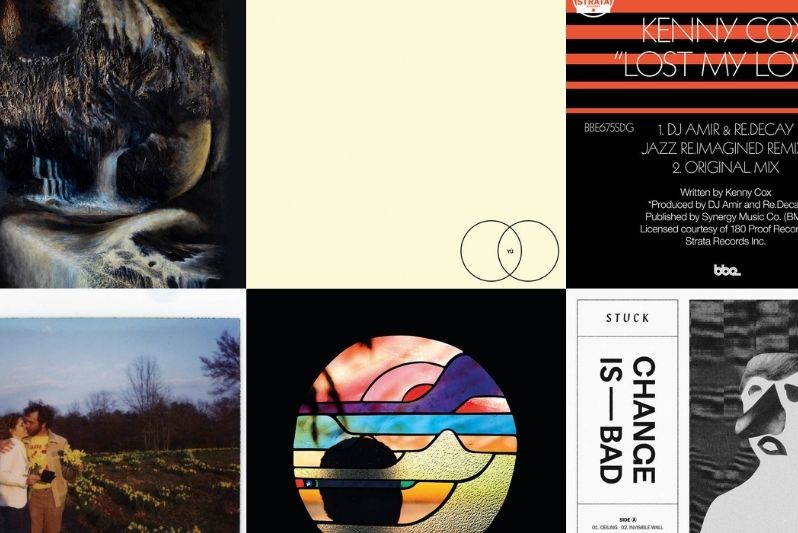 There weren't many good things that came out of 2020, but Bandcamp Friday was easily the best among them. Once a month, the music platform forgoes its revenue share so that artists and labels could keep 100 percent of their sales for the day, which was a blessing in a year that dealt some pretty awful blows to artists. Today is the next installment of what's now become a day to look forward to every month, and we've assembled a list of hidden gems to seek out on this occasion. You've probably already got a list of stuff to add to your cart, but these underground favorites—including some recently unearthed dance reissues, unheralded pioneers, DIY experimenters, punk ruffians, heavy metal weirdos and all manner of other sounds—merit a listen and a purchase.
Leila Abdul-Rauf – Diminution
Leila Abdul-Rauf already had a compelling ambient solo career outside of her work in bands like death metal bruisers Vastum. Solemn piano and noir horns on Diminution make for an even more intimate but no less cinematic experience. Even if I'm not in this contemplative of a mood, knowing Abdul-Raif's solo work makes me appreciate my favorite Vastum albums even more. – Forrest James
---
Ad Nauseam – Imperative Imperceptible Impulse
Italian underground titans Ad Nauseam just released their ridiculous new album, Imperative Imperceptible Impulse, so far only on Bandcamp. It is a mind-boggling listen, as intriguing as it is overwhelming. I'm probably not smart enough to know whether or not it's good, but I'll keep listening until I am. For fans of free jazz and music theory. – Forrest James
---
Kareem Ali – We Are Stardust
As you'll easily be able to tell from his torrential output, Kareem Ali is overflowing with ideas. I've recommended We Are Stardust, one of the many albums he released in 2020, but it's hard to go wrong with anything he released last year. Conceptually his work traverses earthly realities and the vastness of the cosmos—We Are Stardust is an exquisite exercise in scale. As his Bandcamp page aptly puts it: "I Create Music For Everything in the Universe." – Tyler Dunston
---
Anwar Sadat – Ersatz Living
Ersatz Living, the debut album and to date sole full-length from Kentucky noise rock outfit Anwar Sadat, is a tense listening experience. From the opening throb of the title track, the album slithers and grinds, as the band employs every tool at their disposal to create an atmosphere that's at times frantic, often unsettling, and rarely comfortable. There's an industrial clang behind some of their most compelling tracks, and even a bit of gothic eroticism behind the menacing sleaze of "Cauterize" and intoxicating dancefloor appeal in "Quantum Fighter," but all roads lead down dangerous alleyways. – Jeff Terich
---
Avola – When It Reigns It Poors EPs
Portland solo industrial project Avola has a prolific series of EPs, When It Reigns It Poors, now up to volume 13. I'm biased, of course, Avola opened at the very first show I went to when I moved to Portland—I remember vividly walking into the seemingly hushed bar as her mesmerizing synths wailed and screeched. Bias aside, most of her music is recorded either live or in one take, giving it that undeniable human touch. – Forrest James
---
Kenny Cox – Lost My Love
When DJ Amir selects a project to license and release, you can bet it has several legs to stand on. The founder of the 180 imprint, has the reissue golden touch. Between The Lyman Woodard Organization's classic Saturday Night Special and the Charles Mingus Jazz in Detroit / Strata Concert Gallery / 46 Selden project, both landmark cultural digs loaded with history and panache, his picks have not missed. So the brand new remix of Strata Records founder Kenny Cox's track "Lost My Love," reworked with care by Berlin-based duo Re.decay, shows once again DJ Amir's affinity for finding lost gems, and the ability to stretch them into other contexts without diluting the culture. The original "Lost My Love" is a bossa nova, winky wink, flute and mellotron mood seeking wine, candlelight and incense. At least according to the high-flying string arrangements. Kenny Cox, with the honeyed colored chords from his electric piano, never pushes into hot, just comfy. Anticipation. With the rework, DJ Amir & Re. Decay Jazz Re. Imagined, pitch things up to shoulder shake disco tempo, pronouncing that funky bassline. So we get Kenny Cox, out here swinging, putting the vibe at supper club warmth. Making the track a hazy vision you want in full focus. – John-Paul Shiver
---
Dreamdecay – Yú
An underrated slice of Chicago-style noise rock from the reliably kickass Iron Lung label, Dreamdecay's 2017 album Yú finds both melody and a weirdly understated cool amid chaos and distorted frenzy. At the heart of the group's sound is a tension that holds together both the harshness and the ominously still moments, but they never stray too far from an unabashed display of melody, whether in the groove of "Bass Jam" or the twisted jangle of "Mirror." Easily one of the best punk, rock, post-hardcore records or otherwise of the past five years that didn't end up in or on enough headphones or turntables. – Jeff Terich
---
Geld – Beyond the Floor
Melbourne's Geld play hardcore in the same way that their Iron Lung labelmates Total Control play punk or Diät play post-punk—raw, irreverent, powerful and just a little bit weird. The group's sophomore album, released last year, is a punishing beast of an album, harboring as much noise-rock belligerence as punk rock energy, each track screaming with overdriven crunch and screeching feedback. In their best moments they're something like Discharge funneled through the sludgy mayhem of Pissed Jeans and an occasional detour through a psychedelic vortex. If you didn't miss going to chaotic punk rock shows already, this album should do the trick. – Jeff Terich
---
Beverly Glenn-Copeland – Keyboard Fantasies
Last year was looking to be a banner year for Beverly Glenn-Copeland. The rediscovery of his 1986 new age tape, Keyboard Fantasies, in 2015, and the release of a documentary in 2019, had elevated him to a level of fame he'd never had before, and he was looking to capitalize on it with a tour of Australia and Europe. Even with those plans scuppered by the COVID-19 pandemic, Glenn-Copeland's music found its way to people, thanks to a new compilation of his music and a reissue of Keyboard Fantasies (which also won Canada's prestigious Polaris Heritage Prize last year). This wondrous, meditative collection of songs has been a balm for me in the eight months since I've bought it, as it surely has been for everyone who has encountered it; we'll be even more excited to hear these songs live, when it's safe for Glenn-Copeland to tour once more. – Jacob Nierenberg
---
Ionophore – Knells
A death metal multi-instrumentalist, a microbiologist, and a neuroscientist walk into a bar (or rather Craigslist) and creepy sci-fi neoclassical compositions ensue. Ionophore's fourth album Knells is a slow-burning soundtrack for late night solitude, full of delightfully unique experimentation. It may not be ear candy exactly, but there is a certain pleasure in taking a close listen and picking out each instrument. – Forrest James
---
Nightclub – Private Party
With the word "party" in the title of their debut album and the name of the band being the sort of venue one might hold such a soirée, Nightclub offer some indication of just what kind of punk rock they specialize in before playing a single note. But the Australian group is more than mere party punk—they're also a weird, scuzzy and chaotic band that finds joy in reckless expressions of noise, punctuated with saxophone in the way that The Sonics' pioneering garage rock was (and you know I'm 100 percent down with a sneering punk band with a saxophonist on their payroll). The Stooges at their most fuzzed-out and the Velvet Underground are both part of Nightclub's DNA, as is the primitive pulse of Suicide and the hedonistic urges of Primal Scream. There aren't a lot of rules for what Nightclub does, as long as it's loud and fun and kind of dangerous—which is in large part what makes it great punk. – Jeff Terich
---
Nocturnal Departure – Cathartic Black Rituals
Despite the resurgence of 80's and 90's death metal metal stylings, there's been little in the way of an old black metal boom like the genre's older cousin. That's why the unassuming debut from Nocturnal Departure, entitled Cathartic Black Rituals, is such a breath of fresh, fetid air. No frills, no baggage, just 40 minutes of black metal excellence. One part Deathcrush, one part late-career Urgehal the album wears its punk and old school death metal stylings with pride. It's a Frankensteined time capsule of sound that harkens back to when black metal bands were eager to find their musical footing. With ear candy solos and plenty of raw energy, Cathartic Black Rituals is a zealous and loving celebration of all things old school black metal. – Fern Drew
---
Ricky Eat Acid – Three Love Songs
Ricky Eat Acid, born Sam Ray, has made a career spinning haunting instrumentals from bits of formative memory. Nowhere is this more evident than on his 2014 record Three Love Songs, where sprawling song titles like "Outside your house; the lights went out and there was nothing" evoke the plainspoken melancholy of a Midwest emo outfit. But instead of leaning on sung narratives to convey nostalgia and regret, Ray recreates memory through rich electronic soundscapes—roaring drones that sound like roadwork and hurt like a hangover; gentle beeps that evoke the first appearance of fireflies at dusk. Then, there's his deft use of samples, showcased on the outstanding "In my dreams we're almost touching." Over a warm, persistent bassline that swells in and out of focus, he loops verses from Drake's "Take Care"—their pitch raised, their canned yearning somehow made raw and immediate. Pulsing with dynamic desperation, it conjures nights spent dancing in an attempt to forget the people and potentialities that have slipped from our reach. – Clare Flanagan
---
Scott Grooves – Dark Blu
The legendary Detroit producer Scott Grooves, perhaps best known for a 1998 Roy Ayers collab that got remixed by Daft Punk, doesn't get the respect he deserves. Scott Grooves has been putting out essential house and techno tracks for the last twenty years. His Dark Blu EP is perfectly suited to late and lonely nights, creating an enveloping, velvety mood over four tracks. This is the kind of techno that can lend succor to the spirit. If you like this, check out Parts Manager 1 (and 2). – Tyler Dunston
---
Stuck – Change Is Bad
Chicago's Stuck ride the line between post-hardcore and post-punk, stylistic and cerebral, abrasive and intricate. There's one undeniable quality to every track on their debut album Change Is Bad, and that's the fact that all of them absolutely rip. But they don't rip in expected or obvious ways. Melodies are twisted and mangled, rhythms cut and paste into new shapes, creating something urgent and nervy that never quite ends up where anyone would expect it to go. The aesthetics of '90s-era Dischord and Touch and Go bands come to mind, but filtered through the weirdest of art-rock and prog filters, with occasional moments of punchy epiphany, like the pummeling chug of "Dimed" or the unexpectedly pretty "Anniversary." (Side note: Treble contributor Patrick Pilch recommended this album a few months back and while the coverage is perhaps a bit overdue, kudos to Pat for the rock solid rec.) – Jeff Terich
---
Hal Willner – Whoops I'm An Indian
The late Hal Willner was primarily known for the music he helped others make, having produced records by the likes of Lou Reed and Marianne Faithfull, among others, and curating countless compilation albums and tribute concerts. He only made one record under his own name, and it's a hoot: Whoops, I'm an Indian. Even a cursory glance at one of his many compilation albums offers proof of his musical eclecticism—his first collection of sea chanteys included everyone from Nick Cave to ANOHNI to Jarvis Cocker—and on Whoops, I'm an Indian, Willner wove dozens of 78 rpm records from the mid-20th century into a dazzling, sample-driven psychedelic odyssey. Plunderphonics is a lost (and mostly illegal, or at least forbiddingly expensive) art, but if you can't get enough of albums like Endtroducing…… or Since I Left You, Whoops, I'm an Indian offers no shortage of wacky thrills. – Jacob Nierenberg
---
Zanski – Movies at the End of Youth
While Toronto based R&B artist Zanski hasnt been active since dropping their EP Upon Frigid Water in 2020, their Bandcamp is a brilliant reserve of incredibly high production value indie R&B. Deep, hymnal bass grooves and twangy, twinkling guitars gibe way frequently to expanses of bold experimentation. Zanski's 2017 debut LP Movies at the End of Youth is a sometimes haunting, melancholy but ultimately sensual treatise fixated on the idea of catharsis. When Zanski sings "You got a few seams/Let me stitch them for you/My fixings are yours to keep/Oh baby, there is so much more there's a confidence that there is truly something more. – Brian Roesler
---
Y La Bamba – Lo-fi mixtapes
Y La Bamba's series of experimental lo-fi mixtapes are not only exclusive to Bandcamp, but are also only available as actual cassettes, so get them while you can. Each is entirely unique, some with handmade collage art, and any one of them is a treat for fans of Luz Elena Mendoza's aesthetic. My favorite is Red Earth, where lo-fi production perfectly accentuates the warm yet lonely songwriting. – Forrest James
---
Special Label Mention: Hausu Mountain
At the beginning of this year, I started listening to CDs again. I like CDs because they are durable, hi-fi and they hold the song files. I also like the act of playing a CD. I like hearing the screech-pitched whir of my Sony Dream Machine's helium-neon lasers firing up, igniting the most recent technological breakthrough in music's physical formats. The act of putting music on and intentionally listening is always the best, and listening to CDs is just another way to do it. Plus, if you have a CD player in your car I will leave CDs in your car. That's just the type of person I am. Here's an idea: buy a CD from Bandcamp this Friday and leave it in your friend's car! Maybe one from Hausu Mountain? The Chicago label's got discs from Eartheater, Fire-Toolz, Kill Alters and the long awaited followup from Sharkula and Mukqs. They've got tapes, vinyl and a bunch more CDs so check it out. I think listening to a Hausu release on CD just makes sense. The label offers an eclectic smattering of challenging, psychedelic and at times absurd releases from sound-obsessed meddlers subverting genre and musical tropes. From Prolaps' internally inverted takes on searing dance metal, to Nonlocal Forecast's placid-prog brilliance, Hausu Mountain consistently cranks their catalog to deep left. – Patrick Pilch
---
Support our Site—Subscribe to Our Patreon: Become one of our monthly patrons and help support an independent media resource while gaining access to exclusive content, shirts, playlists, mixtapes and more.