Truly Great: I'm B-Side Myself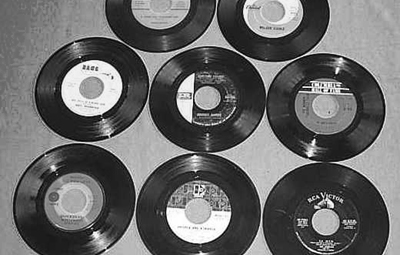 Ah, the magic, wonder, and frustration that is the B-Side. Long singled out, pun intended, to be simply that `extra' track tacked onto a `legitimate' single, the B-Side has rarely gotten the respect it deserves. Unfortunately the singles market has since, in our country at least, gone the way of the Choctawhatchee Beach Mouse, that is to say, endangered. Sure, singles get radio airplay, but they cease to be available, for the most part, commercially. In the U.K., however, the singles market is still surviving and still providing U.S. fans of British music fits and starts due to import CD costs and availability. Why do these fans do it? Why do they spend hours on end scouring for that obscure B-Side, hidden track, or rarity? One reason is purely for reasons of completion; another is that sometimes the best songs end up to be the ones that aren't the single itself.
My friend Byron owns nearly every single Cure record there is. Deleted, import, you name it, he's probably got it. When their rarities box set, Join the Dots, came out, he found a B-Side for which he had been looking for years, that being "Sugar Girl." So what was a completist to do? Well, he forked over fifty bucks for one song, that's what he did. Is the song really that good? I don't know, but now he has it and can sleep soundly. This is an extreme story for sure, and there are cases out there that are even more so, but it illustrates my point. Record collectors have been known to unload wads of cash for rare songs and it all starts with the B-Side.
After the birth of the album, B-Sides were quite often simply other tracks from the same full length release that housed the original single. Sometimes, however, they were tracks that were left off of the album altogether, scrapped for reasons of time or timing, or sometimes under perceived quality. When I was growing up collecting music, I saw the oncoming of the short lived `cassingle,' the cassette version of the 45. Before I moved and had to get rid of some bulk I still had quite a few left including some gems like Revenge's "Pineapple Face" and Flesh for Lulu's "Postcards from Paradise." I also picked up a little gem of a cassingle from the Pixies, "Here Comes Your Man." The B-Side for that wonderful song was a mind-opener for me called "Into the White." Rather than Black Francis' soothing tone on side one, this song featured Kim Deal's postmodern hypnotic follow up to "Gigantic." I don't think that this example illustrates my second point, the one of finding a song better than the A-Side, but it's pretty close. So let me continue.
One of my favorite bands ever is Radiohead. No surprise there, Radiohead is a favorite band to many. But in my estimation, alongside such gems as "Fake Plastic Trees," "Just," "Paranoid Android," "Karma Police," and other single releases, you will find equally good songs in "True Love Waits," "Polyethylene," "How Can You Be Sure?" and "Palo Alto." Those who are obsessive about Radiohead as I am know what I am talking about. But if you only have the albums, these are songs worth picking up. In fact, alongside the b-sides you can also add in songs from soundtracks: "Talk Show Host," live or acoustic recordings: "Fake Plastic Trees (acoustic)," remixes: "Climbing Up the Walls (Zero 7 Mix)," and collaborations: "Rabbit in Your Headlights" and "I've Seen It All" being two excellent examples. I have made three complete CD-R's of my Radiohead ephemera and I listen to them more than the albums at times.
My brother recently picked up a 7-inch of Sufjan Stevens' "The Dress Looks Nice on You" which contains the B-Side "Borderline." I recently saw him perform the song live and knew how great it was. Thanks Jeff, now I'm going to have to go get one for myself.
Speaking of 7-inches, I would be remiss if I didn't mention the great "No Name # 6" and "A Distorted Reality is a Necessity to Be Free" by Elliott Smith. Some other favorites I have in my record collection are the B-Sides to The Breeders' "Head to Toe," their covers of Guided By Voices' "Shocker in Gloomtown" and Sebadoh's "Freed Pig." The Smithereens placed a great cover of the The Who's "The Seeker" on the B-Side to "Only a Memory." More recently, The Postal Service had some of the better B-Sides available with, in a clever turn, other bands doing Postal Service songs. The Shins covered "We Will Become Silhouettes" and Iron & Wine did an absolutely stunning and heartbreaking version of "Such Great Heights." On another disc, Gibbard and Tamborello did their imitation of the Flaming Lips on "Suddenly Everything Has Changed."
Bands have wised up to the idea of releasing all of their material and are putting out whole albums of prior B-Sides. The Pixies are a perfect example, even if it might not have been their decision to do so. Their Complete B-Sides was released not long ago and features the aforementioned "Into the White," a brilliant song called "Manta Ray" and its companion "Dancing the Manta Ray," "In Heaven (Lady in the Radiator Song)," and their covers of Neil Young's "I've Been Waiting for You" and "Winterlong," which has become a fan favorite on their reunion tour. U2 released their B-Sides with their two greatest hits albums, the first including, in an ironic twist, the B-Side later released as an A-Side, "The Sweetest Thing." "Love Comes Tumbling," Patti Smith's "Dancing Barefoot," "Everlasting Love," "Hallelujah Here She Comes" and "Trash, Trampoline and the Party Girl" are other standouts from the first disc. The second volume contains more remixes as that was the trend at the time, but it also features "Lady With the Spinning Head" and "Salomé." They Might Be Giants got into the act early with Miscellaneous T. Prince also included a complete disc of B-Sides with his two volume The Hits collection which featured "Erotic City," but unfortunately not the super long version I was hoping for.
Whether you want to call it cashing in or a gimmick, the marketing of B-Sides has gotten a lot better. Rhino Records is one of the smartest of labels, proven by the fact that they put a slew of B-Sides on re-released records, forcing collector geeks everywhere to repurchase whole albums. I know I feel compelled to overhaul MY Elvis Costello collection. I already got all the Echo reissues and the first four Cure albums are soon to be released with extra tracks attached. Columbia has come out with their "Legacy Editions" including Jeff Buckley's Live at Sin-É, expanding a four song EP into a 42-track, double disc behemoth. Universal has followed suit with their "Deluxe Editions," for example Weezer's debut `blue' album, now with a second disc of fourteen B-Sides.
If you grew up in the eighties you knew that remixed versions of singles were commonplace as B-Sides. Some of my favorites were Duran Duran's "Night" versions of their hits like "Girls on Film" and "Planet Earth." New Order were kings of the 12-inch single and featured remixes and B-Sides galore, featured later on their great compilation, Substance. And whaddya know? Both bands now have box sets which feature a lot of those tracks! In Duran Duran's case, they released a box set that contained every single they ever released. Depeche Mode did the same thing in six different boxes! The fourth box has my favorite DM B-Side, "Dangerous." How this wasn't an A-Side, or even on an album I don't know.
Sure, most if not all of the songs I'm mentioning are fairly recent. I'm not like Daniel Stern's character `Shrevie' in Diner. I can't recite encyclopedically B-Sides of old 45's including what the A-Side was, what the label was, and its year of release. I don't even have the knowledge that Rob Gordon does in High Fidelity, both the book and the deleted scenes from the film where he is offered an entire 7-inch collection by a spurned wife and for some reason I still can't fathom, turns her down. He claims that he couldn't do that to another collector. Bull. It's him or you buddy, take the whole thing, including the Sex Pistols' first single and just have a little moment to yourself.
All this is to say that I love B-Sides. Hearing an especially rare track can be kind of like sharing a secret with the band and a few select other people. A band can relegate a song to B-Side status for a lot of reasons, but as long as they release it somehow, we'll find it. Acquiring that elusive song, or even discovering one you might not have heard feels like a win. Making an entire CD out of a band's B-Side releases is an even bigger win. Let me leave you with my idea of a great B-Sides compilation CD:
Happy Hunting!
The Beatles- "Rain"
New Order- "1963"
Morrissey- "Sister I'm a Poet"
Weezer- "Mykel and Carli"
Bjork- "I Go Humble"
Depeche Mode- "Dangerous"
R.E.M.- "Tired of Singing Trouble"
The Shins w/Iron & Wine- "New Slang"
Elliott Smith- "A Distorted Reality is a Necessity to be Free"
Sufjan Stevens- "Borderline"
David Bowie- "Velvet Goldmine"
Coldplay- "Help is Round the Corner"
Echo & the Bunnymen- "Over Your Shoulder"
Gene- "To See the Lights"
New Order- "Best & Marsh"
The Smiths- "Please Please Please Let Me Get What I Want"
Morrissey- "Disappointed"
New Order- "Don't Do It"
The Beatles- "For You Blue"
Echo & the Bunnymen- "All You Need is Love"